Richard Caborn awarded city's highest honour, Freedom of the City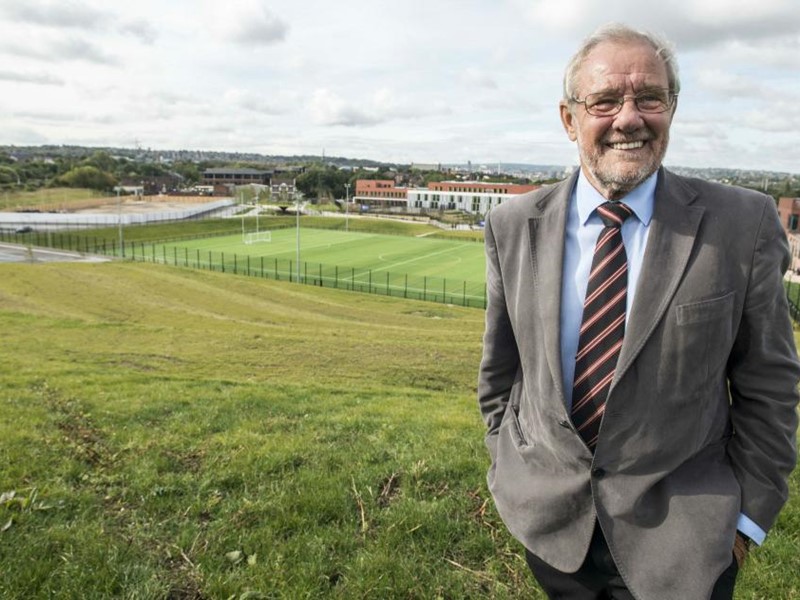 Richard Caborn has today been recognised for dedicating his life to Sheffield and its people, being awarded the city's highest honour, Freedom of the City.
Right Worshipful Lord Mayor of Sheffield, Councillor Sioned Mair Richards bestowed Mr Caborn, Former Sheffield MP and Minister, with the honour during a special meeting of Council members today (Wednesday 14 December) in gratitude for his contribution to the advancement of sport in Sheffield, nationwide and internationally, and, in doing so, rendering eminent services to the City.
Lord Mayor of Sheffield, Councillor Sioned Mair-Richards, said: "I cannot think of a more worthy and deserving candidate than Richard Caborn to receive the highest honour we can bestow, Freedom of the City.
"He is undoubtedly one of Sheffield's finest and his dedication is clear to see from his life's work. Most people retire from Parliament and live a quiet life, Richard retired and immediately put his efforts into improving Sheffield and the lives of our citizens. Thanks to him we have the Sheffield Olympic Legacy Park and within it the Advanced Wellbeing Research Centre, which are making such a difference to people's lives now and for our future, perfectly reflecting his Ministerial career and his passion and love of Sheffield.
"Richard's heart and soul goes into everything he does, always putting this city first, and it is my absolute privilege to name him an Honorary Freeman. We will look forward to celebrating his achievements and this honour during an official ceremony in the New Year."
Mr Caborn will follow in his father, George Caborn's footsteps who was given Freedom of the City in 1981, with them being the only father and son to be bestowed this high honour.
Leader of Sheffield City Council, Councillor Terry Fox said: "Richard has served this city in everything he's done – not only throughout his political career but following that, he has tirelessly fought to show how great our city is and to make Sheffield an even better place, a stronger place, a fairer place and a place where our future generations can thrive.
"His visions are ambitious, some have thought too ambitious, but Richard has the energy and enthusiasm to match, and he delivers every time. His legacy, the Sheffield Olympic Legacy Park is going from strength to strength, leading the way in sport, health & wellbeing research and advancement, transforming the former Don Valley site into a unique centre that is fit for and invests in our future.
"Let's not forget Richard's strength of character. He stands up and fights for what he believes in, and this is something we should all aspire to. He gave significant support for the Anti-Apartheid movement in Sheffield and nationally, earning the friendship and respect of Nelson Mandela, and setting an important example for us all.
"We owe Mr Caborn a huge debt for everything he has done and I know that Sheffielders will reap the benefits of his efforts for many generations to come."
Richard Caborn said: "Sheffield is the city where I was born and bred and have worked all my life. I'm truly honoured and immensely proud, like my father George before me, to receive the Freedom of the City of Sheffield. 
"I have had the privilege of proudly representing Sheffield for more than 30 years, firstly as Member of the European Parliament, then as Member of Parliament for Sheffield Central in the House of Commons.
"I have been able to work over the years with so many talented people in all walks of Sheffield life and, through my connections, helped set up the world-class Advanced Manufacturing Research Centre and now lead a team of dedicated people in delivering the Sheffield Olympic Legacy Park."
A formal reception in recognition of this award will take place in the new year. Details will be shared once this has been agreed. 
About Richard Caborn
Born in Sheffield in 1943, Richard Caborn left school at the age of 15 for an engineering apprenticeship at Thomas Firth and John Browns. Always active in the trade unions, in 1979 he turned to politics full-time to become MEP for Sheffield in the newly formed European Parliament where he was elected chair of the British Labour Group.
In 1983 he became MP for Sheffield Central, a seat he held until 2010 during which time he chaired the powerful Trade and Industry Select Committee and held three Ministerial portfolios on regional policy, trade and industry, and sport – playing a leading role in the successful London 2012 Olympic and Paralympic Games bid.
Richard joined the Anti-Apartheid Movement when he was a trade union official in the 1970s and was a founder member of Sheffield Anti-Apartheid Group. He served as the Anti-Apartheid Movement's national Treasurer from 1989–1994 and also became Secretary of the All-Party Parliamentary Group on Southern Africa.
Since leaving Parliament, Richard has maintained his passion for both sport - including his beloved Sheffield United - and industry.
The 79-year-old is currently the chair of Sheffield Olympic Legacy Park - a unique place and project delivering a better future for all through transformational health and wellbeing research, innovation, and applied technology.
About Honorary Freedom of the City
The procedures for admitting Honorary Freemen originated in the Honorary Freedom of the Borough's Act 1885 and were included in the Local Government Act 1972.  Certain Local Authorities are empowered to admit as Honorary Freemen persons of distinction and persons who have, in the opinion of the Council, rendered eminent services to the Authority.
Honorary Freemen do not enjoy any constitutional privileges but admission as an Honorary Freeman has the deeper significance of receiving the highest honour the City can bestow, and it is conferred sparingly.
The Freedom of Entry accorded to Armed Services gives a right on all ceremonial occasions of exercising the privilege of marching through the City "with colours flying, drums beating and bayonets fixed."
Full list of Honorary Freeman of Sheffield
DATE OF ADMISSION

NAME

DIED

25 October 1899

His Grace The Duke of Norfolk, EM, KG

1917

"

Sir Frederick Thorpe Mappin, Bart, MP

1910

"

Sir Henry Stephenson, Kt

1904

13 August 1902

General Viscount Kitchener of Khartoum, GCB, GCMG, OM

1916

10 June 1903

The Rt. Hon. Sir Marcus Samuel (Lord Mayor of the City of London)

1927

26 May 1916

The Rt. Hon. William Morris Hughes, MP, LLD (Prime Minister of the Commonwealth of Australia )

1952

10 October 1917

Lt-Gen. The Rt. Hon. Jan Christian Smuts, KC (Prime Minister of South Africa)

1950

"

Admiral Sir John Jellicoe, GCB, OM, GCVO

1935

13 August 1919

The Rt. Hon. David Lloyd George, OM, MP, DCL, PC (Prime Minister)

1945

"

Field Marshal Sir Douglas Haig, KT, GCB, KCB, KCIE, GCVO, KCVO, CB, ADC

1928

"

Admiral Sir David Beatty, GCB, GCVO, KCB, KCVO, DSO, MVO (Admiral of the Fleet)

1936

10 August 1921

The Rt. Hon. W F Massey, LLD (Prime Minister of New Zealand)

1925

21 April 1922

Alderman Sir William E Clegg, CBE, LLD

1932

9 November 1923

The Rt. Hon. W L MacKenzie King, CMG, MA, LLD (Prime Minister of Canada)

1950

"

The Rt. Hon. S M Bruce, MC (Prime Minister of Australia)

1967

30 July 1924

The Rt. Hon. Sir Samuel Roberts, Bart, MA, JP, DL

1926

"

Alderman Robert Styring, LLD, JP

1944

"

Alderman William Farewell Wardley, JP

1941

24 March 1926

Doctor Henry Coward, Mus.Doc (Oxon), MA

1944

30 November 1926

The Hon. J G Coates, MC (Prime Minister of New Zealand)

1943

4 December 1929

The Rt. Hon. James Ramsay MacDonald, MP, LLD, JP (Prime Minister)

1937

"

Alderman John George Graves, JP

1945

"

Alderman Henry Kenyon Stephenson, DSO, VD, DL, JP, LLD

1947

"

Mr Cecil Henry Wilson, MP, JP

1945

29 October 1930

The Rt. Hon. Richard Bedford Bennett, KC, MP, LLD, (Prime Minister of Canada)

1947

"

The Rt. Hon. James Henry Scullin, MP

(Prime Minister of Australia)

1952

6 June 1939

The Rt. Revd. Leonard Hedley Burrows, DD, D.Litt (First Bishop of the Diocese of Sheffield)

1940

"

Sir Robert Abbott Hadfield, Bart, FRS, DSc, D.Met, JP

1940

"

Mr Harry Brearley

(the inventor of Stainless Steel)

1948

6 October 1943

The Rt. Hon. Winston Leonard Spencer Churchill, CH, FRS, MP (Prime Minister, First Lord of the Treasury and Minister of Defence)

1965

7 March 1945

Alderman Frank Thraves, JP

1952

"

Alderman Harold Warters Jackson, LLB

1972

"

Alderman Alfred James Bailey, JP

1948

"

Alderman Arthur James Blanchard, JP

1957

1 October 1947

The Rt. Hon. Albert Victor Alexander, PC, CH, LLD, MP (Minister of Defence

1965

7 September 1949

Mr Charles William Beardsley, OBE, JP

1952

"

Mrs Ann Eliza Longden, JP

1952

2 September 1959

Alderman Charles William Gascoigne, CBE, BEM

1967

"

Alderman Mrs Grace Tebbutt, JP

1983

"

Alderman Percival John Mann Turner, CBE, JP

1969

3 January 1962

The Rt. Revd. Leslie Stannard Hunter, MA, DD, DCL, LLD (Lord Bishop of Sheffield)

1983

"

Alderman Albert Smith

1968

7 April 1965

The Rt. Hon. Harold Wilson, OBE, MP (Prime Minister and First Lord of the Treasury)

1995

"

Alderman Herbert Keeble Hawson

1984

"

Alderman Samuel Hartley Marshall, JP

1981

"

Alderman James Wilfred Sterland, OBE, JP

1992

"

Dr. John Macnaghten Whittaker, FRS, (Vice-Chancellor, University of Sheffield)

1984

 

3 April 1968

Dr. Albert Ballard, CBE, LLD

1968

3 April 1968

Sir Stuart Goodwin, DL, LLD, JP

1969

13 July 1970

Mr John Burns Hynd, MP (MP for Attercliffe Division of City from 1944 to 1970)

1971

"

Sir Peter Geoffrey Roberts, Bart, MA, MP (MP for Ecclesall Division of City from 1945 to 1950 and for Heeley Division of City from 1950 to 1966)

1985

1 November 1978

The Rt. Hon. James Callaghan, MP

(Prime Minister and First Lord of the Treasury)

2005

"

County Councillor Sir Charles Ronald Ironmonger

1984

"

Councillor Isidore Lewis, LLD, JP

1983

"

Mr Stanley Lester Speight, OBE, MIEx(Grad), FIM

1998

2 December 1981

Mr George Caborn

1982

"

Prof. Ronald Stanley Illingworth, MD (Leeds) Hon. MD (Sheffield) Hon.D.Sc (Baghdad) FRCP, DPH, DCH, FRPS

1990

3 July 1991

Ms Helen Sharman BSc C.Chem

(the first Briton to journey into space)

 

15 May 1991

Councillor William Owen, JP

1992

15 February 1993

Mr Nelson Rolihlahla Mandela

(President of the African National Congress)

2013

7 April 1993

Mr Derek Dooley (footballer)

2008

29 July 1998

The Rt. Hon. Dr. Marjorie (Mo) Mowlam, MP (Secretary of State for Northern Ireland)

2005

"

Dr. Peter Horton, Hon.LittD. BSc

2005

"

H.M.S. SHEFFIELD

Decommissioned

2002

7 November 2001

The Chestnut Troop, 1st Regiment Royal Horse Artillery;

38th Signal Regiment (Volunteers);

212 (Yorkshire) Field Hospital (Volunteers); and

The Duke of Wellington's Regiment (West Riding) – subsequently conferred to the Yorkshire Regiment

 

6 March 2002

106 (West Riding) Field Squadron (Air Support) (Volunteers)

 

5 October 2005

Michael Paul Vaughan (Captain of England Cricket Team)

 

"

Daw Aung San Suu Kyi (Leader of National League for Democracy in Burma) – The Freedom of the City was removed on 1 November 2017

 

2 November 2005

Sebastian Newbold Coe OBE, The Right Honourable The Lord Coe of Ranmore

 

6 September 2006

The Yorkshire Regiment (formed by an amalgamation of three historic County Regiments including the Duke of Wellington's Regiment)

 

3 June 2009

The Lindsays (Ronald Birks, Peter Cropper, Bernard Gregor-Smith and Robin Ireland)

 

4 July 2012

Mrs. Tawakel Karman (Yemeni Human Rights Activist and Nobel Peace Prize winner)

 

5 September 2012

Ms. Jessica Ennis MBE (Olympic, World and European Heptathlon Champion)

 

18 October 2014

64 Signal Squadron (transferring the Freedom from the 38 Signal Regiment owing to the 38 Regiment's withdrawal from the Army's Order of Battle.)

 

3 April 2019

John Burkhill BEM – fundraising

 

 

 

 
Other stories you might like