Rugby League World Cup brings real impact to Sheffield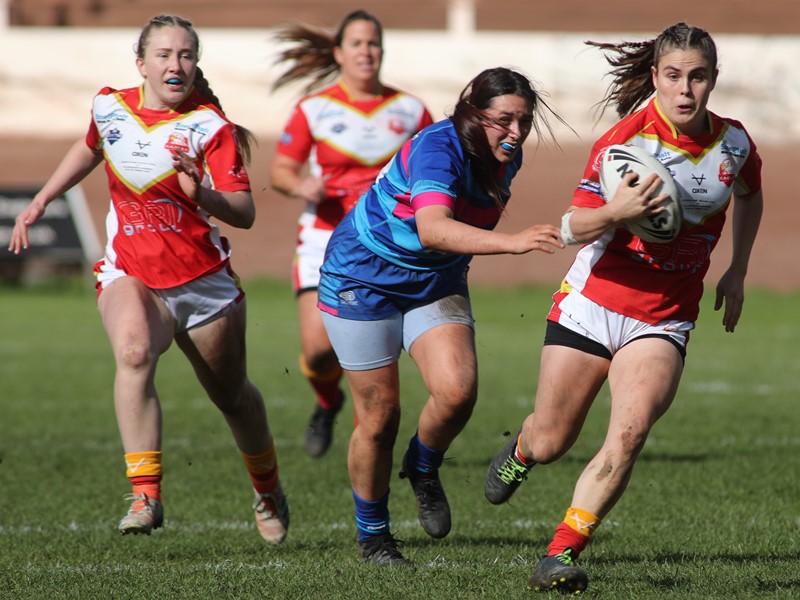 The Rugby League World Cup 2021 kicked off on 15 October, bringing men's women's and wheelchair disciplines all under one inclusive tournament and it's already having a huge impact in Sheffield!
The tournament comprises 61 games, with 20 countries represented and 32 teams taking part.
As a host city Sheffield will see 9 exciting fixtures with the Men's England Vs Greece live at Bramall Lane on 29 October, and 8 wheelchair clashes between France, Wales, USA and Scotland from 4-13 November.
The tournament is set to be the biggest, most attended and most inclusive in Rugby League history, delivering the highest impact and lasting legacy within communities across the country.
Sheffield City Council is working in partnership with Sheffield Eagles and Eagles Foundation, Sheffield United Football Club and Sheffield City Trust to deliver the tournament locally and to use this huge international event to inspire and grow the sport in the city.
Due to the impact of Covid-19 the tournament was postponed in 2021, but community and legacy commitments have continued throughout, and Rugby League has seen some fantastic developments in the city.
Sheffield Eagles and the Eagles Foundation have driven community activity, secured funding and established a new wheelchair team, as well as a new women's team that has seen promotion after just one season.
Tag Rugby League has been delivered to more than 2,000 young people in the Sheffield schools and a weekly training session specifically for girls has also been launched.
David Butler, Trustee of the Eagles Foundation, said: "Our aim in working with schools is to stimulate growth into the city's Community Rugby League Clubs, Sheffield Hawks and Sheffield Forgers and has led to an increase in players at the targeted age group. It has also allowed us to launch a Sheffield Eagles girls team to accommodate players who have reached U12s age group where girls and boys no longer play Rugby League together.
"We will continue to deliver in schools to ensure that we have a thriving Community Rugby League scene over the next few years. Many of the schools we have worked with will be attending the England v Greece game with tickets provided by the Council to recognise their engagement with Rugby League."
Councillor Martin Smith, Chair of the Economic Development and Skills Policy Committee at Sheffield City Council, said: "After what's already been an incredible year of international sport in Sheffield, we're now on the final countdown to our first fixture of the Rugby League World Cup. It's been a long time coming and during the last 2-3 years we've been working hard with our partners to deliver the legacy ambitions of the tournament – growing rugby league in the city, making it more inclusive and inspiring people of all ages, backgrounds and abilities to get involved.
"The Eagles Foundation and Sheffield Eagles, together with the dedicated development officer we were able to gain funding for, have put in tremendous effort which has been monumental for the sport locally, and the results really are fantastic.
"The tournament will be another brilliant showcase of sport at the highest level, and I know that we're going to see even more people inspired to have a go – the advantage is that we now have the foundations in place to support those who are new to Rugby League and to keep them playing for years to come."
The tournament kicked off at the weekend with the England men's team taking on Samoa, and scooping a huge victory of 60-6. They'll take on France this coming Saturday, before heading to Bramall Lane for their clash again Greece on Saturday 29 October.
Tickets are still available to watch England live at Bramall Lane – get yours now at https://www.rlwc2021.com/tickets
Growing Rugby League in Sheffield
In the last year The Eagles Foundation has been working hard in partnership with the Council and the RFL (Rugby Federation League) to raise awareness of the sport and grow participation in both adults and young people.
The Foundation has seen keen interest and success across all areas, including wheelchair, women's, learning disability, school children of all ages, and girls only disciplines.
Wheelchair Team
Wheelchair Rugby League (RL) is arguably the most inclusive sport, with team members of mixed gender and of any ability and any age.
The Eagles Foundation launched a Wheelchair RL team in June 2021 following a successful bid to the RLWC #CreatedBy grant, which awarded the Foundation £17,000. In partnership with the Sheffield Disability Sport Network, they purchased 8 Sports Wheelchairs and more have since been added. 
The Wheelchair team entered the League this year and have fielded a team for every fixture, including games as far afield as Dundee. Around 20 members have joined the sessions, with a regular 16 or so training every Monday.
Current members is around a 50/50 split men and women, and around 5 or 6 under 18s who are all a big part of the team.
Members have varying degrees of disability from non-disabled to full time chair users.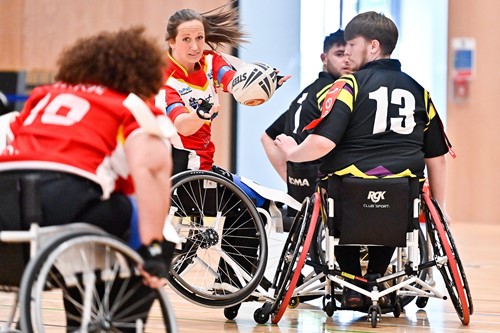 Emma Pearson goes for the ball during an Eagles Wheelchair match
Emma Pearson, who plays in the Eagles Wheelchair team, said: "The beauty of Wheelchair Rugby League is that it is fully inclusive so once we all get in a Wheelchair, apart from a few rule modifications for players with limited movement, we're all equals. Usually when we play we're about 50/50 disabled to non-disabled, everyone is welcome, everyone is respected and everyone has a great time."
More information for or if you're interested in having a go or joining the wheelchair team email enquiries@eaglesfoundation.co.uk or just come along to the Pearson Building at Sheffield Hallam University on Mondays from 6.30pm.
Women's Team
Sheffield Eagles launched a Women's Rugby League team in March 2022. At the first training session just six players came along, but as the weeks passed the numbers started to grow.
The 2022 league began in May and numbers had grown to enable a Sheffield women's team to join the league for the first time ever. They won their first game away at Wigan St Patricks. The team went from strength to strength and ended up winning all but one of the regular league games.
Over the course of the season around 30 players have taken to the field, with even more attending training. Players are a mix of those who have played Rugby League before but not had a local opportunity for some time, transferred from other sports such as Football or Rugby Union, and some who are completely new to the sport.
The women's semi-final vs Halifax game at the Sheffield OLP attracted more than 450 paying spectators, showcasing the passion and support that there is for women's sport in the city.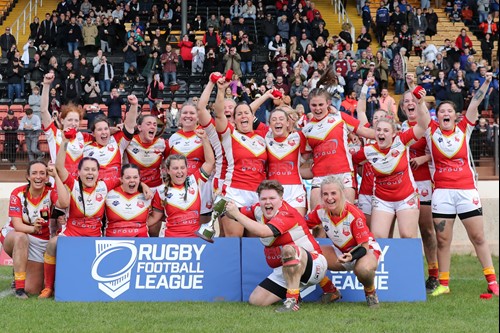 Sheffield Eagles Women lift the cup after winning the league 1 grand final against Illingworth to secure promotion
On 2 October, the League 1 Play-Off final took place at Odsal Stadium where Sheffield Eagles Women beat Illingworth 26-6 to secure promotion into the Championship for 2023.
More information for those who are interested in having a go or joining the women's team sessions email enquiries@eaglesfoundation.co.uk for details about when the team will start for 2023.
Learning Disability Team
The Foundation has established a Learning Disability Rugby League team. Members train every Tuesday at the Sheffield OLP Stadium, just before the men's team train and have built up a great rapport between them. They have played in several festivals against other clubs this year including at the Super League Magic Weekend in Newcastle, at an event in Headingley and at a Foundation organised event in Sheffield.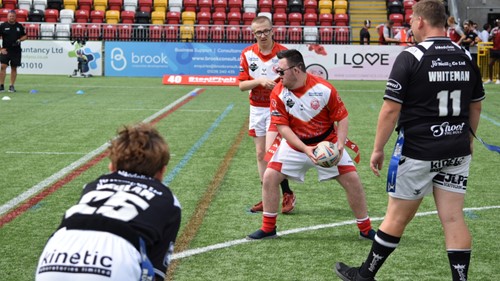 Members of the Eagles Learning Disability Team take to the field
The team are a permanent fixture on matchdays playing at half time and supporting the teams from the stands, where they have become a popular group with the supporters. Members are taking a break for a few months, but LDRL will return in November and will be looking to recruit more people to join the fun.
More information for those who are interested in having a go or joining the LRDL team email enquiries@eaglesfoundation.co.uk sessions will start again in November.
Rugby League in Schools
Funded through a partnership by the RFL, Sheffield City Council, Sheffield Eagles and Sheffield City Trust, a Development Officer was appointed to capitalise on the World Cup coming to Sheffield. This has allowed delivery of Rugby League to start again in Sheffield schools.
Over the previous academic year Tag Rugby League has been introduced to more than 2,000 young people in the city's schools, delivered partly by the Development Officer, but also through a network of part-time and sessional coaches.
This has supported schools to take part in festivals as part of the School Games and on Sheffield Eagles matchdays. At secondary level schools have been supported to take part in emerging schools' activities.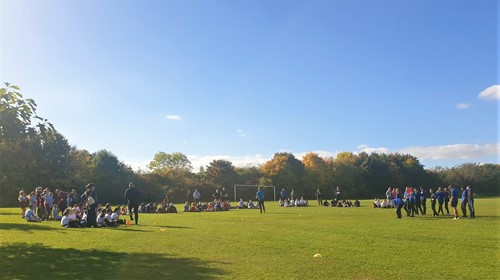 Last week schools across the city took part in Tag Rugby Festivals as part of the Eagles Foundation Three Lions Week. Pic at Handsworth Grange.
Tom Froggatt, Head of PE at E-ACT Pathways Academy in Sheffield, said: "We started with Rugby League sessions in school last year and since then it's gone from strength to strength. The Eagles have created so many unique opportunities for our children. 
"We've now established two school teams and the children involved are loving it. It's given them the chance to take up a new sport, but it's also given them the incentive to improve across school performance in areas such as attendance and behaviour. They've learned respect and are being rewarded and inspired to continue. 
"30 of our kids are going along to the England v Greece match at Bramall Lane, plus we're involved in two days of the Wheelchair fixtures with children taking on the honour of flag bearing - it's going to be fantastic for them to witness this and be such a huge part of it, and will be a major influencer on our next generation of Rugby League players."
Children at E-ACT Pathways Academy were treated to a visit from the Greek national team for a training session last week.
For more information for Schools who are interested in getting Rugby League in to their school email enquiries@eaglesfoundation.co.uk
Girls only Rugby League
Once girls reach U12s they can no longer play in a boys' team and where there is no specific girls provision, they are sadly lost to the game.
In partnership with the RFL, Eagles Foundation have been able to start a weekly training session for girls of this age group to continue training together and to add to the numbers from the schools' programme.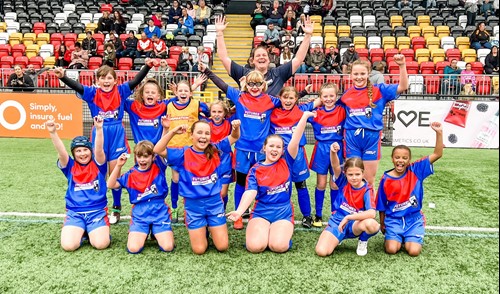 The over 12 girls have dedicated training sessions for the time in Sheffield
The newly formed girls team played in a festival against other clubs at the Sheffield OLP Stadium ahead of the Women's semi-final in September. The long-term plan is to recruit coaches and establish the side so it can be sited in one of community clubs, with the Eagles Women's team being something for the girls to aim for as they get older.
More information for those who are interested in having a go or joining the girls' team sessions email enquiries@eaglesfoundation.co.uk they take place at Forge Valley School, Wednesdays at 6pm.
Other stories you might like