Sheaf Valley Cycle Route increased cycle trips by more than 60% in two years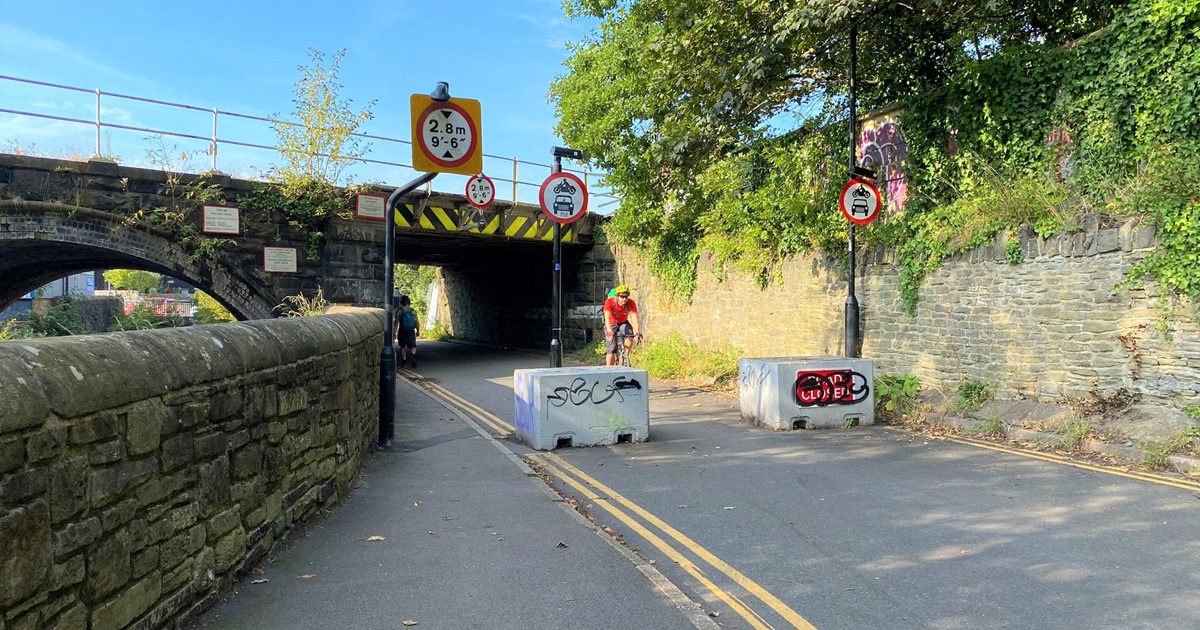 Temporary road changes have been made permanent on the Sheaf Valley Cycle Route following a more than a 62% increase in cycle trips in the past two years.
In May 2022 a number of alterations were made to roads in the area on a temporary basis to create a safer, low-traffic, active travel route between Sheffield City Centre and Norton Hammer.
At the Transport, Regeneration and Climate Policy Committee on Wednesday, 20th September, members approved proposals to introduce the changes permanently.
The changes include:
Changes to vehicle access between Shoreham Street and Cherry Street
Changes to parking on Saxon Road
Changes to vehicle access on Little London Road and Rydal Road
Changes to vehicle access from Scarsdale Road to Hackthorne Road, replaced with a one-way/no entry junction
The Sheaf Valley Cycle Route (SVCR) connects other existing and planned cycle routes in the city, helping to make cycling more accessible, safer and a more convenient choice for everyone, including families and young children.
These schemes include Castlegate's Grey to Green, the City Centre-Attercliffe-Darnall route, alterations in Nether Edge, as well as the number of changes taking place in Kelham, Neepsend and the wider city centre. Proposed bus priority schemes in the south west of the city will also complement the SVCR, supporting improved journey times for bus passengers and other road users along these roads.
Perception surveys from local residents around the SVCR show 37% of respondents feel that they walk more than they did before the interventions were put in place. Of those that say they cycle, 45% said that the scheme has resulted in them cycling more than they did before.
The 2021 Census highlighted more than 20% of households in parts of Meersbrook and Woodseats did not have access to a car, with this figure rising to between 40% and 50% in parts of Lowfield and Highfield and as high as nearly 75% in parts of the city centre. The route will give people who do not have access to cars the opportunity to travel by cycle or on foot more safely.
Walking trips are estimated to have increased on average by around 15% across the full route. This includes a 35% increase on parts of Saxon Rd and 39% on parts of London Rd.
In addition, the route helps to connect some of the most in demand areas in the city, including the train station, bus station, Sheffield Hallam University, a number of schools and colleges, Victoria Quays and West Bar.
Cllr Ben Miskell, Chair of the Transport, Regeneration and Climate Policy Committee, said:
"We are creating a transport network in Sheffield which is accessible for everyone, no matter how they decide to travel, and it is important we introduce infrastructure that supports that ambition and gives people genuine choice. The Sheaf Valley Cycle Route ensures residents can reach major cycle route corridors safely and connects residential areas to places of work and business, places to socialise, to eat out and more, within the city centre and the wider communities.
"It is clear that such alterations can have a significant impact and can greatly increase people's confidence and desire to walk, wheel or cycle shorter journeys. As well as improving our cycling infrastructure for those who already cycle in our city, it helps to encourage children to walk to school, young people to travel independently, opens up access to employment and also improves the health and wellbeing of our residents."
For information
Full breakdown of the data relating to the temporary changes and an overview of consultation feedback can be found on our Democracy site.
The Sheaf Valley Cycle Route temporary changes were introduced through an Experimental Traffic Order.
What is an Experimental Traffic Order and how does it work?
An ETO is a legal document which puts in place changes to traffic movements and/or to parking arrangements on a temporary basis.
They provide communities with the opportunity to experience first-hand proposed changes to the streets where they live, work and visit – rather than relying on theoretical explanations of changes before they are introduced. They are an opportunity for councils to learn lessons, before making a final decision on schemes.
An ETO can stay in force for up to 18 months while work is done to assess the impact of the proposed changes. These temporary changes on the Sheaf Valley Cycle Route began in May 2022.
Members of the public are able to provide feedback on the scheme while the ETO is in place but formal objections must be submitted within the first 6 months of the scheme coming into force.
When an ETO comes to an end, a decision must be made whether to make the proposed scheme permanent, make amendments to the scheme and make it permanent or remove the scheme.
Other stories you might like