Sheffield confirmed in 'High' category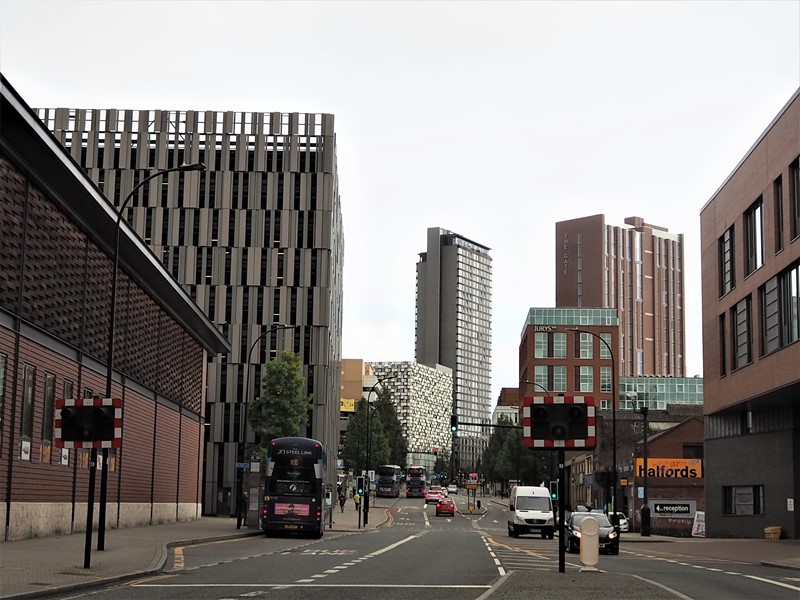 New restrictions for Sheffield have been announced by the Government in a move to further prevent the spread of the virus across the city.
The new measures will mean a ban on different households mixing and are expected to be introduced in Sheffield from tomorrow (Wednesday 14).  However, Sheffield City Council advises that everyone in the city should follow the new restrictions immediately.
The new, three-tier scheme has been introduced for the whole of England and Sheffield has been placed in the 'high' category. Sheffield has seen a sustained rise in cases over the last few weeks and now has a case rate of around 400 per 100,000; this is too high and is the reason that Sheffield has been placed in the 'high' category.   
In category 'High', the restrictions mean:
You must not meet socially with friends and family indoors in any indoor setting unless you live with them or have formed a support bubble with them. This includes private homes, and any other indoor venues such as pubs and restaurants.
You also cannot meet indoors with people outside of Sheffield, unless exceptions* apply.
The ban on more than one household mixing indoors also extends to hospitality, leisure and retail settings – so, people will not be able to socialise beyond their existing household such as visiting the pub, restaurant, leisure or entertainment venue.
Businesses selling food or drink on their premises are required to close between 10pm and 5am.
Businesses and venues selling food for consumption off the premises, can continue to do so after 10pm as long as this is through a delivery service, click-and-collect or drive-through. Orders must be made via phone, online or by post.
Existing arrangements for contact between parents and children where the children do not live in the same household as their parents, or one of their parents will remain in place.
Friends and family can also still provide informal childcare for children under 14.  This must be part of a regular childcare arrangement; and does not permit playdates, birthday parties etc.
To help contain the virus, all workers who can work effectively from home should do so over the winter. Where an employer, in consultation with their employee, judges an employee can carry out their normal duties from home they should do so.
In addition to these restrictions, we also advise people in Sheffield:
Not to visit friends or family in care homes, other than in exceptional circumstances. Care homes should restrict visits to these circumstances.
To avoid the use of public transport when making a journey into, within or out of the areas affected. If you must do so – for work or attending school – you must wear a face covering. We ask you also to not share a car with those outside your household or support bubble.
Full information on what 'High' category guidelines are can be found here.
Director of Public of Health at Sheffield Greg Fell said:
"We now know what the new measures and restrictions will be in Sheffield and we fully understand what extra measures will need to be put in place to keep our city safe.
"Nobody wanted to be in this position.  However, my clear advice to residents is to keep playing your part to combat this dangerous virus which is very much in circulation in our communities. I cannot express this clearly enough: if you have symptoms do not leave home unless it is to get a test; this does not mean go to the shops or the local pub, or visit family and friends - you must isolate. Continue to wear your face covering and wash your hands regularly or use hand sanitiser gel.
"The new restrictions introduced to the city will mean further restrictions on mixing households. We understand that no-one wants to see further restrictions placed on the way we live our lives however, but in order to prioritise the safety of you and your loved ones, we must follow the new restrictions.
"This does mean we now need to undertake more stringent measures to protect the public. How long these new measures last and how much further they may need go in the coming weeks and months will depend on everyone playing their part.
"Only by all of us continuing to follow the guidance, will we be able to contain local transmission."
Councillor Julie Dore, Leader of Sheffield City Council, said:
"Following the recent announcements from Government regarding the latest measures for Sheffield, I want to remind everyone across the city to stay safe over this uncertain period and thank people for adhering to the rules so far.
"This continues to be a very difficult time for us all and given the current rate of infections, unfortunately we don't know how long this will continue. However, there is one very clear purpose to this, and that is to protect our loved ones, our friends and the most vulnerable from coronavirus.
"I want to say a big thank you to everyone for being so patient, following the guidelines and doing their very best to look after one another; you are making a big difference.
"I know these new measures means that we can no longer see our loved ones the way we have been doing over the summer months, but in order to get the city back to where it once was, it is crucial that we follow the latest guidelines.
"There are still things you can do - get outside, enjoy Sheffield's many parks and green spaces, keep in contact with your friends and family, visit your local cafes and restaurants, get takeaways from your favourite locals and continue to keep your spirits high, as difficult as that may seem at times.
"Please download the Track and Trace app if you haven't already, this will automatically tell you if you need to self-isolate, which in turn, will help us get back to some form of normality.
"If you are a business affected by these new measures, you can find out more about how to operate safely in line with the new guidance on the Sheffield City Council website.
"Our Business Sheffield Advisors are also on hand to offer advice to businesses. Contact them by calling 0114 224 5000 or via email at businesssheffield@sheffield.gov.uk.
"Through everyone's combined efforts, we will be able to look back and remember how, collectively, we got through this."
Alexis Krachai, Chair of the Chamber of Commerce, said: "Over the weekend the Council reached out to Sheffield Chamber and other business groups so make sure our views were taken on board as they discussed what to do next with Whitehall. We welcome that involvement. Sheffield Chamber stands ready to help the Council make those difficult decisions, but it is vital that the Government listens and ensure the support for businesses are there no matter what category we are in.
"Yesterday's announcement by the Prime Minister is just another set of decisions made in the long war against Covid-19. We must now redouble our efforts to keep fighting this virus whilst keeping our economy open and we, and other business groups, will continue to work with the Council in ensuring as much support is available for our businesses."