Sheffield 'High' category rules and restrictions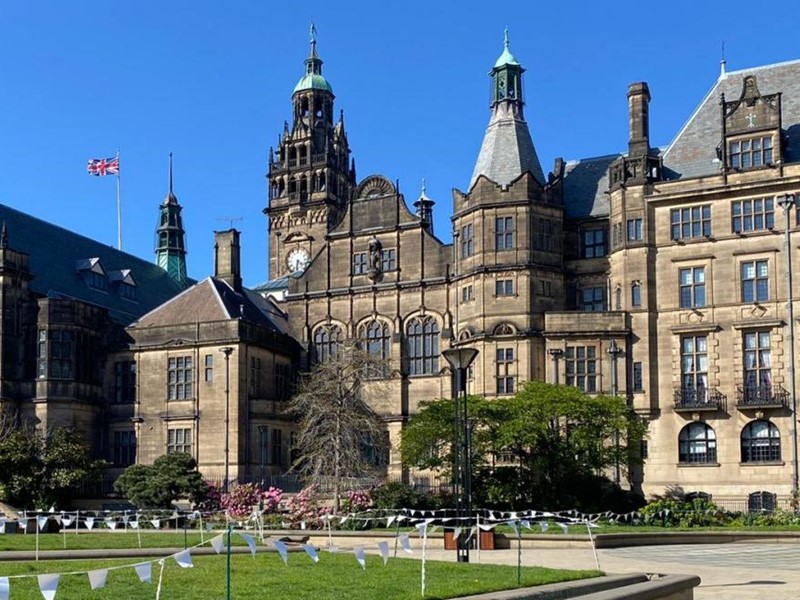 Sheffield has been placed in the 'High' category. What does that mean for me?
Meeting family and friends
people in Sheffield must not meet socially with friends and family indoors in any setting unless you live with them or have formed a support bubble with them. This includes private homes, and any other indoor venues such as pubs and restaurants.

informal childcare can also be provided via childcare bubbles.

you may continue to see friends and family you do not live with (or have not formed a support bubble with) outside, including in a garden or other outdoor space. When you do so, you must not meet in a group of more than 6. This limit of 6 includes children of any age.

if you live in a High alert level area you also cannot meet indoors with people outside of the area, unless exceptions apply.
Businesses and venues
certain businesses selling food or drink on their premises are required to close between 10pm and 5am. Businesses and venues selling food for consumption off the premises, can continue to do so after 10pm as long as this is through delivery service, click-and-collect or drive-through. Orders must be made via phone, online or by post. Hospitality venues in ports, on transport services and in motorway service areas do not need to close at 10pm, but must not serve alcohol after that time. There is full guidance on what businesses are permitted to remain open
Going to work
to help contain the virus, office workers who can work effectively from home should do so over the winter. Where an employer, in consultation with their employee, judges an employee can carry out their normal duties from home, they should do so.
Public sector employees working in essential services, including education settings, should continue to go into work where necessary.
Anyone else who cannot work from home should go to their place of work.
​Schools, colleges and university
all schools, colleges and universities in Sheffield will remain open.
university students in Sheffield must not

 move backward and forward between your permanent home and term time address during term time. 

students living at their university term time address in a High alert level area should follow the same guidance on meeting other people and travel as others in that area
Further information can be found on the Government's website.
Childcare
The following people can provide childcare support in private homes and gardens:
registered childcare providers, including nannies
people in your support bubble
people in your childcare bubble
Visiting relatives in care homes
You should not visit a care home except in exceptional circumstances, for example to visit an individual who is at the end of their life. See the guidance on visiting relatives in care homes.
Travel
in Sheffield, if you need to travel we encourage you to walk or cycle where possible, or to plan ahead and avoid busy times and routes on public transport. This will allow you to practise social distancing while you travel.

avoid travelling with someone from outside your household or your 

support bubble

 unless you can practise social distancing. 

See the guidance on car sharing

.

you can still travel within High alert level areas to hotels and other guest accommodation, but you should only do this with people in your household or support bubble.
you can still go on holiday outside of High alert level areas, but you must only do this with people in your household or support bubble.
Weddings, civil partnerships, religious services and funerals
you can attend places of worship for a service if you're in a High alert level area. However, you must not mingle with anyone outside of your household or support bubble

weddings, civil partnership ceremonies and wedding receptions are restricted to 15 people

funerals allow up to 25 people to attend and must only take place in Covid-19 secure venues or in public outdoor spaces.  
wakes or linked ceremonial events are limited to 15 people and must not take place inside private homes.

people living outside of a high alert level area can travel to this area to attend an event, but they must not meet with another household indoors.

​
Sport and physical activity
in line with

 

guidelines

 

from national sporting bodies, you can take part in sport and physical activity outdoors.
organised indoor exercise classes are only permitted if it is possible for people to avoid mixing in with people you do not live with or share a support bubble with). There are exceptions to enable disability and youth sport and physical activity indoors, in any number.​
It is still as important as ever that you continue to:
wash your hands regularly, for 20 seconds. Use hand gel where this is not available
wear a face covering in indoor settings 
continue to stay 2m apart from people outside your household
get a test if you have symptoms and stay at home​
The full details of restrictions and exemptions, are listed on the gov.uk website.
Other stories you might like