Sheffield in it to win it for Eurovision 2023

After being shortlisted as one of 7 potential host cities for Eurovision 2023, Sheffield is one step closer and 'in it to win it' following approval of a strong bid by the Council's Strategy and Resources Committee yesterday.
Sheffield was announced as a shortlisted host city on 12 August, after submitting a regional bid to host in solidarity with and on behalf of Ukraine in 2023.
Since then, the council has been working closely with members of the local Ukrainian community and partners across the region to bring together everything that makes Sheffield with South Yorkshire the perfect host for Eurovision.
Councillor Martin Smith, Chair of the Economic Development and Skills Policy Committee at Sheffield City Council, said:
"Sheffield ticks all the boxes. We have great facilities, connectivity, diversity, vibrancy, but more importantly we bring warmth and unity with Ukraine firmly at the heart of this journey, and we're in it to win it!
"As they are the rightful host nation, Ukrainian culture and communities are at the centre of our plans. We have a long-standing historical relationship and a growing Ukrainian population here in Sheffield and we're extremely proud and humbled to have this opportunity on their behalf.
"Of course, there are challenges but every city in the running will face the same hurdles. What sets us apart is our pedigree and track record for delivering major international events, our vibrant nightlife and entertainment, our abundance of green space and opportunity for adventure, and of course as the UK's first City of Sanctuary it's our people and the welcome we give to those from all over the world.
"Sheffield is the perfect fit to celebrate and bring hope for Ukraine, mirror the inclusive values of Eurovision and put on the show of all shows."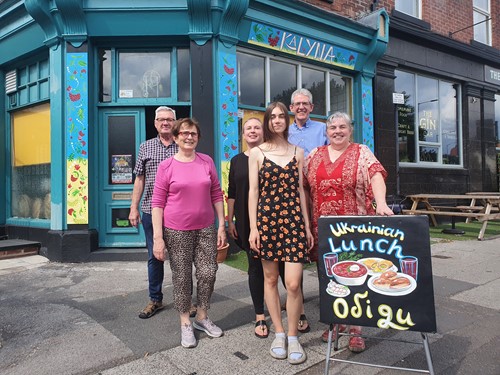 Martin Smith with Sally & Tina from Cafe Kalyna in Sheffield, plus their Ukrainian staff
Sheffield, with South Yorkshire, for Ukraine is a serious Eurovision contender – the people of Ukraine have a strong cultural presence in the city and the voices of those communities are fundamental to Sheffield's bid which is strengthened by the city's unique qualities,
being centrally located with excellent transport links and connectivity
boasting international standard entertainment venues
home to unique grassroots musical heritage with international artists spanning across the decades and at the forefront of the modern music scene
celebrating a vibrant and multicultural nightlife, with the largest theatre complex outside of London, a pulsing electronic music scene, and a city of cultural festivals
Europe's greenest city, a centre for adventure, made up of 61% greenspace and a third of it's boundary in the Peak District National Park
and the warmest welcome – as UK's first City of Sanctuary, Sheffield welcomes people from all over the world to call the city home.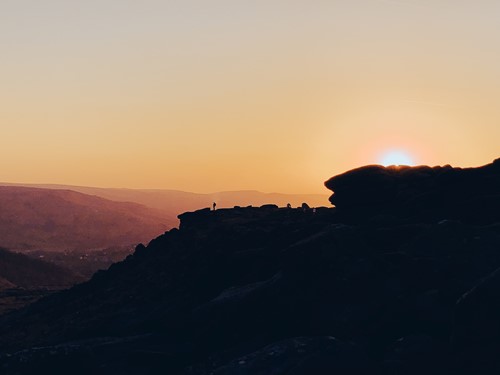 View of Burbage Edge in the Peak District - image by Benjamin Elliot
The Council's Strategy and Resources committee heard the recommendations for Eurovision 2023 yesterday and gave agreement for Sheffield's compelling offer.
Councillor Terry Fox, Leader of Sheffield City Council and Chair of the Strategy and Resources Committee said:
"This is a fantastic opportunity, like we've never had before, and though not without difficulty, the benefits for Sheffield and our Ukrainian communities are enormous.
"In what we know will be a year with some challenges, we have looked at this to make sure we do not put our city and services under unnecessary pressure.
"We are wholeheartedly behind this bid, and our ability to show the world that Sheffield is the UK's centre for culture and creativity. We're ready to showcase our wonderful, welcoming city to the world, along with the beautiful and unique culture of our Ukrainian friends."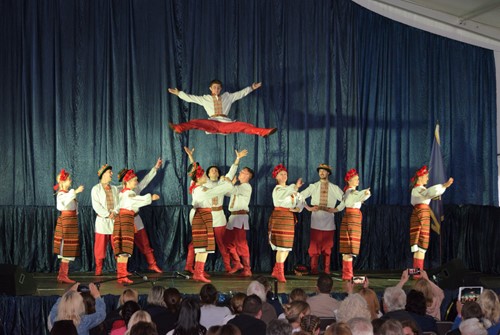 A traditional Ukrainian dance group
Around 700 Ukrainians are now living in Sheffield, and more across the region. Local people have opened their arms and their lives to welcome and celebrate Ukrainians and their culture within South Yorkshire's communities.
Tanya Klymenko, Secretary of the Association of Ukrainians in Great Britain, Sheffield branch, said:
"Sheffield has become home, a place of sanctuary to many Ukrainian people and for me personally it is the best place on this island, a city of merit where we have been able to thrive.
"There is a lot of symbolism in Sheffield - twin city of Donetsk in Ukraine - bidding to host Eurovision. Sheffield has an industrial past and is now a reborn city with a vibrant cultural scene and every sixth inhabitant either studying or like me working at a University.
"I believe that Donetsk, occupied by Russia since 2014, will come back to being a free Ukrainian city and will be re-built and like Sheffield, reborn, leaving behind the horrors of war. It will be most appropriate for Sheffield to host a Eurovision, to be that beacon of hope for the industrial cities of Ukraine."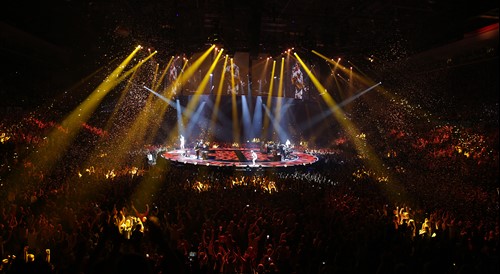 Take That put on a spectacular show at Sheffield's Utilita Arena
Sheffield's Utilita Arena is the hosting venue. Sheffield City Council is working in collaboration with Sheffield City Trust, SYMCA, Doncaster, Barnsley and Rotherham councils to meet the necessary requirements and continue to demonstrate the region's capability and aspiration to deliver this international event on behalf of the Ukrainian people.
A decision is expected to be announced in the coming weeks.
Other stories you might like