Sheffield is Sweet Enough low sugar book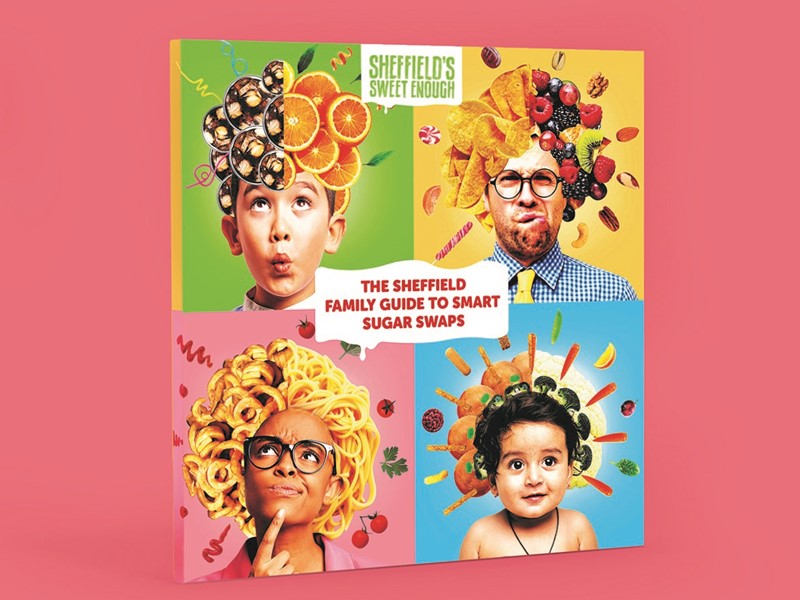 To celebrate the launch of new community-developed low-sugar food book – 'The Sheffield Family Guide to Smart Sugar Swaps' our buy one gift one campaign will help more families get their hands on the book.
The handy guide offers a range of easy and affordable low-sugar recipes and smart sugar swaps to help the city tackle the challenges of high sugar consumption and establish healthier eating habits.
In Sheffield almost two thirds of adults are overweight and almost 1 in 4 children are above a healthy weight when they start school. There is also a worrying amount of tooth decay with over 2,000 children from across the city hospitalised for painful tooth extractions in just one year.
As part of the initiative, fifty percent of the books printed will be donated to lower-income families in Sheffield whilst the rest will be on sale at retail outlets across the city. This means that, for every book bought, we will gift a copy to those who might otherwise struggle to afford the book giving them access to knowledge, tips and ideas. 
The proceeds from the sale of the books will go directly towards funding the print of the free copies, which will be made available at local community centres, family centres, libraries, as well as other public spaces across the city.
The low-sugar food book forms part of our 'Sheffield is Sweet Enough' campaign set up to help local families, schools and healthcare professionals to reduce sugar and make better food choices.
The guide is packed full of clever little sugar swaps, tips and advice and exciting recipes including 'family favourites', eating well during pregnancy, weaning, healthier packed lunches and better snack choices.
It also provides a quick guide to help people understand more about recommended daily limits, how sugar is labelled and how to measure it. 
Greg Fell, Director of Public Health in Sheffield, said: 
"Excess sugar consumption is a national issue and we need to help people in Sheffield get on top of it. Making healthier choices isn't always that easy for some so this book has been designed to support families in making simple swaps and giving them low-cost creative ideas. 
"Everyone from parents, students, nutritionists and businesses have contributed their ideas to the book and it's this kind of collective thinking that will support us as a city to improve health and wellbeing by reducing sugar intake. 
"Our aim is to create food environments that make it easier for all of us to make better food choices and an important element that we'll be focusing on is using our influence to limit junk food ads and encourage retailers to stock and promote healthier items."
The 'Sheffield is Sweet Enough' initiative was launched in February 2019 to provide information on the effects of too much sugar and the tools families need to make informed choices to support their health. It aims to help reduce tooth decay and obesity in Sheffield.
Excessive unhealthy food and sugar-sweetened soft drink consumption has been linked to weight gain.[1]Research carried out in Sheffield has also shown that there is a lack of understanding about recommended daily sugar limits and how much sugar different foods contain.
Alison Teal, Executive Member for Sustainable Neighbourhoods, Wellbeing, Parks and Leisure, added: 
"Through Sheffield is Sweet Enough we are trying to help families reduce sugar levels in their diets, to improve overall health, and that's the inspiration behind this fabulous book of ideas. 
"It's even better that local people have been empowered and have played such a significant role by sharing and compiling their low-sugar tips and recipes so that everyone in Sheffield has the best chance of making better choices on sugar. 
"Good health should not come down to wealth and the last thing we want is for some families to feel excluded due to costs. Our 'Buy One Gift One' initiative means we can make this information available to all families without them having to worry about affording the book and we're really excited to see it on the shelves and in people's homes." 
The 'Sheffield Family Guide to Smart Sugar Swaps' is available to buy at independent retailers around the city, at Waterstones and online priced £15.
The 'Buy One, Gift One' will enable the books to reach even more people, helping to tackle the ongoing challenge of sugar reduction and get information out to all who need it.
To find out more visit www.sheffieldissweetenough.org
[1] http://www.actiononsugar.org/sugar-and-health/sugar-and-obesity/
Other stories you might like