Sheffield joins national campaign to encourage more electrical recycling

With 155,000 tonnes of waste electricals being thrown away in the UK, Recycle Your Electricals "HypnoCat", is on a mission to hypnotise Sheffield residents into recycling their small old electricals.
The campaign has been launched to encourage more people to recycle their electrical waste, as small old electricals are one of the fastest growing waste streams in the UK.  Sheffield is one of more than 80 local authorities across the UK to support the campaign.
155,000 tonnes of waste electricals are being lost through being thrown away in the UK
UK householders are hoarding 527 million small electricals items
There are enough power/charging cables hidden in Sheffield homes to travel from Beighton to Stocksbridge and back 26 times!
Everything with a plug, battery or cable can be recycled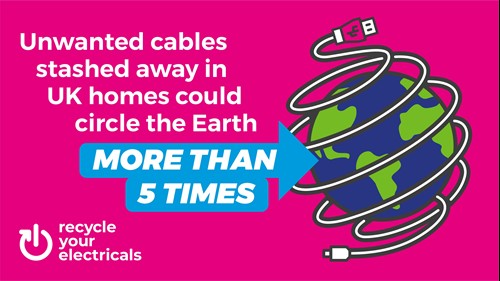 "HypnoCat'' the fun character has been designed to hypnotise the nation into recycling their electricals. His rallying calls to local people include 'Humans of Sheffield, don't bin them, recycle your electricals' and will be heard and seen across local media channels and outdoor screens in the city – look out for his reminders and tips on how to recycle electricals.
Councillor Paul Wood, Executive Member for Housing , Roads and Waste Management said: "We are keen to promote any opportunity to recycle in Sheffield and this campaign highlights the importance of recycling old electrical items, that a lot of people probably didn't realise they could. We are proud to have 16 different facilities in Sheffield where electricals can be recycled and I encourage all our households to have a rummage through your cupboards, check where your nearest facility is and get recycling. You can clear the clutter and be kinder to our environment by getting rid of these materials in the right way, it's win-win."
Scott Butler, Material Focus, Executive Director, said: "Small old electricals are one of the fastest growing waste streams, and we are throwing away valuable materials that are lost forever.  These small old, unwanted electricals contain 75% of materials that can be recycled or reused such as precious materials like gold, silver and copper.  HypnoCat our messenger for the campaign will be providing step-by-step information on how to reuse and recycle old electricals. We want everyone to know that all old electricals - that's everything with a plug, battery or cable - can be recycled.  We are delighted to be working with Sheffield and are calling on residents to stop throwing away their old electricals, and instead take them to a local recycling facility."
The Recycle Your Electricals Campaign is making recycling small old electricals easier than ever before by providing an information hub for the UK on how to recycle electricals, and a postcode locator with details of over 3,00 recycling, repair and reuse points across the UK, including Sheffield. 
Join the campaign with celebrities including the likes of Konnie Huq, Andrea McLean, Zandra Rhodes by sharing pictures, videos and stories of the electricals that you've collected in a bag prior to recycling them. Use the hashtag #RecycleYourElectricals or tag us on Facebook @RecycleYourElectricals Twitter @RecycleElectric & Instagram @RecycleYourElectricals_
Other stories you might like