Sheffield moves to Tier 3 'Very High' in fight against COVID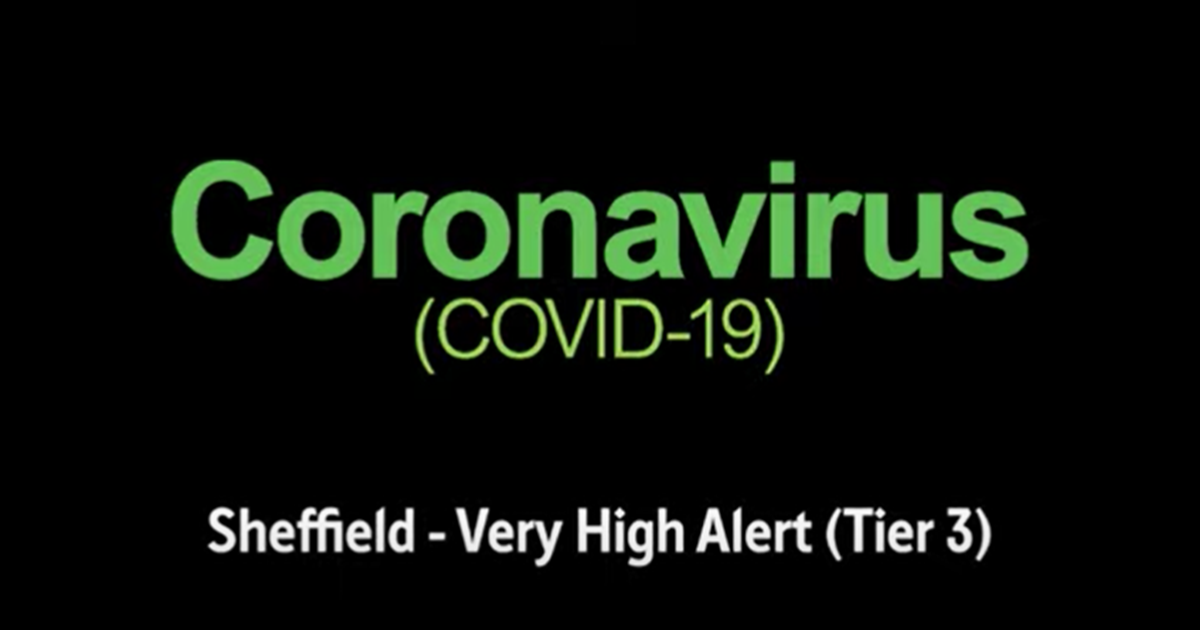 Statement from Sheffield City Council Leader, Cllr Julie Dore
Sheffield, along with Doncaster, Barnsley and Rotherham will move into the 'Very High' alert category from 00:01am on Saturday 24 October.
Councillor Julie Dore said:
"Last week government set out their new approach to managing the pandemic and growth in the virus across the country through the local or regional tiered lockdown system. We have been in Tier 2 for the past week. However, the government have informed us that due to the continued high level of cases across the region and increasingly concerning levels of hospital admission, it is now necessary to raise the alert level to very high and place the region in Tier 3.  
"We agree that more needs to be done to tackle the growth of the virus, we are seeing cases rise all across the country. In Sheffield and South Yorkshire there is a growing and extremely concerning number of people in ICU beds and doing nothing is clearly not an option. 
"As these restrictions are imposed, people must be properly supported when their place of work is closed down and they are not able to go to work and earn a living. People should be given the same level of support as they were in the national lockdown to help them get through these incredibly challenging times. There should be a furlough scheme that matches what was provided before and it is important to remember that many of the jobs involved here are amongst the lowest paid.   
"We have asked for a funding package that would allow us to compensate for the failure of the national scheme the government have put forward. We asked for significantly greater financial support in addition to the national schemes. Whilst government are providing extra funding, they are giving South Yorkshire a standard package of support which they are providing to the areas going into Tier 3 and this and will not allow us to provide the support for people that is needed.  
"We will continue to push government to provide enough support for people and businesses as they are now placing us in these measures which will have such serious consequences for the people most impacted. It is not too late to do the right thing to support people in Sheffield, South Yorkshire and all the people currently going into Tier 3 across the country and I would plead with government to increase the levels of support they are providing for Tier 3.  
"Many people will be fearful of what is to come over the coming months whether it be for the risk of the virus, their place of employment being closed, or the impact on them and their loved ones of the restrictions. We can and will get through this but we will only do so by pulling together. The Government's approach at this moment in time will not bring about this togetherness."  
What are the restrictions
People must not meet socially with friends and family indoors in any setting unless they are part of your household or support bubble*. This includes private homes and indoors in hospitality venues, such as pubs. You also must not meet with people outside of your household or support bubble in a private garden or in most outdoor public venues.
People must not socialise in a group of more than 6 in an outdoor public space such as a park or beach, the countryside, a public garden or a sports venue. Venues following COVID-secure guidance can host more people in total, but no one must mix indoors or in most public outdoor venues with anyone who they do not live with (or have formed a support bubble with). This includes in pubs and restaurants, shops, leisure and entertainment venues and places of worship.
Pubs and bars will close and will only remain open where they operate as if they were a restaurant - which means serving substantial meals, like a main lunchtime or evening meal. They will only be able to serve alcohol as part of such a meal. Certain businesses selling food or drink on their premises are required to close between 10pm and 5am. Businesses and venues selling food for consumption off the premises, can continue to do so after 10pm as long as this is through delivery service, click-and-collect or drive-thru.
People should try to avoid travelling outside the 'Very High' alert level or entering a 'Very High' alert level area, other than for work, education or for caring responsibilities or to travel through as part of a longer journey. If people need to travel they are encouraged to walk or cycle where possible, or to plan ahead and avoid busy times and routes on public transport, to allow for social distancing.
Face masks must be worn on all public transport and not car share with someone from outside your household or your support bubble unless you can practise social distancing. If people need to use public transport, you should follow the safer travel guidance. This includes the rules on wearing face masks and advice on car sharing.
People should avoid staying overnight in another part of the UK, and others should avoid staying overnight in the 'Very High' alert area.
Visits should not be made to a care home except in exceptional circumstances, for example to visit someone who is at the end of their life.
In addition, the following restrictions will also apply in South Yorkshire:
Additional closures will include: Betting shops, adult gaming centres, casinos and soft play centres.
Gym classes will not be allowed (but gyms will remain open).
(*A support bubble is where a household with one adult joins with another household. Households in that support bubble can still visit each other, stay overnight, and visit public places together.) 
Full details on what 'very high' category guidelines are can be found on the Government pages around Covid-19 guidance 
Director of Public Health at Sheffield City Council, Greg Fell, said:   
"We fully understand these extra measures designed to keep our city safe. This virus will only go away if every person takes responsibility and plays their part to combat this dangerous virus which is very much in circulation in our communities.
"I cannot express this clearly enough: if you have symptoms do not leave home unless it is to get a test; this does not mean go to the shops or the local pub, or visit family and friends - you must isolate. Continue to wear your face covering and wash your hands regularly or use hand sanitiser gel.
"We understand that no-one wants to see these further restrictions placed on the way we live our lives but in order to prioritise the safety of you and your loved ones, we must all follow them to contain local transmission."
Read Sheffield City Region's statement on this.
Other stories you might like