Sheffield reroofing project leading the way in bat protection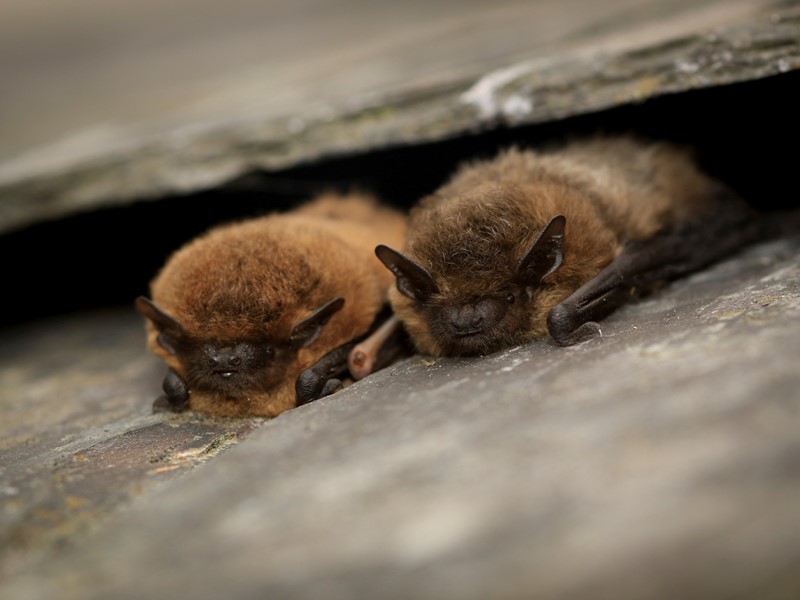 In one of the biggest projects of its kind, Sheffield City Council is working with the Avonside Group to renew the roofs on more than 7,000 council homes, improving insulation, installing new roof tiles, and ensuring the roofs are fit for the future.
Before the re-roofing work could commence, the Council needed to check if the roofs were homes to bats and birds. All bats are protected in the UK and it's illegal to carry out work that disturbs, injures, or kills bats, or disturbs their roosts. And birds, such as swifts, are globally threatened, seeing big declines in breeding populations and range.
The Council's Countryside Service, Asset Management and consultants Ecus worked together to understand were bats and birds were present, and how the re-roofing works could proceed while preventing and minimizing disruption to these additional tenants.
The Council, Ecus and their ecologists obtained a project license from Natural England. This was necessary to ensure the re-roofing caused the least disturbance to the bats and birds. New bespoke roof tiles were designed and installed to allow bats to continue to live in and return to their roosts each year; gaps under roof eves were retain for birds such as swifts; and additional bat boxes were installed on the Shirebrook Valley to provide additional roosting opportunities and to allow for translocation of any bats located during the re-roofing works.
This work has recently been recognized by the Chartered Institute of Ecology and Environmental Management (CIEEM) with a highly commended award.
https://cieem.net/about-cieem/cieem-awards/cieem-awards-2022/
Councillor Richard Williams, Chair of the Communities, Parks and Leisure Committee said: "This project perfectly sums up the benefits of partnership working, achieving both improved housing services and protecting our natural environment.
"Our own ecology team and Ecus are working closely with housing services and tenants, and we have created a bespoke and innovative system that allows bats to thrive with little disturbance and creates better roofing for our tenants.
"We declared a nature emergency last year and are doing everything possible to protect wildlife and increase biodiversity in the city. This project is a great example of that in action and we are extremely proud to be leading the way and providing best practice methods that can be utilised across the country."
Faye Durkin, Head of Ecology at Ecus comments, "Sheffield City Council have gone above and beyond the Natural England guidelines when it comes to mitigating to protect the bat population.  This means that every single property they re-roof will be 100% bat-friendly and accessible to bats in the short and long-term, and bat populations will be protected."
More about the project
This ambitious project is leading the way in wildlife protection work, going beyond Natural England guidelines.
The project, which includes more than 7,000 council homes, is being delivered in phases over a five-year period. Year one was at Hackenthorpe and Year two is at Handsworth and Richmond. The Council is now in year three of the five-year project with project completion expected by 2026. Year 3 is in Burngreave, Shiregreen, and Fir Vale.
Work to ensure the new roofs are 100% bat friendly includes:
Carefully surveying housing estates for the presence of bats;
Ensuring the building work is seasonally timed to cause the least disruption to roosting bats;
Maintaining all of the existing gaps on the underside of roof eaves – a place where bats like to roost;
Only using bituminous Type 1F roofing felt which is safe for bats, and avoiding other more commonly used Breathable Roof Membranes which are dangerous for bats;
Installing bespoke bat access tiles on 40% of the houses. These custom roof tiles were designed by Marley which allow access to roosting bats.
Ecological Clerk of Works to supervise the roof stripping safely move any bats found.
This is the largest bat mitigation project that Ecus and the Council has ever worked on and the measures developed are contributing to updating bat mitigation guidelines and survey methods. The outcomes will also be instrumental in developing best practice for the future of the ecology and roofing sector.
You can report sightings of bats through your local environmental records centre and local bat group. SCC Ecology Service: https://www.sheffield.gov.uk/home/parks-sport-recreation/ecology-unit
Other stories you might like