Sheffield's big adventure Bank Holiday weekender

Cliffhanger and Sheffield Fayre return to the city this August Bank Holiday weekend transforming Sheffield in to one big playground with three days of free fun activities and entertainment for all the family.
Sheffield's festival dedicated to celebrating the great outdoors – Cliffhanger - is back in the city centre on Saturday 27 & Sunday 28 August, with the exciting British Bouldering Championships once again taking centre stage. The nation's best climbers will battle it out on the wall for the top spot, while spectators watch in awe.
Then on Monday 29 August, the popular Sheffield Fayre will transform Norfolk Heritage Park into a spectacular fairground of fun and transport us back in time celebrating the heritage of the park and displaying a range of vintage and historical stalls and activities.
It is also the final weekend of Sheffield By The Seaside – the inner-city beach that transforms the Peace Gardens into our very own seaside, complete with Helter Skelter, seaside rides, live entertainment, character visitors, sandy areas for digging and sandcastle building plus a splash in the fountains.
Councillor Martin Smith, Chair of the Economic Development and Skills Policy Committee at Sheffield City Council, said:
"Sheffield has certainly put on a great show so far this summer and the coming bank holiday is another fantastic opportunity for local people and families to get out and enjoy the brilliant free activities and entertainment we're putting on.
"There are not many cities where on the same weekend you can watch live national championship sport for free, have a go at axe hurling, make sandcastles and whizz down a Helter Skelter all in the city centre; and then get up close to vintage emergency services vehicles, watch owls and birds of prey in flight and see live circus acts while picnicking in a beautiful park.
"Sheffield is a massive adventure playground and whether you're a fan of sport, the outdoors, arts and craft, the seaside, or rides and shows there's a lot of fun to be had this bank holiday."
Diane Jarvis, Head of Business Operations, said:
"Sheffield BID is delighted to be supporting the outdoor extravaganza that is Cliffhanger once again. The city centre has been a real hive of activity over the summer, with a packed programme of events including The Fringe at Tramlines, the UEFA Women's EURO 2022 and most recently Sheffield Bricktropolis, all events that we have been proud to either directly support or deliver ourselves. Cliffhanger will bring a memorable summer of events and attractions to a close in a truly fitting way.
"With so many amazing things happening over the Cliffhanger weekend, it is sure to be a special weekend, one that will increase footfall and encourage dwell time and spend into our local businesses. Cliffhanger provides another reason for visitors far and wide to rediscover their city centre and see what makes Sheffield The Outdoor City."
Devonshire Green and Barker's Pool - Saturday 27 & Sunday 28 August
Sheffield's inner-city festival dedicated to celebrating the great outdoors.
Organised by the BMC, the British Bouldering Championships brings the nation's strongest male and female climbers to Sheffield to battle it out on a purpose-built bouldering wall, live on Devonshire Green, with the finals taking place on Sunday evening.
People can have a go at axe throwing and the young ones can try out their bike skills with British Cycling. Trade stalls, street food and bars will also be onsite.
A range of stalls will also be available at Barker's Pool.
Cliffhanger is free to attend and is not ticketed. There will be charges for some of the rides and activities taking place across the city centre as part of Sheffield By the Seaside.
Cliffhanger is organised by Sheffield City Council in association with Sheffield BID.
Follow The Outdoor City on Twitter, Facebook and Instagram for the latest news in the run up and during the Cliffhanger festival weekend. #Cliffhanger 
Norfolk Heritage Park – Monday 29 August, 10.30am-5pm
This free entry, major event is in its 19th successful year and is a fantastic day out for all of the family in one of Sheffield's most wonderful parks.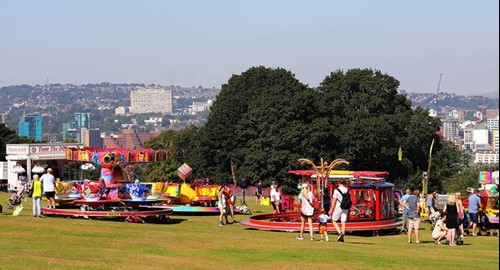 Sheffield Fayre at Norfolk Heritage Park
Lots of fun activities from 10.30am to 5.00pm including:
National Fairground Archive Exhibition
National Emergency Services Museum 1950's Vintage Village
Birds of Prey Displays
Board Games Corner Family Fun Fair and Bungee Trampolines
Sheffield Kite Flyers – Kite and Boarding Demos
Kidology Kid's Craft Activities
Excellent Food, Trade and Exhibitor Stands
Kids and Woodland Crafts and lots of fun activities and more
No need to book, free to attend, but some activities and fairground rides may be charged for.
Picnics are welcome but food and drink will also be available to buy on site.
The Sheffield Fayre is organised by Sheffield City Council in partnership with The Friends of Norfolk Heritage Park, The University of Sheffield, National Fairground and Circus Archive.
For all the latest event information sign up to our regular Sheffield Events emails or follow Sheffield Events on Facebook.
Other stories you might like