Sheffield's first 'net zero in operation' Council homes lifted into position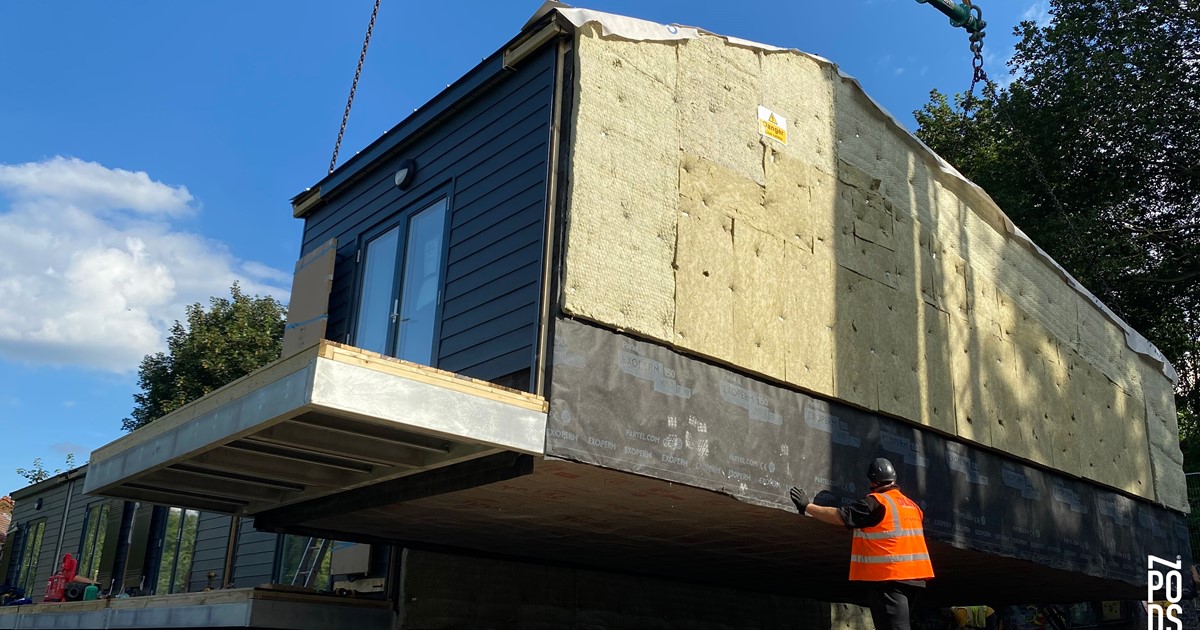 Over three days in August 2023, Sheffield's first 'net zero in operation' council homes were safely lifted into position at the Duffield Place site in Woodseats.
Before being transported to site, the homes were built in a quality-controlled UK factory using a light gauge steel frame – a type of construction known as 'volumetric off-site' or 'modular'.
Sheffield City Council is working with ZEDPODS Ltd to deliver six self-contained single person, high-quality homes. They have been built using ZEDPODS award winning low energy modular construction system.
The homes were designed by ZEDPODS team of in-house architects, using a 'fabric-first' approach – with walls, ceilings, windows, doors and roofs all super-insulated, achieving high levels of air tightness. The homes are all electric, fitted with heat pumps and rooftop mounted solar photovoltaic panels. This ensures that 100% of the in-use carbon emissions are offset, making the homes 'Net Zero Operational Carbon'. This significantly reduces running costs for residents and contributes to the council's ambition to reduce its carbon emissions to net zero by 2030. In addition, a whole life cycle carbon assessment is being undertaken to identify all environmental impacts of the scheme over its lifetime.
The on-site works started in March 2023, at the same time the homes were being manufactured off-site. This reduces the construction time by up to 50% compared to a traditional construction project. It also reduces the impact and disruption of construction related activity in the local community. The new homes are expected to be completed during Winter 2023/24.
These homes are being delivered as part of the council's Stock Increase Programme, with investment from both the council (including from the Local Renewable Energy Fund) and the Department of Levelling Up, Housing and Communities.
This project also delivers another first for the city – the Council's first dedicated move-on homes. The homes will be managed by the Council, providing access to both an affordable home and individual support for people who have previously experienced homelessness. This support will help people to successfully move to a permanent home within two to three years.
As part of Changing Futures Sheffield, the Council has received valued input from people with lived experience of housing support services to develop this project.
Chair of Sheffield City Council's Housing Committee Councillor Douglas Johnson said: "I am delighted to see the council deliver its first 'net zero in operation' council homes – this is an important step for the city as we continue to find ways to address the net zero challenge and reduce the impact of the cost-of-living crisis on our residents. I look forward to visiting the new homes, and I will be particularly keen to talk to residents about their experience of living in these homes".
"It's also great to see this project deliver much needed supported housing on a council-owned brownfield site, whilst at the same time retaining and enhancing the adjacent green space through the planting of new trees".
Tom Northway, Chairman at ZED PODS Ltd said: "We are delighted to be working in partnership with Sheffield City Council to bring their first modular zero-operation carbon housing scheme into fruition as part of a full turnkey design & build package".
"These houses will be of the very best design in terms of environmental performance and internal specifications, providing ultra-low energy bills for residents. Our inhouse team have worked closely with the client in every stages – from concept design to planning, from offsite fabrication of modules to training their maintenance team before the modules were brought to the site". 
This will be ZEDPODS' first project in the City and is a brilliant example of how working with the local community, council officers and supply chain partners we can unlock constrained sites and deliver much needed affordable homes".