Sheffield's parks and green spaces recognised with 13 Green Flag Awards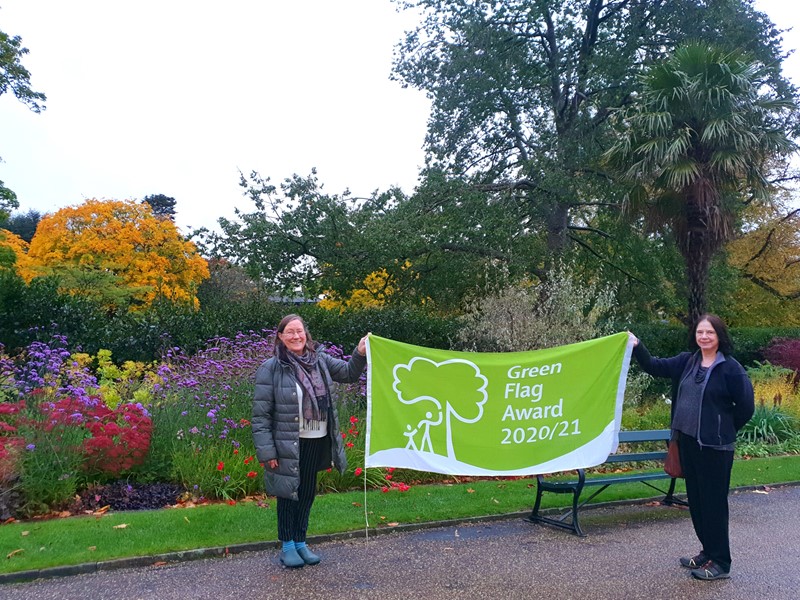 Today, parks and green spaces across the country are raising their Green Flag Awards with pride in a year when millions of people have seen the value of having great quality green spaces on their doorstep.
Among them, Sheffield has once again been recognised by environmental charity Keep Britain Tidy, with 13 green spaces raising a Green Flag Award, some for the 15th year running.
And tonight, the Botanical Gardens Pavillion, Weston Park Bandstand, the Winter Gardens and Ecclesall Woods Discovery Centre will be joining buildings and landmarks across the country, including the White Cliffs of Dover at Samphire Hoe, the London Stadium in Queen Elizabeth Olympic Park and Salford's Media City, going green for parks to celebrate Sheffield's Green Flag Award success and to say a massive thank you to the parks staff, volunteers and the Green Flag Award Judges for all their work this year.
Sites in Sheffield will be lit from 14-16 October.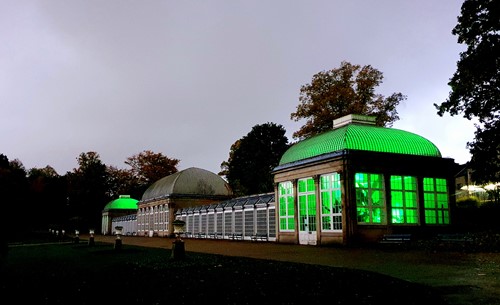 The Green Flag Award scheme, managed by environmental charity Keep Britain Tidy under licence from the Ministry of Housing, Communities and Local Government, recognises and rewards well-managed parks and green spaces, setting the benchmark standard for their management across the United Kingdom and around the world.
The Botanical Gardens, Ecclesall Woods, Norfolk Heritage Park and Meersbrook Park are among Sheffield's award-winning sites, with green spaces recognised all across the city.
Councillor Mary Lea, Cabinet Member for Culture, Parks and Leisure at Sheffield City Council, said:
"I am extremely proud to represent Sheffield's parks and to once again be flying 13 awards for our beautiful green spaces.
"The Green Flag is given to parks of the highest standards and the fact we're in double figures for the 9th year running is testament to the hard work of our parks service, Friends groups and many local volunteers, who have had huge challenges to overcome in keeping our parks clean and attractive for residents and visitors.
"This year, with the impact of coronavirus, people have come to rely on their local parks more than ever for leisure, meeting up socially, exercise and a break from their working day. With the new restrictions starting today I know that everyone will again be making the most of time outdoors, and we are extremely lucky to have more than 800 green open spaces in the city, to help people get through these very difficult times."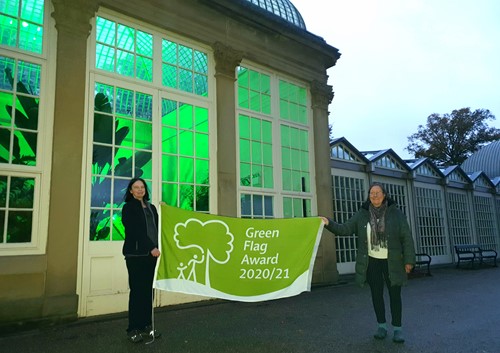 Cllr Mary Lea and Jill Thompson (Chair of Friends of Sheffield Botanical Gardens by the Pavillion)
Jill Thompson, Chair of the Friends of Sheffield Botanical Gardens, said:
"Our objective is to maintain the horticulture in the gardens, so it's brilliant to get the recognition of a Green Flag Award once again. This is not just a green space, it is a botanical garden, showcasing a collection of plants from all over the world.
"We have a dedicated team of 40 volunteers who work thousands of hours throughout the year and it's thanks to their incredible knowledge and commitment that we can proudly fly the Green Flag here, advertising the garden's biodiversity and making sure all those who visit understand the importance of this wonderful park."
Commenting on Sheffield's success, Keep Britain Tidy Chief Executive Allison Ogden-Newton OBE said:
"This year, more than ever, our parks and green spaces have been a lifeline and we know that millions of people have used them to relax, meet friends, exercise or simply escape for a short time.
"It is testament to the incredible dedication and hard work of parks staff and volunteers that, despite the challenges that went along with record numbers of visitors, Sheffield City Council has achieved the highest international standards demanded by the Green Flag Award."
Full list of Sheffield's Green Flag Awards
Botanical Gardens
Cholera Grounds and Clay Wood
Devonshire Green
Ecclesall Woods
Firth Park
Meersbrook Park
Millhouses Park
Norfolk Heritage Park
Peace Gardens
Weston Park
Wheata Woods
Winter Gardens
Tinsley Green
In addition to the main awards, Green Flag Community Awards were also awarded to Devon Gardens (Friends of Devon Gardens), Grenoside Green (Friends of Grenoside Green), Gleadless Valley Methodist Church Community Garden, Firth Park Community Allotment, Wortley Hall Walled Garden and Norfolk Park Community Garden (all Heeley City Farm).
Other stories you might like