Sheffield's Summer in The Outdoor City programme set to reignite city centre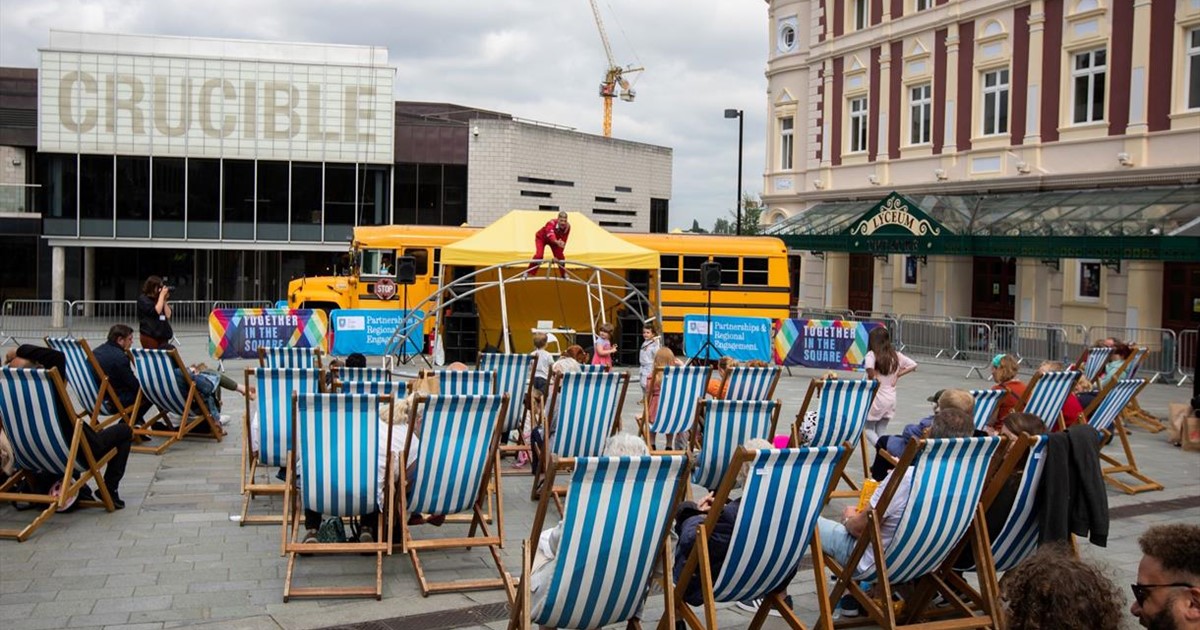 The city centre is set to come alive this summer with an exciting programme of events within Sheffield's 'Summer in The Outdoor City'. 
Fantastic new events have now been added to the programme, supported by the Council's Economic Recovery Fund, a grant scheme to help high streets, businesses and hard hit sectors bounce back from the challenges of the pandemic.
Summer in The Outdoor City is all about inviting residents to rediscover their city and district centres and attracting visitors for city breaks. From big music festivals, art trails, and sporting events, to fantastic food and drink from the city's strong independent scene, plus amazing outdoor adventures; all can be experienced not far from home for Sheffielders.
Councillor Paul Turpin, Executive Member for Inclusive Economy, Jobs and Skills and Chair of the Economic Recovery Fund Steering Group said:
"This year we're celebrating summer in the outdoor city like never before and supporting a programme of events that will make every day feel like a festival across Sheffield. After so many months of quiet streets and closed doors we want to support businesses to put the spotlight on all the incredible talent we have in Sheffield, from artisan makers and chefs to musicians and performers, and shout about the great people and places in our city.

"Covid-19 restrictions have really impacted on our businesses over the past 18 months, so it was important that we put the Economic Recovery Fund in place to support areas to relaunch creatively and sustainably and I'm really proud of the diverse and exciting programme of events that are planned for the coming months.
"Through this funding we've seen businesses come together after a really challenging time to develop ideas for unique, vibrant events we've never seen in Sheffield before – there really is something for everyone. I hope everyone will join me in supporting their local businesses and enjoying all of the fantastic things on offer in Sheffield this summer."
The newly announced events will take place in the city centre and offer free live music events, makers markets, and theatrical performances including:
Summer of live music in Leopold Square
Fridays, Saturdays and Sundays from 6-8 August to 10-12 September

Leopold Square are hosting amazing live music in the open air every Friday, Saturday and Sunday throughout the summer! These weekends will feature some of the region's most talented musicians so expect to hear jazz, soul, funk, world music and much, much more.
Leadmill in the Square
7 – 8 August

An amazing weekend of free, outdoor live music performances in Sheffield! The Leadmill, University of Sheffield and Yellow Bus Events have combined forces to present a whole mixture of live music taking place over the course of the weekend.
Sheffield Music Trails
7 / 21 / 28 August

A unique opportunity to catch some of the finest artists in the UK performing for free, at a fantastic selection of our city's unbeatable independent venue spaces. The trails will run on three Saturdays across August, with each taking you on a walking tour of various areas in the city.
Festival on the Square
16th-30th August
A brand-new two-week festival celebrating the cream of the crop of Sheffield's creative arts scene will be held on Tudor Square; playing host to live art installations, blockbuster film screenings curated by Showroom Cinema, a series of shows curated by Sheffield Theatres, live entertainment and circus skills, and interactive workshops.
Hedgerow Market
21 August, 18 September, 9 October & 6 November

A brand-new monthly market event for Sheffield City Centre, the Hedgerow Market is all about Sheffield independents – celebrating the businesses on Division Street and bringing new stalls  with an abundance of fresh produce and handmade wares, artisan makers and live music.
Creative Guild Makers Market
21 August, 18 September & 9 October at Orchard Square

Scratch that indie buying itch and support some of Sheffield's talented crafters and makers at Sheffield Creative Guild's Makers' Markets. Running in August, September and October with support from Sheffield City Council, these will take place outdoors in Orchard Square's courtyard.
Sheffield Harvest Fayre
18 & 19 September in Sheffield City Centre

Taking place in the main harvest month of the year, Sheffield Harvest Fayre is a new market style event set to celebrate the city's vibrant food scene.
More information on these events and details on what's happening across Sheffield this summer can be found on the Outdoor City website at https://www.theoutdoorcity.co.uk/summer.
Rose Wilcox, Head of Programming for the Leadmill said:
"'We are really thrilled to be launching Sheffield Music Trails this summer, after receiving funding from the Council's Economic Recovery Fund. For grassroots music venues, the closure has had a monumental impact and now is the time for us to come together and support each other's unique attributes that help to make up such a vibrant community of performance spaces.  The Fund has been an essential opportunity for us to highlight just how many wonderful spaces we have, just how many talented artists we have and to promote ourselves and allow people a free experience of being able to explore and enjoy events across the 7th, 21st and 28th Saturdays in August.
"Sheffield Music Trails is a project that has been developed completely from the Economic Recovery Fund, without it we wouldn't have been able to benefit these businesses and artists, so I am absolutely chuffed that the Council has been able to make sure that money was available for us to offer something completely unique!"
Other stories you might like