Sheffield school takes home national active travel award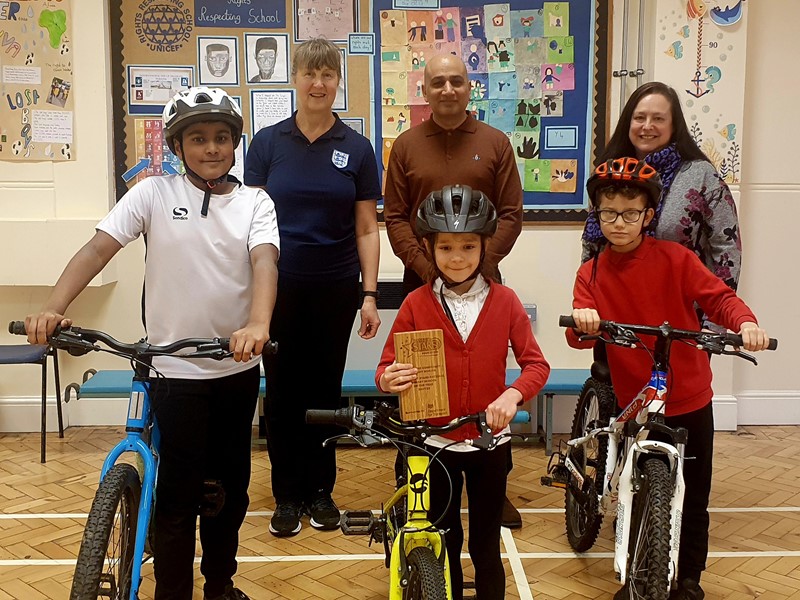 Phillimore Community Primary School in Darnall has been recognised as the 'National Modeshift STARS Primary School of the Year', for their commitment to reducing car travel by empowering more families to walk or ride to school.
Since signing up to the Sustainable Travel Accreditation and Recognition Scheme (STARS), the school has been promoting the benefits of walking or riding to school as a healthy way for families to spend time together, keep active and help the environment.
The school encourage pupils and families to take part in initiatives such as Sheffield's Beat the Street campaign, walk to school breakfasts and a park and stride scheme for those that live further afield. They have also produced local walking maps with detailed directions and points of interest which start from school and explore the local area.
Working with a range of partner organisations, the school also offer cycle training to pupils of all ages and abilities, in curriculum time, after-school and during the school holidays. Pupils can learn to ride a bike for the first time, become safer cyclists and even try out competitive sports such as cycle speedway. Last year alone, 87 pupils took part in 'Bikeability' cycle training - a nationally recognised training programme that helps individuals to learn practical skills and understand how to cycle safely on the road.  
This has led to an increasing number of pupils now owning their own bikes; however, the school also share a fleet with a cluster of local schools so that anyone can get involved, which has been hugely beneficial for families who are unable to afford the cost of purchasing and maintaining bikes or who have nowhere to store them at home. 
These interventions and schemes have seen journeys to school on foot increase from 56% to 65% and have reduced the percentage of pupils normally travelling to school by car from 39% to 23%.
The Modeshift STARS National School Travel Awards event was held late last year in London and was attended by pupils and teachers from schools across the country, as well as Active Travel England representatives and the Modeshift STARS team who announced that Phillimore Community Primary School had earned the title of 'National Modeshift STARS Primary School of the Year'.
To celebrate their success, pupils and teachers hopped aboard a 'RiverRunner' for an epic adventure along the River Thames at a celebration event and also held a celebration day for the whole school community to enjoy.
Cllr Mazher Iqbal, Co-Chair of Transport, Regeneration and Climate Change Policy Committee said, "Phillimore Community Primary School are a brilliant example of how to get 'active travel' right. This award is a result of their hard work and dedication to reducing the environmental effects of cars and improving the health and wellbeing of children and their families making their way to and from school each day. By reducing traffic outside of schools, they're actively helping to make Sheffield become a healthier, safer and more sustainable place to be, so thank you to everyone for playing your part."
Cllr Julie Grocutt, Co-Chair of Transport, Regeneration and Climate Change Committee said, "It's inspiring to see what the Phillimore Community Primary School community is doing to reduce school time traffic, air pollution and promote the benefits of active travel. Not only is cycling and walking better for our health and the environment, but it is also a great way to spend time together doing something fun. Congratulations to everyone involved."
Headteacher at Phillimore Community Primary School, Mrs Gillian Briggs said, "We are delighted that Phillimore Community Primary School has won the 'National Modeshift STARS Primary School of the Year Award'; it is a fantastic achievement which recognises the commitment and determination of pupils, staff and parents/carers to work together to accomplish a positive outcome for the Darnall community.  Jo Searle (PE Lead), who led as the STARS active travel champion at the school also deserves a special mention. Jo has invested time and energy in prioritising this initiative with staff in order to promote active and sustainable travel to all pupils. This award epitomises what can be achieved when a community comes together. Thank you to everyone involved in Phillimore's success!"
Modeshift STARS Officer for Sheffield, Rosie Frazer said, "We are extremely proud to see Phillimore Community Primary School become national award winners. On average around 46% of primary school pupils are being driven to school every day across England. To see car journeys to school fall from 39% to just 23% goes to show why they deserve the award. The school is a shining example of how the whole school community can work collaboratively to change the way we travel for the health and wellbeing of young people and the local area."
Sheffield City Council commission the Modeshift STARS South Yorkshire team to deliver behaviour change interventions in schools across the city. For more information about the scheme visit https://modeshiftstars.org.
Other stories you might like