Sheffield scoop two awards at the Local Government Chronicle Awards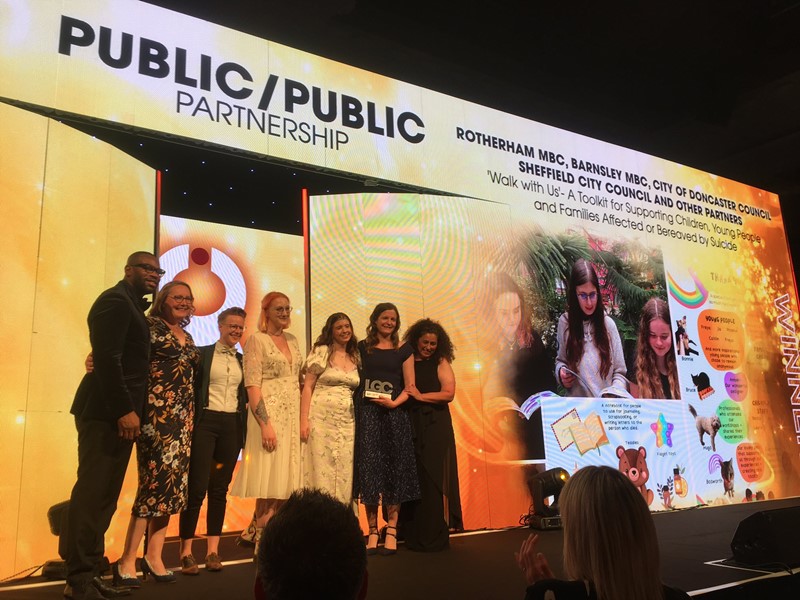 Article updated 31 August 2023
This article has been updated to accurately recognise Chilypep, a youth work and young people's participation charity, who were commissioned by NHS South Yorkshire and Local Authority partners to produce the 'Walk with Us' toolkit. You can view the toolkit and resources at the Chilypep website.
---
Sheffield City Council scooped two Local Government Chronicle Awards at London's Grosvenor House last night (8 June 2023).
In the Public Health Category, Sheffield won with its Sheffield Tobacco Control Programme 2017-2022, with the programme refocussing on a local approach, investing more into tobacco control and not just in stop smoking services.
The work undertaken in Sheffield influenced national policy around vaping and was featured in the British Medial Journal (BMJ). During the last 5 years this programme has contributed to significant reductions in smoking prevalence with smoking rates now at around 10.3% (2021) compared to 17.6% in 2017. This 7.3% reduction equates to around 20,000 smokers quitting during this time.
The programme was shared nationally and with other local authorities which provoked cultural change in how partners work together. Included in this bid was the acknowledgment of working with our communities, with groups and community leaders, which had a huge impact on the success of this work.
The 'Walk with Us' toolkit, supporting children, young residents and families affected or bereaved by suicide, received an award in the Public/ Public Partnership category.
Chilypep (the Children and Young People's Empowerment Project), was commissioned by NHS South Yorkshire, Sheffield City Council, Barnsley Council, Rotherham Metropolitan Borough Council, Doncaster Council, Bassetlaw Place Based Partnership to produce a toolkit and resources.
The toolkit was informed from work by Chilypep and SOBS (Survivors of Bereavement by Suicide) with children, young residents and families affected or bereaved by suicide, to support others and act as a guide for practitioners and professionals.
Councillor Tom Hunt, Leader at Sheffield City Council, said: "A huge congratulations to our teams who won at the LGC awards last night, we have a council full of creative, inspiring officers who I know work hard to better our services and in turn, the lives of our residents.
"Both of these awards show the breadth of work that takes place across the city, and this is just scratching the surface. I'm proud of the work officers do across the council."
Kate Josephs, Chief Executive of Sheffield City Council, said: "I'm immensely proud of the work officers do on a daily basis throughout the council, and it's so special for their hard work to be acknowledged on a national stage.
"Both awards have an element of collaboration with partners across Sheffield, the region and beyond, which is something we're very passionate about. By working together 'Team Sheffield' can deliver on important projects which have huge impacts across our city. Both the Tobacco programme and the 'Walk With Us' toolkit provide benefits to residents and partners throughout Sheffield, and help to change people's lives. As public servants, this is what we strive to do, improve the lives of residents for the better.
"I'd also like to take this opportunity to congratulate our neighbours, Barnsley, on being named LGC Council of the Year, a huge congratulations from us to you, we love working with you and learning from you, very well deserved."
The Local Government Chronicle is a magazine which covers news, analysis, best practice and opinion with the awards seeking to recognise and celebrate the very best in local government.
More information here: https://www.lgcplus.com/politics/governance-and-structure/winners-of-lgc-awards-2023-revealed-08-06-2023/