Sheffield showcases housing and regen ambitions during 2-day Homes England visit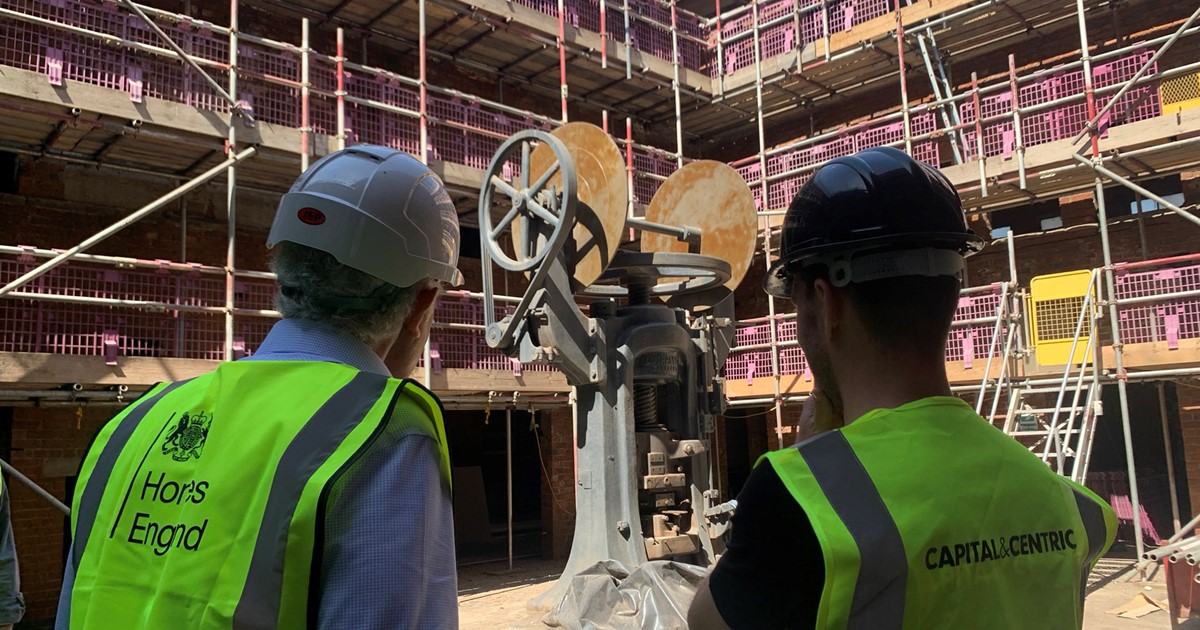 Chairman of Homes England, Peter Freeman made his first trip to Sheffield this week during a 2-day whistle-stop tour of the city, meeting stakeholders and visiting some of Sheffield's key regeneration and housing development sites.
The visit was instigated following an invitation by Clive Betts MP whose constituency is in Sheffield, and South Yorkshire Housing Association (SYHA) to demonstrate their commitment to meeting social and affordable housing needs and targets. Sheffield City Council recognised this chance to showcase opportunities extending the visit to a broader walk around the city.
During the two-day visit, which was aimed at strengthening and building relationships between the Sheffield housing development sector and Central Government, Mr Freeman was accompanied to some of the main areas of the city that are central to the future of Sheffield's development and regeneration plans.
This began with a tour of Attercliffe, looking at the principle sites, as well as the Olympic Legacy Park (OLP) as the catalyst for ongoing regeneration of the area.
A stop at Heart of the City II development and Eyewitness Works showed how Sheffield is delivering on vital housing, community, retail, business and public space ambitions in the Devonshire Quarter part of the city.
Homes England has recently completed a £3.5m Home Building Fund deal to provide loan finance for the regeneration of the Eyewitness Works as part of a £14m funding package for the site. South Yorkshire Pension Scheme will bring £10.7m into the project.
The walkabout from the city centre also included a trip to the award winning Kelham Island, highlighting the successful redevelopment that has taken place over 20 years and future potential for further transformation utilising existing social infrastructure. It showcased the many opportunities for more new homes here and the creation of additional urban neighbourhoods in the city.
Mr Freeman met with Clive Betts MP, Council Leader, Cllr Terry Fox and Chief Executive, Kate Josephs and was joined by public & private sector representatives from the city's housing, regeneration and development stakeholders throughout the visit, to discuss their role in Sheffield's goals and ambitions.
This included Miranda Plowden and Tony Stacey from SYHA, Richard Caborn and David Hobson on behalf of the OLP, Mark Jackson from Scarborough Group, Tim Heatley and Tom Wilmott from Capital and Centric, Vivienne Clements from Henry Boot Developments Ltd, Alexis Krachai & Martin McKervey from the Sheffield Property Association, David Topham of CTP, Matt Harrison from Great Places, Nick Atkin from Yorkshire Housing, Tom Bloxham and Gregg Ball from Urban Splash, Chris Thompson & John Clephan from Citu, Tammy Whitaker, Janet Sharpe, Mick Crofts, Edward Highfield, Michael Johnson and Neil Jones of Sheffield City Council
Councillor Terry Fox, Leader of Sheffield City Council, said: "I want to thank Mr Freeman and Homes England for taking the time to visit Sheffield and see first-hand the extensive opportunities and ongoing development taking shape here.
"We are a city of opportunity and although the pandemic has presented many challenges, we have continued to make progress with significant transformational projects across the city.
"What we have shown is that collectively, with our housing and development partners we have a huge appetite to create great places for people to live, work and enjoy, that also meet the essential housing demands, targets our residents need and support our economic recovery.
"I hope that the time spent here has made a lasting impression and shows our commitment to maximising Sheffield's assets and harnessing the skills and talent we have here to build back better, stronger and more creatively. Watch this space because it's a really exciting time for Sheffield."
Peter Freeman, Chairman of Homes England, said: "It was great to see the ambition and drive Sheffield has to deliver the homes and communities local people need and I'd like to thank the city council and SYHA for inviting Homes England to experience this.
"There's clearly a strong commitment to regenerating key areas of the city for the benefit of its residents and I look forward to further conversations with our partners to discuss how we can work together to make homes happen."
Tony Stacey, CEO at SYHA, said: "SYHA was delighted to co-host this visit and hear about Homes England's commitment to our City. There is so much potential to ensure housing needs are met and that building new homes drives the recovery we need. Local housing associations will play their full part."
Other stories you might like