Sheffield to host cultural programme for UEFA Women's EURO 2022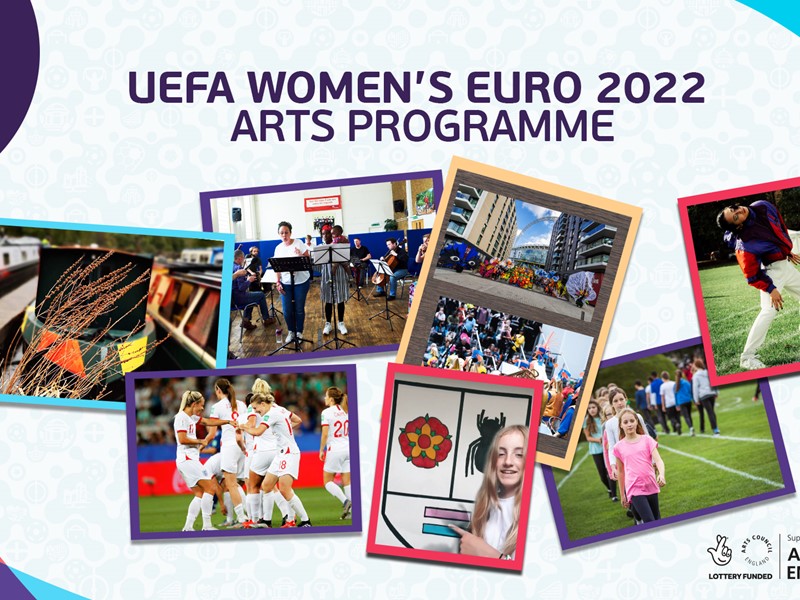 Sheffield is one of ten local authorities across England that will host a vibrant arts programme as part of the UEFA Women's EURO 2022 in England this summer – part of an exciting national cultural programme supported by £800,000 funding from Arts Council England, thanks to National Lottery players.
Running alongside the tournament from 6-31 July and delivered in collaboration with the ten local authorities, across nine Host Cities - Brighton & Hove, London, Manchester, Milton Keynes, Rotherham, Sheffield, Southampton, Trafford and Wigan & Leigh - the cultural programme is set to reach nearly 3 million people and invite sports audiences and participants to engage with culture at an important moment for the country. 
Three specially commissioned projects led by artist Emma Smith, the Royal Philharmonic Orchestra and Idle Women, will share the rich history of women's football and its players and harness culture to encourage more people, particularly women and girls, to be inspired by the competition.
There will also be the opportunity for the public to create an original anthem to celebrate UEFA Women's EURO 2022 in England, expressing the passion evident in the women's football community through music.
The arts programme will be managed by The Football Association (FA), the national governing body of football in England. It will be the first time the organisation has run such a programme alongside a major tournament and it hopes to establish female role models for both girls and boys through the arts.
Over 26 action-packed days, 31 UEFA Women's EURO 2022 matches will be played by 16 teams across nine English cities from 6 - 31 July. A record number of fans are set to attend in person with a further 250 million across the world watching the action unfold on TV. It promises to be the biggest women's European sporting event in history.
National Lottery Project Grants is the Arts Council's open access programme for arts, museums and libraries projects. The fund supports thousands of individual artists, community and cultural organisations thanks to National Lottery investment.  
National Lottery players raise £30 million for good causes each week, funding arts, heritage, sports, voluntary and charity projects around the UK. Over £43 billion has been raised for Good Causes since the National Lottery began in 1994.
As a city rich in arts and cultural heritage, Sheffield is renowned for creativity, with a strong cultural sector as well as deep roots in football heritage.  Many of the features of the modern games were piloted in Sheffield, and the UEFA Women's EURO 2022 tournament and cultural programme is an amazing opportunity to celebrate the past, present and future of the women's game.
Councillor Mazher Iqbal, Executive Member for City Futures: Development, Culture and Regeneration at Sheffield City Council, said: "Sheffield is a city full of creative talent and ingenuity, which is reflected in our strong cultural sector so I know this exciting programme will be a huge hit alongside UEFA Women's EURO 2022. Bringing sport and culture together means we can really put on a show for all our visiting fans, inspire more local people to get involved and more women and girls to take up a long term interest in football."
Sarah Maxfield, North Area Director, Arts Council England, said: "We know the huge difference that taking part in arts and culture makes to people's lives and so I'm delighted that the Arts Council is supporting The Football Association's first cultural programme through our National Lottery Project Grants fund.
"I'm looking forward to seeing how the combined forces of culture and sport inspire audiences during the UEFA Women's EURO 2022 and I hope it will encourage people, particularly women and girls, to get involved with both the competition and the different celebratory cultural activities on offer." 
Chris Bryant, Tournament Director UEFA Women's EURO 2022, said: "UEFA Women's EURO 2022 is set to be the biggest women's European sporting event in history. This significant funding from the National Lottery and the chance to work with Arts Council England (ACE) provides us with the opportunity to deliver a programme that celebrates culture and encourages more people, particularly women and girls, to be inspired by the tournament.
"We are delighted to be working with such prestigious artists and organisations on bringing this programme to life. As we work towards tournament kick off on 6 July we will be reaching out to local artists, musicians and community groups via our host city partnerships to share in the moment and deliver a programme of events in each region.
"By bringing football and arts together under one project we can attract new audiences to each and leave behind a legacy for future generations."
Other stories you might like