Sheffield tops charts for outdoor spaces in Thriving Places Index

Sheffield has lived up to its reputation as an Outdoor City filled with culture, the Thriving Places Index (TPI) has found.
The TPI identifies the local conditions for wellbeing, and measures whether those conditions are being delivered fairly and substantially across England.
This year's results saw Sheffield come out on top for local environment, achieving the highest rating of all the Core Cities in England. To calculate the score, the TPI looked at various factors including the number of private outdoor spaces, the average distance to parks and residents' exposure to transport noise.
Culture was also shown to be a key element of Sheffield life. The category looks at how many heritage sites, museums, parks, and gardens there are and how often people visit them.
In measuring equality, income and ethnicity scored highly in Sheffield closely followed by health, but the data also highlighted some improvements which need to be made in social mobility and the gender pay gap.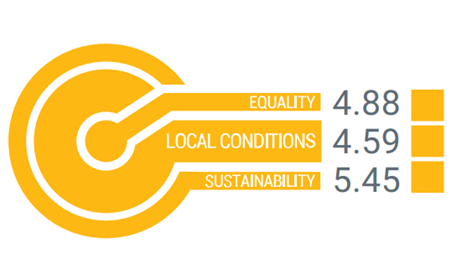 Sheffield's Thriving Places Index 2021 scorecard overview. Credit: Thriving Places Index
The figures also showcased the city's commitment to sustainability, with a high rating for the energy use category, which focused on CO2 emissions and domestic energy consumption.
Sheffield scored highly for transport, which analysed the number of people walking or cycling, car traffic levels and the time it takes to get to key services, such as school, shops, and the GP, on public transport.
There were also elements which require improvement such as jobs and business. The data analysed several factors including employment levels, the number of local businesses as well as the percentage of people with low income.
The Covid-19 pandemic has hit people and businesses hard, as many local businesses struggled to continue to trade due to closures and Covid restrictions. These struggles have been reflected in the recent data, although there are also signs that the city is starting to recover, with job vacancies increasing and the benefit claimant count falling.
Sheffield City Council's One Year Plan sets out several clear objectives as to how it will tackle many of these problem areas as well as build upon its current successes.
A significant focus of the One Year Plan is helping the city recover from Covid-19.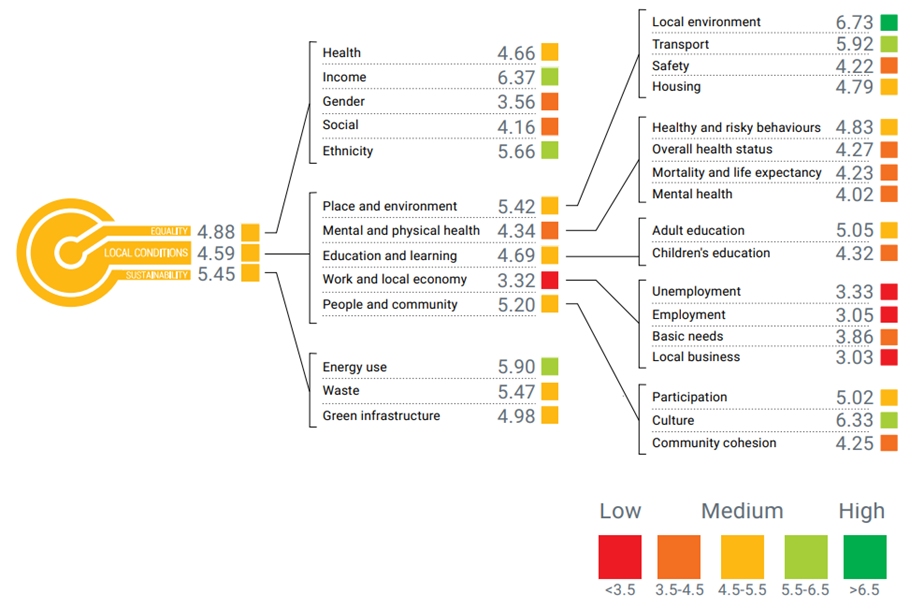 Sheffield's Thriving Places Index 2021 scorecard. Credit: Thriving Places Index
The council is supporting people to access new career paths and employers to upskill their workforce – developing career opportunities and increasing productivity – as well as supporting young people with 500 new apprenticeships, hosting Job Fairs in the city and providing support to district centre through the economic recovery fund.
The plans aim to create a city with a dynamic environment for enterprise by working closely with businesses in the city to help them recover and supporting those looking to start a new business, as well as continuing to encourage inward investment to Sheffield.
It also intends to support diverse communities in the city and take clear action to fight inequality and poverty, including reviewing how Covid funding from the Government might be used to help people through the financial 'cliff-edge'.
Tackling the climate emergency remains a priority, with plans to retrofit homes, promote low carbon transport and decarbonise council buildings.
The plan also outlines intentions to improve access to high quality outdoor spaces and the bus network as well as develop long-term plans for the Supertram.
Councillor Terry Fox, Leader of the Council, said: "It is fantastic to see our amazing city still thriving in numerous areas despite the struggles residents and businesses faced as a result of the Covid-19 pandemic.
"Us Sheffielders are proud of our outdoor spaces and our heritage, and it is fantastic to see that reflected in the Thriving Places Index. I'm so proud to see, despite all the setbacks during the pandemic, we are also still sticking to our sustainability commitments and tackling several areas of inequality.
"We still have some way to go and as a council we know there are improvements which need to be made, which is why we have set out a series of ambitious aims for the One Year Plan and continue to strive for the best for our city in the future."
Sheffield's Thriving Places Index report is available here https://www.thrivingplacesindex.org/
Other stories you might like