Sioned-Mair Richards becomes the new Right Worshipful Lord Mayor of Sheffield
"If you are among those people making Sheffield the brilliant place that we're proud to call home, then I can't wait to meet you."
These are the words of Sioned-Mair Richards, who has today been voted in as the new the Right Worshipful the Lord Mayor of Sheffield and inaugurated at Sheffield City Council's Annual General Meeting held at Sheffield Town Hall today (18/05/2022).
Councillor Richards is the city's 125th Lord Mayor and welcomed her new role saying "please, please invite me, and Jackie the Lady Mayoress to see what you or your group are doing. I'm really looking forward to getting out and meeting people.  Those having 100th birthday parties, those organising friendship lunches, those making charity events happen, those working to change lives, those volunteering quietly."
The Lord Mayor's consort will be Councillor Jackie Satur.
The outgoing Lord Mayor, Councillor Gail Smith, wished Sioned well in her role and said what a privilege it has been to be mayor in this wonderful city, commenting on how Sheffield could not run without those who volunteer. Gail jumped out of a plane for charity during her time as mayor and raised £30,000 for her three chosen charities.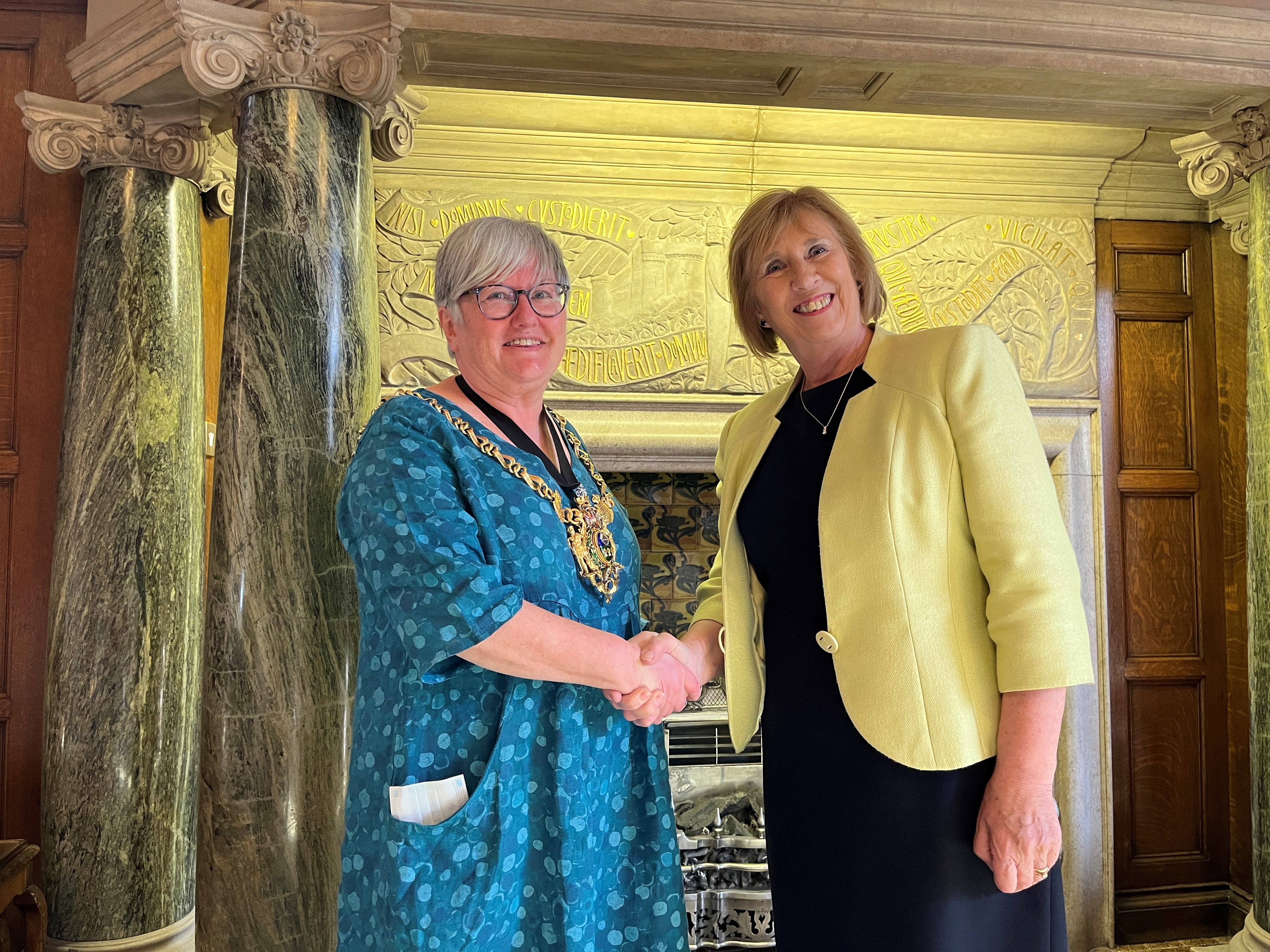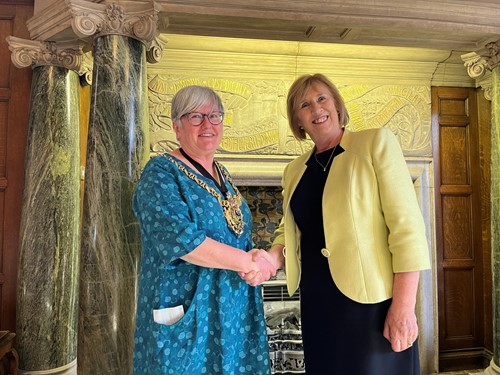 Originally from Wales, Sioned moved to Sheffield for love 21 years ago, to be with her husband, Howard.  She now lives in Burngreave with her son Dan and their cat Titch. She is semi-retired and is kept busy working as a councillor. She has been involved in local government most of her life, either as an officer or as a councillor. She worked as an Infant teacher, and also worked as a researcher for an MP in Parliament.
"But local government is where we make a real difference, and I am proud to have played my part over 40 years."
Sioned said that her house is filled with books, which is her other passion, and she reads books of pretty much every genre. She also volunteers at Ecclesfield library every week and love talking books to the regulars.
"We have a playgroup on a Friday where the children race about, carrying books, being read to and generally associating libraries with having a good time. I'll be there as usual this Friday, though wearing my chain. Just for show!"
Sioned has promised that "every Wednesday of my year as Lord Mayor, I will have children from all around the city come to the Mayor's Parlour to read with me and talk books. I'll also be going out to meet groups in libraries and doing all I can to pass on the love of reading to the children of Sheffield. As well as this, I'll be fundraising to make sure books are part of the lives of all our children.
Sioned's husband, Howard, who was a city councillor from 1978 to 1993, died two years ago in the Palliative Care Unit at the Northern General Hospital, and she said that "the care was second to none but we both agreed at the time that the building needed brightening up, modernising and making more comfortable. 
She will be keeping her promise to him by fundraising for the Palliative Care Unit, now that it's possible after Covid and its restrictions, to make it "the place that the dying and their families need."
Sioned reflected on how Covid has kept us all at home and sometimes home isn't the safe place it should be. The third strand of her fundraising this year will be for women and children who have suffered domestic abuse. She will also be working with others to raise awareness about women's safety in all parts of their lives from walking through our parks to nights out to getting around on public transport.
Other stories you might like