Spider eyes light up Cobweb Bridge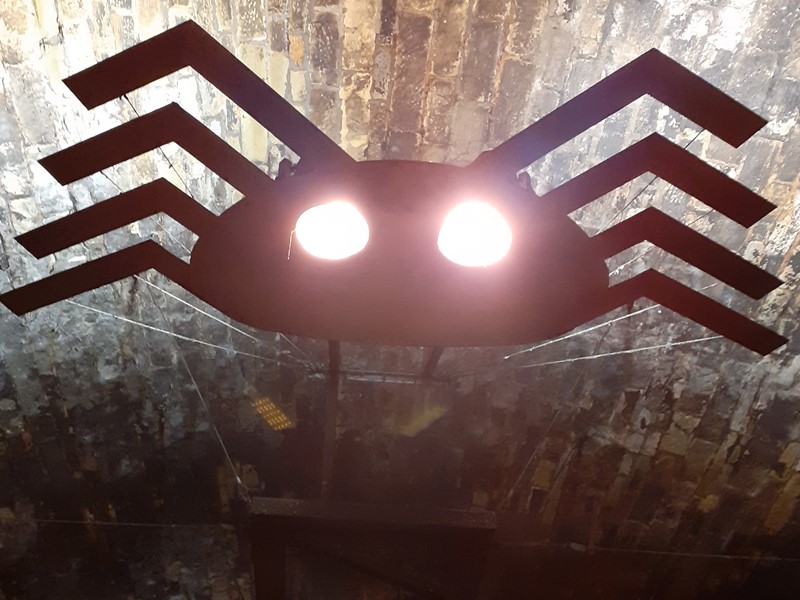 A bridge in Sheffield, home to three larger than life eight - legged insects, will be beaming brighter this winter thanks to the council's highways programme, Streets Ahead.
Cobweb bridge also known as Spider Bridge, due to three huge steel spiders that lurk beneath the viaduct, has recently undergone a lighting re-fit.
Popular with walkers, runners and cyclists alike, the bridge, which is part of the Five Weirs Walk, a 4.5-mile marked footpath along the River Don in Sheffield, was built in an unusual S-shape suspended on wires from beneath one of the viaduct's arches.
It is also the only bridge in Sheffield that can boast two different types of temperature LED floodlights, which are not only brighter, but help to illuminate the spiders' striking eyes to contrast with the up-lighting of the Sheffield viaduct bridge above.
Nick Marriott, Operations Manager in charge of the Highways Electrical team at Streets Ahead said:
"There aren't many examples of bridges that are lit in the same way as Cobweb bridge. We light over 30 subways across the city, and some height signs at larger bridges, but none are as decorative or as striking at this one."
Ark Lighting Ltd based in Barnsley, who are specialists in the field of architectural lighting, worked with Streets Ahead on the re-fit.
Mark Kenyon, their Director, says of the work, "We loved the quirky element to this project and to be involved with providing the lighting solution was really rewarding. Given its relatively close location to us and being in Yorkshire, it was a massive bonus!"
Access to the lighting proved to be challenging, requiring 6ft of scaffolding on the bridge itself and a 20ft long pole to unlock the bolts that holds the spiders in place.
Nick goes on to say, "Lots of people who use the bridge regularly stopped to comment on the work whilst we were on-site, telling us how pleased they were that the lights were being revamped and the spiders were going to stay. The design provokes a lot of local interest and it was good for my team to hear that their work was appreciated by so many."
The lights have been refitted as part of the Streets Ahead highways improvement programme, which will see the city's roads, pavements, street lights, bridges and other items on or around our streets improved and maintained.
The bridge is now much brighter and lit 24/7, providing additional security for those using it in the evenings and at night.
To find out more about the Streets Ahead programme visit: www.sheffield.gov.uk/streetsahead
Other stories you might like