Stocksbridge's Oxley Park and Community Leisure Centre secures boost of £500,000

Stocksbridge Community Leisure Centre and Oxley Park are set for £500,000 of improvements, including the creation of a new outdoor playground, when the secured funding is approved by Sheffield City Council's cabinet next week.
As well as brand new play facilities, the funding will also be used to improve access routes and the entrance area to the park and leisure centre, which will mean enhancing the path network, providing additional bike and car parking and an outdoor café seating area.
This investment aims to provide and improve recreational facilities that will support health and wellbeing opportunities for the people of Stocksbridge and beyond. 
Our Parks and Countryside Service worked closely with 4SLC Trust, who run the Community Leisure Centre based in the park, to secure the funding from the Towns Fund, which will make a big difference to the quality of the Oxley Park and Leisure Centre environment.
The Towns Fund aims to assist towns to grow their infrastructure and local economy, with funding from the first round 'Towns Fund Accelerated Pot' aiming to develop leisure facilities and community spaces which bring people together and contribute to improving the quality of life for local users.
Cllr Mary Lea, Cabinet Member for Culture, Parks & Leisure, said:
"Our green spaces have become more important than ever during the last few months and it is essential that we continue to invest in them. I'd like to thank local councillors Julie Grocutt and Francyne Johnson, the Friends of Oxley Park and the Leisure Trust for their efforts towards securing this funding.
"This investment will make a significant difference to our communities in Stocksbridge. We'll be delivering a range of improvements that will benefit people of all ages, addressing social, physical and environmental aspects, while transforming Oxley Park into an accessible community facility for all local people to enjoy."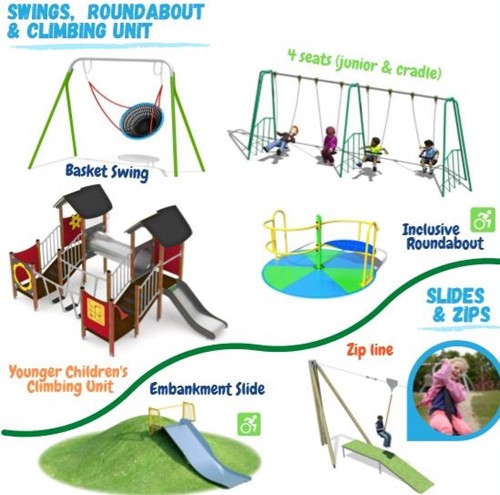 Proposed play equipment for the new playground
Work will include
Creation of a new children's playground next to the Leisure Centre, with fixed equipment and a natural play area. The new playground will make use of the surrounding landscape and will be linked via a play trail to the new Leisure Centre café terrace.
Developing infrastructure which will include access routes, landscaping and additional bike and car parking provision to ensure the new developments encourage and facilitate sustainable travel but are also accessible to car users of the Leisure Centre and Oxley Park.
Creation of an outdoor seating terrace and toddler area for the new Leisure Centre Café which will link into the park.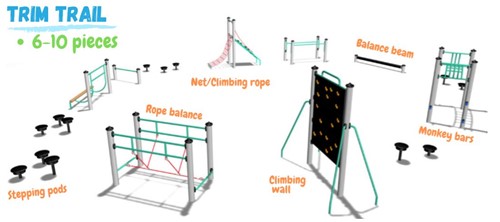 Proposed trail play for the new playground
Andy Clarke, Chief Executive of the Trust and Centre Manager said:
"We are delighted to be involved in this project which will create greater access to Oxley Park and link up with our new and popular 'Oxley's café, serving both Centre and park users. We hope the improved access and parking for both vehicles and cycles will attract greater use of these fantastic local resources."
The project will further enhance the refurbishment work recently completed to the Leisure Centre and will be the first phase in delivering priorities for Oxley Park which were highlighted in recent consultation.
We are working with a number of partners including Stocksbridge Town Council, Friends of Oxley Park and Steel Valley Project to deliver this and future phases which are planned to include a new All Wheels Facility and further enhancements to the footpath networks around the park.
Vic Faulkner from the Friends of Oxley Park, said:
"We are excited to see that funding has been secured for much needed play facilities in Oxley Park and are looking forward to progressing this and future phases of improvements."
Proposed play equipment linking to natural area
Work is expected to begin on site in early 2021 to deliver the new playground and wider site improvements.
We want to know what your priorities are for the rest of the Towns Fund money. Please complete our short survey and share your views by 15 November.
Details about the funding are included in the November Cabinet Capital Approvals report. 
More information about the Town's Fund.
Other stories you might like