Streets Ahead join forces with Sheffield communities to pick up 'whole lotta litter'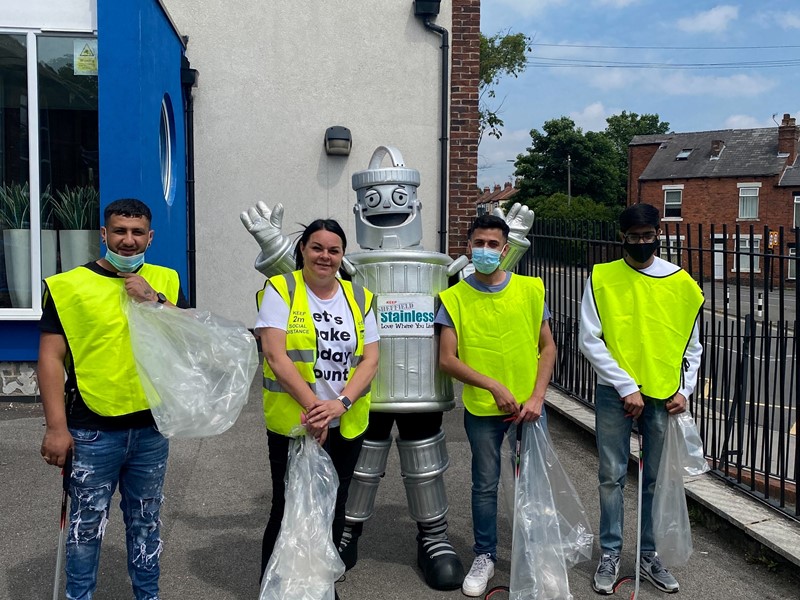 With a team of over 100 operatives, emptying over 3000 litter bins and an average of 850 metric tonnes of litter and fly-tipping collected every month, it's safe to say that the Street Cleansing team at Streets Ahead has its hands full.
And across the city an army of selfless volunteers are always there to help. During the first four months of this year, Streets Ahead saw a huge increase in requests for litter picking equipment, up over 230% on the same time last year - a testament to the appetite of Sheffielders to keep their city clean, green and safe.
Parks and green spaces have provided that much needed escape for many of us during lockdown and it's crucial that, together, people continue to look after the areas that mean so much to everyone.
A sentiment echoed by Linda Ball from Sheffield Litter Pickers, who says:
"People realise that being actively involved in trying to solve a problem is very satisfying and worthwhile. It's about caring for your wider environment, for the benefit everyone. And every effort counts, big or small - just a few minutes sprucing up your street or green space will make a difference. You are not alone - there are many of us out there and maybe one day we can outnumber the litterers!"
With over 3500 members, Sheffield Litter Pickers are a force to be reckoned with when it comes to litter. Organising countless local litter picks, the group clear parks, woodland, riverbanks, streets & footpaths of all kinds of litter; from plastic bottles and aluminium cans, to cigarette ends, discarded face masks, takeaway cartons and in some cases, larger items such as old prams and rubber tyres.
Like everyone, Streets Ahead is incredibly grateful for the work of local volunteers, and Mark Lightowler, Street Scene Manager at Streets Ahead explains that by working together more can be achieved:
"Litter and fly - tipping is an issue across the country, not just in Sheffield. Sheffield Litter Pickers do a fantastic job of engaging with local people, helping to get the message out far and wide, that you too can help to keep your local area clean and safe, but also that dropping litter and fly-tipping is anti-social and it can be dangerous to children, pets and to wildlife."
Streets Ahead is currently working with Sheffield Litter Pickers to create community hubs where litter picking equipment can be borrowed and returned, enabling more people to get involved in litter picking, either in groups, or as individuals.
Despite the great work done by volunteers, there remain a lot of daily issues to resolve for the Street Cleansing team and none more so than in one of the most challenging areas in the north of Sheffield, Page Hall.
Working alongside Sheffield City Council, local councillors, services, and communities to deliver a two-week deep clean of 16 roads in the area, Streets Ahead empty litter bins every day and remove fly-tipping every other day.
Last month, working with Fir Vale Community Hub and several local schools, Streets Ahead took part in a community litter pick involving local school children, Arches Housing, Page Hall Neighbourhood Team and, of course, the Streets Ahead mascot, Phil the Bin.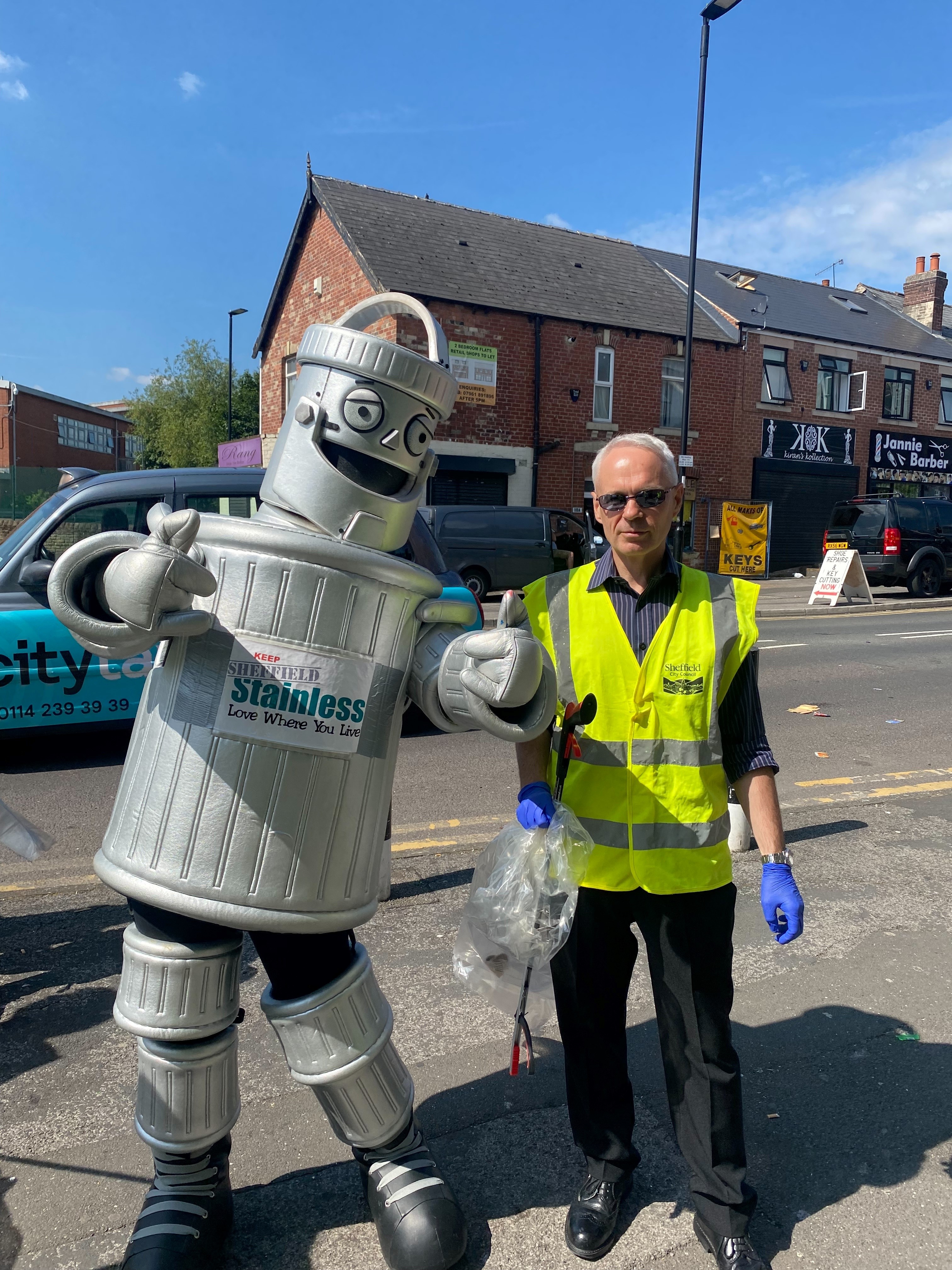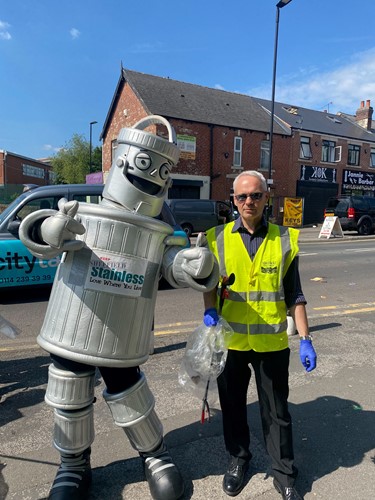 Laura Duckworth, Head of Hucklow Primary School said of the litter pick:
"It was such a great experience for our staff and children- not only were we doing something positive for our environment, but we really enjoyed the community feel it gave us.
"The school is working really hard to educate children on ways to protect our environment and how to promote pride in our area and our children are also designing a banner and posters to deter fly tippers and litter bugs.
"We would love to work with the Hub on a regular basis to more of the same."  
Streets Ahead also provided additional support in the form of road sweepers to clear debris from side roads, and the grounds maintenance team were on hand to cut back overhanging vegetation where litter can collect, and to remove weeds from pavements.
There is no doubt that much of the local community is working hard to keep the area as clean as possible, as Usman Yousaf from Fir Vale Community Hub explains:
"Everyone coming together trying to create a safe and clean space so we all feel good about the area we live in is really important. This brings about a sense of community and responsibility to keep our homes and common areas safe and clean. Visible results might lead to a heightened interest and involvement among community members in reducing garbage and food waste and preserving the environment."
With a number of different agencies, schools and partners working together to combat ongoing issues in the area, local residents are being encouraged to take more responsibility.
"There's a huge amount of work going on in Page Hall and surrounding areas to educate and promote behaviour change amongst residents," said Page Hall Service Manager, James Richards. "Ultimately, littering of any sort is unacceptable and we will continue to look at ways of resolving issues in hotspot areas by working together and finding new ways to combat repeat litterers."
Executive Member for Housing, Roads and Waste Management at Sheffield City Council, Councillor Paul Wood said:
"It's fantastic to see community members, particularly school children, coming together to help clean up their area. Every day, across the city, we see people dedicating their time to keeping our streets and outdoor spaces litter-free and it makes such a huge difference to our environment.
"The hope is that more people start to recognise that taking responsibility for their own litter benefits us all and makes for a nicer place to live."
You can find out more about how to organise a community litter pick on our website, www.sheffield.gov.uk/home/pollution-nuisance/organise-litter-picks and remember to use the form on the same page to organise a collection afterwards.
Other stories you might like