Streets Ahead mark end of winter maintenance period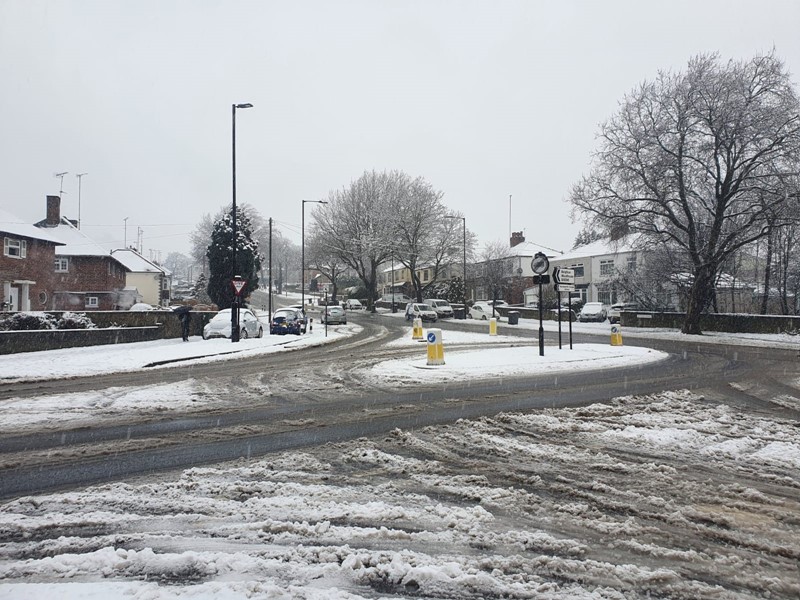 After a very busy winter period in Sheffield, Streets Ahead, the council's highways contractor, will soon close the door on the salt dome and put the gritters away for the summer.
Predicting the weather is a tricky business, and it's impossible to know, as the winter maintenance season begins, just what might lie ahead. But despite having every type of weather thrown at us in recent months, Streets Ahead rose to the challenge, working hard to keep the road network in Sheffield moving through an array of wintry conditions.
The season began quietly, with no gritting carried out at all during October. In November, we saw significant rainfall across the city, followed by low temperatures in December, which then turned milder ahead of the arrival of Storm Bella, which brought heavy winds and rain.
Just before Christmas, snow and icy weather arrived and the gritting teams were ready to respond; treating priority routes to keep the road network safe. Local farmers also helped out on higher ground and operatives worked around the clock to ensure the city's 2000+ grit bins were fully stocked.
Unfortunately, the cold weather hasn't shown much sign of relenting since then, as Wayne Southall, Operations Manager, in charge of the winter weather response at Streets Ahead, explains:
"It does feel as though we have had a longer winter period than usual, but that may be due to a milder October and November leading to a later start to what we all perceive as winter.
"January in particular, was a very difficult month, with extreme cold and snow that continued into the middle of February, when we also had Storm Christoph to contend with, bringing high winds and heavy rainfall. In contrast, March was much milder than usual bringing some respite, but April has been one of the frostiest for a very long time, making the winter feel like it's dragging on."
This winter season, Streets Ahead have had additional commitments, including making sure that all COVID-19 vaccination centres remained accessible for those invited to attend. Street cleansing teams were deployed across Sheffield to clear ice and snow from roads and pavements close to vaccination centres and their efforts did not go unnoticed.  Sheffield Arena, one of the city's main vaccination centres, tweeted at the time; "Fantastic suppt from @sccstreetsahead to help get the 'show' on the road @SheffieldArena …"
A high volume of winter weather enquiries, as well as compliments from residents, were also received by Streets Ahead on Twitter during December and January, with almost 300 responses provided.
Now with the end of the winter maintenance season drawing to a close, the final figures show that Streets Ahead have gritted Sheffield's priority routes over 120 times since the beginning of October 2020. The team will remain on stand-by in May just in case they are needed.
In addition to the work on the roads, Streets Ahead held an art competition last year, which invited local school children to design new winter coats for two gritting lorries, Sammy Snow and Gertie Grit, with over 100 entries being submitted. The winners, Leo Twigg, aged 6 and Freya Siddiqui, aged 11, plus all the runners-up, received a variety of art supplies as a reward for their fantastic designs. The winning designs will be seen on the lorries next winter when they return to the roads.
If you've any questions about our winter gritting service, watch our video, which answers common questions, including how road salt works in snow. You will also find details of our priority gritting routes and locations of all our grit bins at: www.sheffield.gov.uk/winter
Other stories you might like