Summer season of arts and heritage kicks off to celebrate the UEFA Women's EURO 2022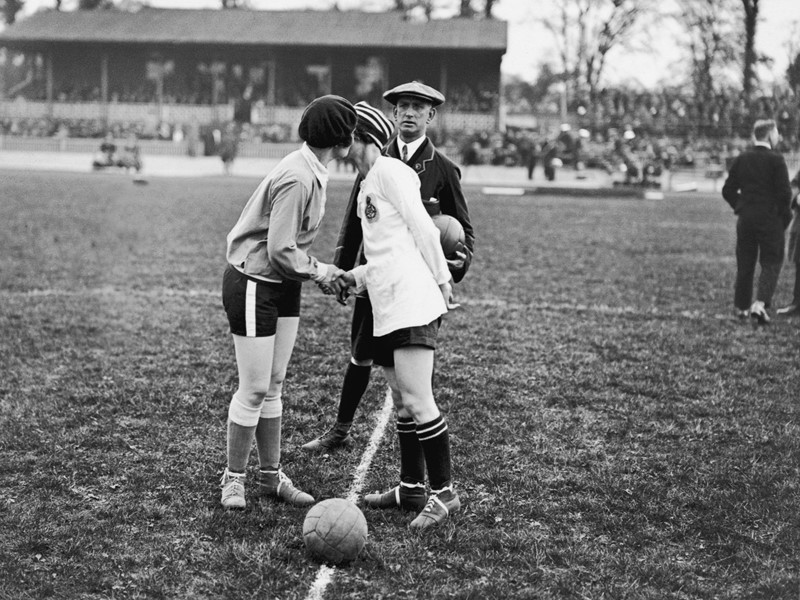 Sheffield is part of an exciting arts and heritage programme which will run alongside the UEFA Women's EURO 2022 this summer.
Featuring a line-up of arts, heritage projects and musical events, the programme will celebrate and explore the rich history of the women's game. Taking place nationwide across the nine Host Cities and ten stadia, the programme begins this month, ahead of the tournament kick-off on 6 July, and runs throughout the summer season.
In collaboration with the other Host Cities  – Brighton & Hove, London (Brent and Hounslow), Manchester, Milton Keynes, Rotherham, Southampton, Trafford and Wigan & Leigh – the programme will reveal untold stories of women's football and encourage more people to be inspired by the tournament. Through a series of arts and heritage events, the programme will bring the worlds of sport and art together in a national celebration which is set to reach 3 million people nationwide.
In Sheffield this will include UEFA Women's EURO 2022 outdoor heritage exhibition across the city from 6 – 31 July, an exhibition in Sheffield Central Library and Winter Gardens, The Supercompensation Cycle by Emma Smith warm-up performance on 21 July and Royal Philharmonic Orchestra Pop-Up and Fan Zone performances on 26 July.
The arts and heritage programme for the UEFA Women's EURO 2022 tournament is funded by The National Lottery Heritage Fund and Arts Council England, thanks to National Lottery players, and the Host Cities. The programme will be managed by The Football Association (FA), the national governing body of football in England. It will be the first time the organisation has run such a programme alongside a major tournament, and it hopes to establish female role models for both girls and boys through the arts.  It is supported by UEFA, Canal & River Trust and Mayors of London and Greater Manchester.
Cllr Martin Smith, Chair of the Economic Development Committee at Sheffield City Council said: "The UEFA Women's EURO 2022 arts and heritage programme helps us tell the fascinating stories of Sheffield's footballing past and brings the history of the women's game to life, like we have never been able to before. Celebrating sport and culture together means we can engage with and inspire more people in our communities to get involved either actively or creatively. It's really going to be a summer to remember!"
National Arts and Heritage Programme
New commissions by women artists will be presented throughout the programme, including an immersive artwork for all ages by award-winning visual artist Emma Smith; a new anthem by the Royal Philharmonic Orchestra led by celebrated conductor Shirley Thompson OBE; a Stadium for the Future – danced into existence by art, environment and social justice collaboration, Idle Women; as well as a new creative resource for libraries by interdisciplinary artist Deborah Goatley-Birch.
The Supercompensation Cycle by Emma Smith is an immersive and participatory artwork that invites the public to warm-up for each match by replicating the movements of live performers. Inspired by historic footage of player's abstract warm up moves and sports theory, the work celebrates the unchampioned expertise of all bodies and how they move. Smith worked with hundreds of local residents and football players across Host Cities to capture expert everyday moves. These have been woven together to create a team of 11 holographic films embedded in specially designed sculptures that form an installation. The installation is accompanied by an immersive sound score and participatory movement work, performed with local dancers, in which members of the public are welcomed to join.
Composer Shirley Thompson OBE has created a Tournament Anthem in celebration of the UEFA Women's EURO 2022.   Inspired by words and lyrics submitted by fans across the country and recorded by the Royal Philharmonic Orchestra and 100 community representatives from the Host Cities, the new Anthem is available for groups to play and sing along to and honours the achievements of women footballers and the bright future of the game.
Women composers Rosie Bergonzi, Charlotte Harding, Alice Phelps, Detta Danford, Sam Mason, and Raye Harvey and teams of RPO musicians have also been working with community members in Host Cities to create Local Anthems reflecting the spirit of each area. Twenty-four hours of workshops in each location have reached more than 3,000 participants ranging in age from 0 to 92, with each area's bespoke Anthem featuring words, ideas, melodies, and rhythms created by local people. Quintets from the Royal Philharmonic Orchestra will be in attendance on match days to excite the crowd by playing their Local and Tournament Anthems in dedicated Fan Zones. The public is also invited to test their football control in the Momentum Challenge – a choreographed routine of football tricks with new music composed by Thompson and recorded by the Royal Philharmonic Orchestra to create the world's first Concerto for Football and Orchestra. To download the anthem materials and to join in on the Momentum Challenge, please visit: rpo.co.uk/rpo-resound/womens-euro-anthem
Stadium for the Future (If I can't dance I don't want to be part of your revolution) by Idle Women will see women taking their rightful place along the canals and waterways in Host Cities. The industrial heritage of canals has strong parallels to women's football as many teams first came out of canal-served factories and manufacturing plants. Despite advancements in the game, there remains no dedicated women's football ground in the UK. Idle Women are planning to build a Stadium for the Future conceived, engineered and hand built by and for women. Not a concrete monolith but a stadium to re-imagine environmental recovery and reciprocity, a self-sustaining ecosystem of women's doing, creating, training, and playing. During UEFA Women's EURO 2022, women from across the UK will gather in fields, parks, and underpasses to dance the stadium into existence at site-specific raves coordinated with community groups, older women, musicians, and DJs. Stadium for the Future will culminate in a sound piece that will broadcast until the stadium is complete.
Libraries across the country will have access to a new creative resource pack designed by Deborah Goatley-Birch which will enable communities to come together to celebrate and enjoy the UEFA Women's EURO 2022. The pack includes activities inspired by football fan objects such as rosette and banner making and includes a reading list of books that feature trailblazing sports people. The programme is supported by Libraries Connected.
A heritage and legacy initiative accompany these new artistic commissions as part of the programme to celebrate the tournament. The initiative will highlight women's rights, equality, and activism through the lens of the game with exhibitions across the Host Cities, oral stories and heritage films. It will shine a light on the experiences of women footballers that have never been told through stories and objects that have been gathered for the first time.
Eight outdoor and eight indoor exhibitions will be held across museums and sites in the Host Cities including Brent Museum and Archives, Brighton Museum, Gunnersbury Park Museum, the National Football Museum, Clifton Park Museum, SeaCity Museum, Trafford Local Studies Centre, and Wigan and Leigh Archives. Each exhibition spotlights local footballers in each city through portraits, objects and stories which tell of the resistance and perseverance of women players, as well as their passion for the game. Beyond the exhibitions, Host Cities have collated 80 oral histories and 40 memory films which have been co-curated with both retired and young players.
Caterina Loriggio, Arts and Heritage Lead for the UEFA Women's EURO 2022, said: 'We are delighted to be working with an extraordinary group of artists, historians, players, collaborators and institutions across the country to realise a significant arts and heritage programme that will pay tribute to women who have dedicated their lives to the game of football. We are thrilled to be sharing these stories and hope that it will nurture the next generation of fans and women football players.'
Darren Henley, Chief Executive, Arts Council England, said: "The UEFA Women's EURO 2022 will be a huge event this summer – attracting the world's attention – and I am very proud that arts, culture and creativity will play such a vital role in the tournament, all thanks to National Lottery players. I hope that everyone takes the opportunity to experience the cultural programme, which has been created by leading female artists, and that it creates a lasting and inspiring legacy."
Eilish McGuinness, CEO of The National Lottery Heritage Fund, said: "Thanks to money raised by National Lottery players, the hidden history and unheard voices of women's football will be shared for the first time, capturing the full story of the beloved sport. We're delighted to support this project which will give fans and players the chance to celebrate the history of women's football and communities the chance to discover their connections to the game."
For a full outline of the UEFA Women's EURO 2022 arts and heritage programme including events in each Host City, please visit TheFA.com/WEURO2022Arts  
Other stories you might like