Tackling fly tipping in our communities

Sheffield City Council committed £700,000 to tackling fly tipping and graffiti across the city, new CCTV cameras are already making a difference, and further targeted action is being discussed in the local areas.
Since May 2021 seven new mobile cameras have been used across 21 locations at known fly tipping hot spot sites in Sheffield. Locations across the city include Burngreave, Wincobank, Attercliffe, Nether Edge, Walkley, Darnall, Woodhouse, Manor.
The cameras act as a deterrent to those who intend to fly tip, and also support the detection and investigation of those who illegally dump waste.
Since their installation more than 200 waste related incidents have been detected, resulting in more than 80 fixed penalty notices being served and a number of court cases pending.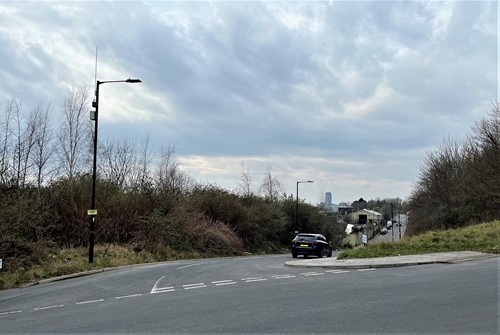 Mobile camera installed at East Earsham Street
A noticeable reduction in the levels of fly tipping has been recorded at various sites since cameras have monitored the area, including East Earsham Street S5, Hucklow Road S5, Ripon Street S9, Lumley Street S4 and Roundall Street S9.
Local Area Committees are now looking at the most effective ways to use a portion of the funding within their communities, to have the best impact in keeping Sheffield's neighbourhoods and green spaces clean and free of waste. This might include measures such as additional fencing and barriers, clearing of overgrown areas and getting residents involved in projects to improve their local areas.
Last week Council Leader, Councillor Terry Fox visited a site at Colliery Road to help clear up the mess that is being created by flytippers, being cleared by Amey's street teams.
Councillor Terry Fox, Leader of Sheffield City Council said: "Overall we're proud of the cleanliness of our city. But we know fly tipping's a problem in some parts of Sheffield. It's criminal activity and it affects the pride people have and feeling of security in our communities.
"The money we've committed has allowed us to target some of the known problem areas in Sheffield, and the intelligence we get from our new cameras, combined with the efforts of our hard-working teams, is making a significant difference. In every incident we investigate, and we always act on any evidence found to bring those who spoil our city to justice.
"Through our Local Area Committees, we will now make sure that further efforts are tailored in the best ways for each area. We know that there are different causes and solutions, and we want this to be a long-term fix, a behaviour change, that will see our streets and parks free from the blight of fly tipping."
Cllr Terry Fox helping Amey's street cleaning team at Colliery Road
While Sheffield and the Yorkshire and Humber region fair quite well on a national scale, there are still around 750 fly tips per month in the city, ranging from large vehicle tips down to single black bags. Around two thirds of incidents in Sheffield relate to individual bags being left next to public street bins – which is also a criminal offence.
Cllr Fox added: "We've seen some great results already and we're not stopping there. CCTV is a great help in detecting fly tipping crimes, and by moving the units around we can deter people in more locations, resulting in cleaner streets. But, across the city we can, and we will do better, with locally focussed approaches and collective community efforts to stop fly tipping in Sheffield.
"We ask everyone to make sure they get rid of waste properly. Always use a registered service, because you could be paying for your waste to be taken away, only for it to end up on your streets. You can use our Household Waste Recycling Centres across the city or our bulky waste collection service.
"And, if you see it happening, please tell us and if possible, get evidence because that really helps us take action and put a stop to the those who don't care. Together we can make a difference."
In the last 2 years, 220 Fixed Penalties for fly tipping or dumping have been paid by the perpetrator.  The council has successfully prosecuted 13 people, with more than £4,300 in fines and costs being imposed by the courts.
Sheffield residents can access a Household Waste Recycling Centre 7 days per week. Check the Sheffield City Council website for opening days and times of each centre. Check @recycle4shef on twitter for waiting times at the sites.
Householders have a legal duty of care to dispose of waste responsibly. Any waste taken from your household should be done so by a registered waste removal company, or through the council's bulky waste collection service. Failure to use a registered provider could result in the waste being dumped and the householder being responsible, facing a potential fine of £200.
People can report incidents of fly tipping to the council online. We ask for any supporting evidence to be provided, to support investigation and further action.
Other stories you might like