Tek it ome this summer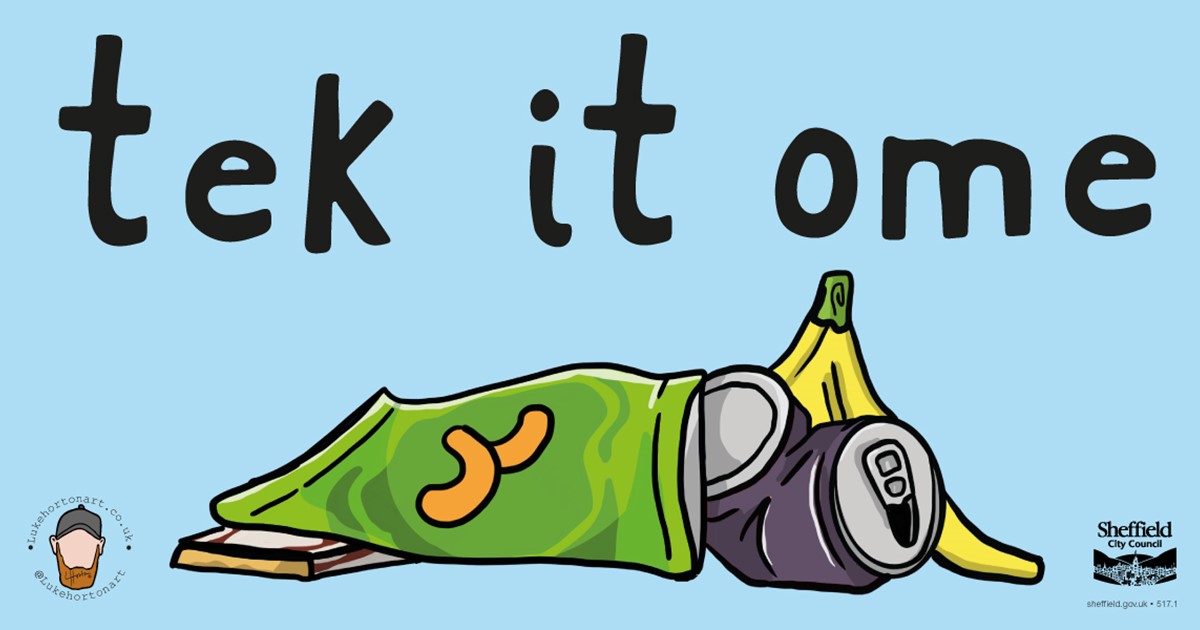 Sheffield City Council has teamed up with artist, Luke Horton to encourage people visiting our gorgeous parks and green spaces to take their litter home.
Every summer we have to employ extra staff and put additional bins in place to tackle the litter problem left in our parks. This year, Sheffield residents and visitors to our parks are being asked to do their bit by taking rubbish home and recycling if possible.
In a bid to encourage participation, there will also be an online competition* to win 'tek it ome' tote bags throughout August. Follow @sheffcouncil on twitter or @SheffCityCouncil on Facebook for details.
If you're visiting Sheffield this summer, please use the bins or even better, #TekItOme
Cllr Richard Williams, Chair of the Communities, Parks and Leisure Committee said:
"I'm really pleased we're teaming up with a local artist to help tackle issues with littering. We've already seen our parks getting busy with the weather we've had attracting BBQs, parties and picnics. Our parks and green spaces are a huge asset to our city and it's fantastic to see every green space being used and enjoyed. We're asking for our communities and individuals to do their bit to help keep Sheffield tidy and safe."
Luke Horton, Sheffield Artist, said:
"I'm excited to work on this project with SCC. We've got so many great parks in Sheffield and I want to help make a positive impact on keeping them all tidy. I make artwork that's relatable, upbeat and makes me proud of our city. I really hope this helps people stop littering.''
Ruth Bell, Head of Parks and Countryside at Sheffield City Council, said: 
"We understand that people want to make the most of the lovely weather and the chance to enjoy our wonderful parks and greenspaces around Sheffield, but we need your help where possible by placing your litter in bins provided, or ideally taking litter home and recycling. If you see other litter around, please pick it up and dispose of it appropriately.
"We have extra staff working hard evenings and weekends emptying bins and litter picking. Many extra bins are provided in all busy parks.
"Even with these measures in place your support is vital to keep our green spaces looking great.
"Enjoy the good weather. Do your bit to support your community, and help keep Sheffield tidy''
Find out more about our parks including use of personal BBQs on our website.
*Competition Terms and Conditions
Prize draws will take place by random selection on dates stated on original posts by SCC staff. Winners will be notified by a tag under the original post and by direct message if available. Winners must respond within 7 days or prize will be withdrawn. No cash prize equivalent. No entry fee. No purchase necessary. One entry per person, per week. Prize must be collected from Sheffield Town Hall by arrangement with SCC staff. SCC have the right to withdraw the competition at any time.
Other stories you might like