There's no place for hate here - we absolutely stand against it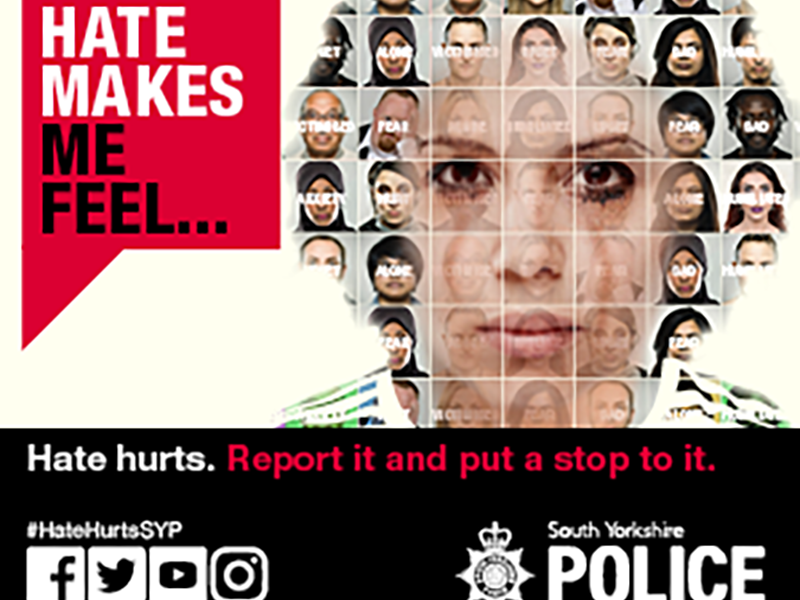 Councillor Alison Teal, Executive Member for Sustainable Neighbourhoods, Wellbeing, Parks and Leisure said:
"At Sheffield City Council we absolutely stand against hate. No-one is born with hate in them, it's something that's learned. There is no place for it in Sheffield.
Far too often people are targeted because of who they are – whether they are from an ethnic minority, part of the LGBTQ+ community, have a disability or because of their faith or beliefs. We want people to feel safe and free to be proud of who they are. It's our people that make Sheffield the amazing and diverse city that it is.
"There is work for us to do together, as individuals, as communities and as organisations across the city. In partnership with South Yorkshire Police, we have appointed a Hate Crime Coordinator, dedicated to developing a better understanding of hate crime, how it affects our communities, and how we can support them. We're working with the Hate Crime Priority Group too, a multi-agency group formed to address issues.
"We have Hate Crime education campaigns in our schools and training materials for our city's organisations. And in the council's One Year Plan we've committed to prioritising community safety with a team of street wardens for each of Sheffield's seven committee areas. These teams will tackle anti-social behaviour and have enforcement powers to issue on the spot fines showing a return to a visible presence in our communities.
"Please report any kind of hate crime that you see or experience either to the police or to one of the city's Third Party Reporting Centres. We all have the right to feel safe in our city, and we must stand up to hate wherever we find it."