Two prosecuted over illegally imported puppies

We are reminding those thinking of getting a puppy to be vigilant, after prosecuting two people in court for the illegal import and mutilation of three Cane Corso puppies.
Following a complaint about a puppy advertisement by Barbarian Corso Kennels in Sheffield, an investigation was carried out by our environmental protection service.
Investigations showed that the puppy had been imported with two others from Romania by kennel owners Carmen Pintea (37) and Claudiu Belceanu (43). The puppies had all been cropped and docked, meaning their ears had been surgically shortened and their tails removed. This process is prohibited in the UK, and Romania, but is allowed in Romania's neighbouring country, Serbia. 
The owners initially claimed the dogs had been operated on in Serbia prior to being imported because they had been in an accident, but Belceanu later admitted he had arranged the operations to alter the dogs' appearance.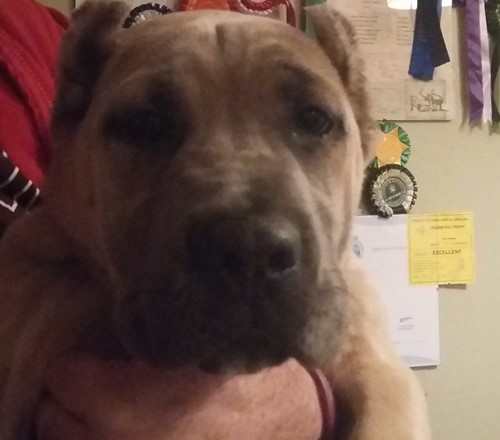 Animals imported from Serbia, where there is a more serious rabies risk, must be vaccinated, have a subsequent blood test, and be monitored for three months before being allowed to travel to the UK. The puppies were not old enough for this to have happened, and so the puppy in Sheffield was seized and placed in quarantine.  Another of the puppies, which was tracked down in Surrey, was also seized and quarantined.  The third puppy could not be traced.
Pintea and Belceanu had also failed to meet import for trade rules which are strictly controlled requiring a Health Certificate, and notification to the Secretary of State when the dogs arrive. The owners had falsely claimed the puppies were pets of the transporter, despite having imported animals for trade purposes before.
On 27 January, Claudiu Belceanu pleaded guilty to arranging the cropping and docking of the puppies, and illegally importing the dogs, and was sentenced to 100 hours community service. He was disqualified from transporting animals and from arranging for the transport of animals for 12 months. He was ordered to pay £800 towards the Council's costs and a victim surcharge of £90.
At the same hearing, Carmen Pintea pleaded guilty to failing to notify the Secretary of State of the import, and was fined £120, and was also ordered to pay £800 towards the Council's costs with a surcharge of £32.
Councillor Mark Jones, Cabinet Member for Environment, Streetscene and Climate Change, said:
"Animal import laws are there to protect us from serious diseases, and the animals from abuse and harm.  I was appalled to hear these puppies were subjected to such a dreadful unnecessary operation, and that Pintea and Belceanu were prepared to flout the import safeguards imposed to keep the UK safe from rabies. 
"The illegal mutilation of dogs is simply unacceptable, and we are pleased that the court has backed our position on this.  I hope this sends a message to others that we take complaints seriously, investigating and taking the appropriate legal action.
"We know that during the pandemic many people have brought a new pet in to their homes and I would urge anyone considering getting a dog to make sure they use reputable kennels and do their research before going ahead, for the family's sake and the dog."
Since the coronavirus pandemic has forced more people to spend more time at home there has been a huge increase in dog owners, with more families have more time to commit to walking and looking after a pet. Unfortunately, this demand has presented opportunity for those in the illegal dog trade and to those who abuse animals for their own profit.
Those thinking of getting a puppy should carefully consider and research the right kind of dog for your family and where to buy it from. The RSPCA website has lots of helpful advice including:
What kind of dog would suit you
Tips for finding a puppy dealers advert
Tips on finding a good breeder
How to avoid falling victim to the puppy trade
Options for rehousing a dog
Anyone who suspects that the illegal import or mutilation of animals is taking place can report concerns to trading.standards@sheffield.gov.uk. Animal cruelty can be reported to the RSPCA.
Other stories you might like