UEFA Women's Euro 2022 boosts Sheffield's economy by more than £8million

A study commissioned by The FA, UEFA and UK Sport to measure the impact of UEFA Women's EURO 2022 has shown that Sheffield as a host city of the tournament has benefitted from an £8.3million boost to the local economy.
The tournament generated £81m economic impact across cities nationally.
In line with the aims of the tournament UEFA Women's EURO delivered on every level in Sheffield, bringing in thousands of fans from across Europe, inspiring hundreds more women and girls locally to get in to football, uniting communities, setting new records, broadcasting the city across the world and bringing millions into the local economy.
Sheffield hosted three group C fixtures, between Netherlands, Switzerland and Sweden plus that amazing semi-final between England and Sweden which gave spectators one of the most memorable moments of the tournament 'that back heel'.
The city was awash with colour as thousands of visiting fans took over bars and pubs and gathered for the pre-match fan parties at Devonshire Green, before taking their spectacular fan walks to the stadium.
Testament to the city's stacked up credentials as the home of football, three new tournament attendance records were made at WEURO2022 fixtures in Sheffield – highest attendance for a non-host nation fixture – twice – and highest ever semi-final attendance.
On the weekend of Sheffield's opening fixture between Netherlands and Sweden, city centre footfall increased by more than 10,000 (22%) and all of the city's hotel rooms were fully booked.
A resident's survey was also carried out by The FA to find out what people from Host City areas felt about the tournament. A whopping 95% of those surveyed locally said they'd be supportive of future major sports events being held in Sheffield.
Across all host cities 85% said they felt proud that WEURO was taking place in their city/town, 76% said hosting WEURO made them feel positive about where they live and 72% said hosting WEURO made them feel happier.
Video showing the celebrations in Sheffield during UEFA Women's EURO 2022
Councillor Martin Smith, Chair of the Economic Development and Skills committee at Sheffield City Council, said: "When we bid for events like UEFA Women's EURO, we're making a huge commitment on behalf of the city and some people wonder why we do it. Well, here's eight million reasons, and that's on top of the many other benefits we've all seen first-hand over the summer.
"Exciting and inspiring world class sport live in our local stadium, three new attendance records set by Sheffield, thousands of visiting fans enjoying the city, Sheffield shown on TV screens across the world's media, people coming together to celebrate the list goes on.
"More importantly though is the many women and girls who've now been inspired to get in to football either playing, coaching, refereeing or just watching for the fun of it. We couldn't be happier or prouder to have been a part of this and achieving such a significant boost to our local economy, more than double what we had hoped for, makes it even sweeter.
"With the cost-of-living crisis and over-stretched budgets we're often asked about the future of events in the city. But we're ambitious for Sheffield and we understand how culture, sport and leisure go hand in hand to strengthen our economy and improve the health and wellbeing of our population. Being able to back that up with the findings of this study supports our approach and inspires us to keep striving to attract the highest calibre of events to Sheffield."
The FA published the flash impact report last week, sharing the following highlights from their findings nationally:
£81m economic impact to cities (vs £54m predicted in the pre-tournament report)
552,000 overnight stays in host cities from England and overseas visitors
84% of legacy participants said participating had increased their confidence and self-esteem
More than half of local residents and 2 in 5 spectators and tournament volunteers have been inspired to do more sport and physical activity as a result of WEURO
Fully on track to hit 500,000 opportunities to participate in host cities by 2024, with 416,000 opportunities already provided.
Bev Ward, Host City Lead at The FA, said: "Sheffield was an incredible host across its four games, welcoming fans not only from the UK and Europe but from across the world. The city came alive with tournament dressing throughout the city centre and delivered an exciting Fan Party in Devonshire Green. They also led the way with over 10,000 fans taking part in Fan Walks through the city centre, creating a carnival atmosphere and entertaining with residents on matchdays.
"Thanks to funding from National Lottery players, Sheffield also delivered a fantastic arts programme for thousands of local residents, from library workshops to creating a city anthem with the Royal Philharmonic Orchestra; to indoor and outdoor exhibitions showcasing the role local girls and women have played in football in Sheffield.
"There is a further lasting impact for the city region with the number of girls and women playing football rocketing since England's historic win. The work of local legacy partners, including Sheffield and Hallamshire FA, is making a major difference to the local game."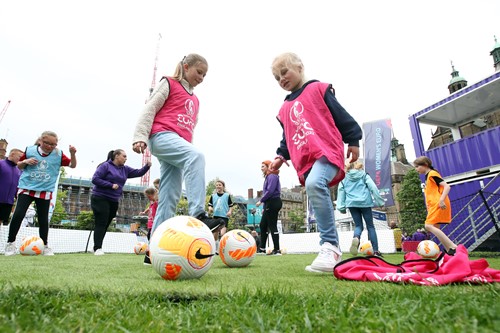 Young girls in Sheffield having a go at the UEFA Women's EURO Roadshow in the Peace Gardens.
Further analysis will be completed in 2023 to assess legacy impact, showing just how game changing the tournament has been at grassroots level in each host city.
People of all ages, abilities and backgrounds can get involved in football in Sheffield. More information is available from Sheffield and Hallamshire County FA.
Sheffield has plenty more major sporting events on the calendar, with the Rugby League World Cup happening in October/November and the Grand Prix of Figure Skating at Ice Sheffield also in November.
Follow Sheffield Events on Facebook or sign up to the regular events emails to keep up to date with the latest events information in Sheffield.
Other stories you might like