UEFA Women's EURO 2022 Legacy in Action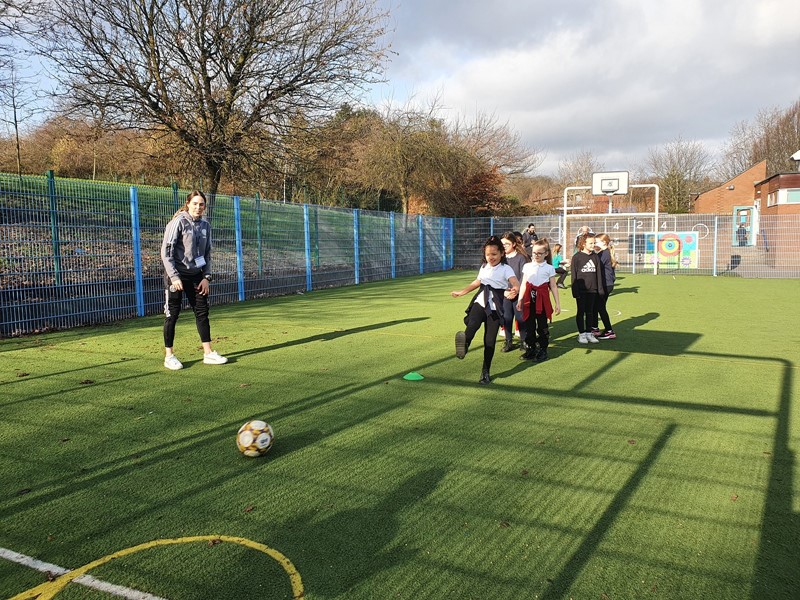 With the UEFA Women's EURO 2022 coming to Sheffield this summer, Sheffield City Council has been working with partners across the city to deliver an exciting legacy programme that will benefit the city's communities and bring opportunities in women's football to all.
The legacy programme was officially launched last May 2021 at Bramall Lane stadium, with the aim of at least 140 primary schools providing more opportunities for girls to play football, 50% more girls aged 5 to 16 having a recreational opportunity within five miles of their home and double the number of FA qualified female coaches and female referees in the city.
Bella is already making an impression on the pitch - here's her story with Premier League Kicks
As well as these legacy ambitions Sheffield is working to make football more accessible to all, regardless of age, gender, ability and background and has launched various sessions in partnership with Sheffield and Hallamshire County FA, Sheffield United Community Foundation, Sheffield Wednesday Football Club (SWFC) Community Programme, the city's universities, FURD (Football Unites Racism Divides) and other community groups.
Councillor Mazher Iqbal, Executive Member for City Futures at Sheffield City Council, said: "Being host to this phenomenal tournament is such a privilege and brings so many benefits to the city, but for me it's about our people and the difference we can make for future generations.
"Football brings people together, creates opportunities, supports our young people to lead fulfilling and active lifestyles and breaks down barriers. The UEFA Women's EURO 2022 creates the perfect opportunity for us to diversify football in the city. I know from personal experience as my daughter is a huge fan, that football can be played, watched and enjoyed by everyone. The more we embrace, encourage and demonstrate this all over the city, the more others will be inspired to join in and know that football is for everyone."
Although the UEFA Women's EURO is just over 100 days away Sheffield is already seeing it's legacy in action.
Many schools across the City have downloaded resources, bringing the benefits of the sport and the tournament right into the classroom. Earlier this month Ballifield Primary School, who launched girls only football sessions last September, welcomed Sheffield United's Ellie Wilson to show them a few tricks, improve their skills and take part in classroom activities, highlighting that anyone and everyone can get involved and have loads of fun. New resources have just been released this week for classes to enjoy. 
Women's Recreational sessions have been launched by Sheffield and Hallamshire County FA with weekly sessions across various venues for different groups, including women over 40 and the Desi women's football sessions. Plus a new coaching bursary scheme is now available to cover the cost of the Introduction to Coaching Football course, supporting the development of female volunteers and helping people who want to make an impact on female football in Sheffield. Female Coach Bursary in Sheffield - Sheffield & Hallamshire FA (sheffieldfa.com)
Sara Harnett, Women's Recreational Football Officer at Sheffield and Hallamshire County FA said: "Having this incredible tournament in the city is already having an impact on women getting involved in the game, either through playing, leading, facilitating or championing. With 5 women's recreational sessions up and running through our 'Play Your Way' programme, as well as more groups wanting taster sessions, we know that the number of sessions will only continue to rise and more women will be able to play the game how they want, when they want and where they want.
"With more opportunities available to upskill women to lead, volunteer and facilitate through bursaries and innovative CPD (continued professional development) sessions, we are looking forward to seeing more female role models in and around the grassroots game now and in the future."
Coaching is also available for fitness trainers to bring brand new Soccercise sessions into their group fitness classes for a fun and fresh take on footie skills – think tap ups, press ups and shuttle runs with the ball in play.
Maker of Play is another free programme that is up and running – a new take on traditional games and fitness with a football twist. It aims to introduce people of all ages to football in a fun, relaxed and enjoyable environment using games that people of all ages can relate to.  Everyday playground games that we all know and love with a ball thrown into the mix to make it even more fun, challenging and highlighting that football can include everyone.  Become a Maker of Play | Sheffield & Hallamshire County FA (sheffieldfa.com)
Community Partnerships
Strong community links between Sheffield City Council and the city's two football clubs, Sheffield United and Sheffield Wednesday have been forged for some time with both clubs having active Community Programmes to support local people and provide opportunities for people in Sheffield – particularly underrepresented groups that struggle to access football and sport.
Along with the Sheffield and Hallamshire County FA, the Council and football clubs have developed the Sheffield 'Local Football Facility Plan', working together to identify key priorities for the city and the funding initiatives that will help to deliver them. This includes investing in new and better football facilities, pitches and multi-sport projects in the areas where they are most needed aiming to engage with local communities to create outstanding sports and activity spaces and tackle both inequalities in physical activity levels and access to facilities.
Sheffield United Community Foundation. Bringing in more than £1.1m in 2020/21 the Foundation deliver initiatives aimed at supporting those with mental health issues, reducing social isolation, supporting refugees and migrants, empowering women and girls, LGBTQ+ communities and getting people of all ages moving more and living healthier lifestyles.
The Foundation also deliver a vast education and training programme to support young people to gain skills and experience, and pathways in to careers in football and sport.
Take a look at the Foundation's fantastic projects in their 2020/21 Impact Report which was released this week.
Sheffield Wednesday's Community Programme reaches more than 120,000 young people and families throughout sport, health and education across Sheffield. The charitable organisation also supports local foodbanks and homeless schemes and promotes education and employment through partnership schemes.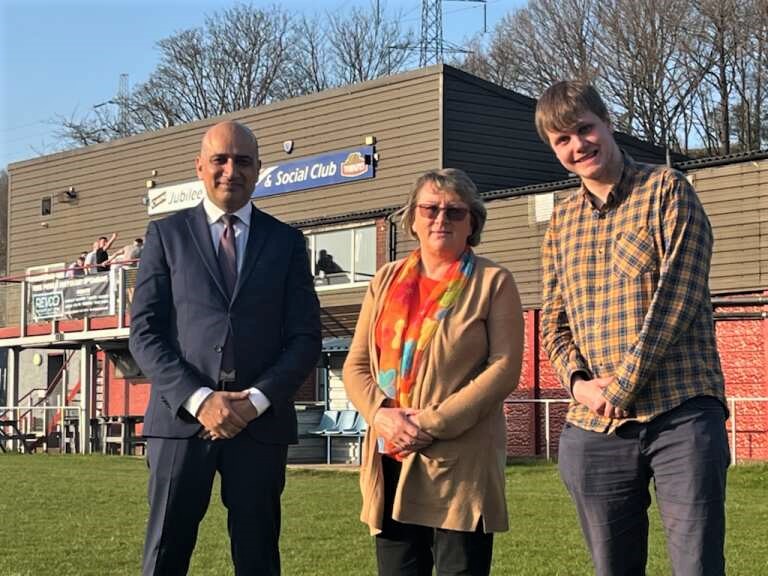 Cllr Mazher Iqbal, Cllr Josie Paszek & Cllr George Lindars Hammond at Jubilee Sports Club, Claywheels Lane. The site is being developed by Sheffield Wednesday Football Club charity
Their comprehensive inclusion programme focuses on several strands such as youth work diversionary activity, targeted anti-violence mentoring, women and girls' provision, targeted BAME women's fitness, and prison education programmes.
Last weekend saw the launch of a fantastic initiative, with the first football sessions for blind and visually impaired people in Sheffield. Project B1 was created in partnership with SWFC Community Programme as a small-sided, non-contact version of blind football and sessions are available to everyone – all ages and mixed gender.
Cllr Iqbal added: "Sheffield is undoubtedly the Home of Football, so naturally our game is strong, and we have excellent partnerships with our clubs and community groups, who have the most passionate staff and volunteers. You can see that from the creative, inclusive initiatives we are delivering across the city – there's no ego here, just enthusiasm and a love for the game. This is what we want to inspire in all our young people and across our communities, just have a go.
"It's amazing to see the UEFA Women's EURO 2022 legacy in action already. Later this year we'll be celebrating 10 years since the 2012 Olympics and Sheffield is the only city outside of London where an official Olympic Legacy Park has been established. You only have to look at the success and progress we've seen at OLP Sheffield in this last decade to understand how important a sporting event like the UEFA Women's EURO 2022 is for this city, we're very proud and will, without doubt, make the most of this amazing opportunity."
Football opportunities are available across the city to everyone. Contact Sheffield and Hallamshire Fa, Sheffield United Community Foundation and Sheffield Wednesday Community Programme to find out more.
To make sure you're up to date with everything happening around the UEFA Women's EURO 2022 sign up for our email news alerts and find out about ticketing information through UEFA registration. Tickets for all fixtures go on general sale from Monday 28 March.
Other stories you might like