With 100 days to go tickets go on sale for the biggest Women's EURO ever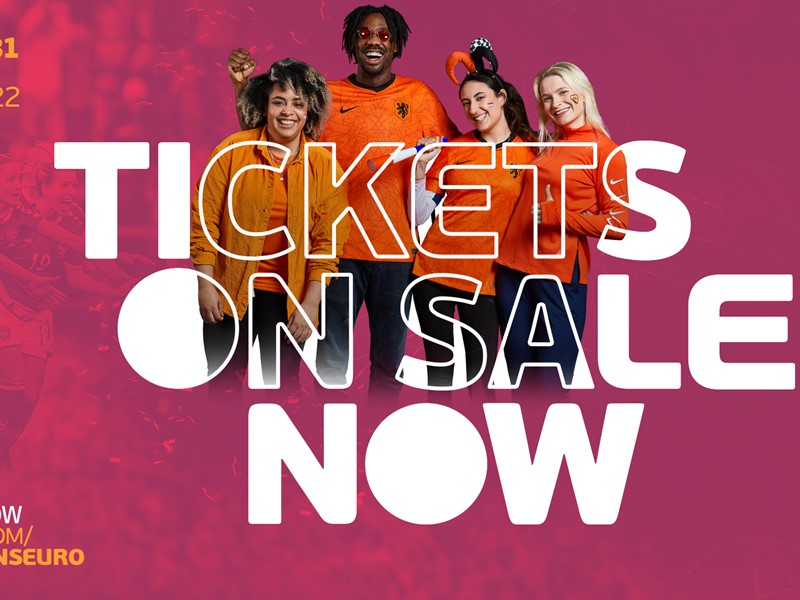 Tickets to UEFA Women's EURO England 2022 are officially on sale now with all fans of football, women's sport and big events encouraged to get involved in what promises to be the biggest women's sporting event in European history.
Sheffield to host four games in what promises to be the biggest women's sporting event in European history
Tickets go on sale from 8am this morning for all games
Over 350K tickets already sold during pre-sale, ballot and group booking stages
Tickets range from £5 - £50 with a family of four able to watch some of the world's best players from just £30
Now is the chance to get involved and show up for an unmissable event and summer of sport
Tickets available for all fixtures at: uefa.com/womenseuro/ticketing
Giant women's table football installation on Carnaby Street, London, marks 100 days to go until tournament starts
Sheffield United's Bramall Lane will be hosting four games during the tournament including three group stage matches and one quarter-final game. They are:
Netherland v Sweden (Saturday 9 July) KO 8pm
Sweden v Switzerland (Wednesday 13 July)  KO 5pm
Switzerland v Netherland (Sunday 17 July) KO 5pm
Semi Final (Tuesday 26 July) KO 8pm
Fans in South Yorkshire will be able to watch some of the best players in the world compete, including BBC Women's Footballer of the Year 2021 Vivianne Miedema, who is due to lead the line for holders Netherlands.
Gary Clifton, Interim Head of Major Events, City Centre and Markets at Sheffield City Council, said: "With the world's best players on display and a record number of tickets on offer for matches, the atmosphere for Women's EURO 22 promises to be something special.
"The tournament always delivers great football moments, and as the home of football, Sheffield is ready to give fans this opportunity to experience those first-hand. Football means so much to people in this city and as the women's game continues to grow, love for the game is only getting bigger. We've got some of the most exciting fixtures of the whole tournament and it's going to be unmissable."
More than 350,000 tickets, of the over 700,000 available, have already sold for the tournament in the pre-sale, public ballot and group bookings stage. It means UEFA Women's EURO 2022 is set to be a record-breaking event already, beating the previous tournament record of 240,000 set at Netherlands EURO 2017.
16 nations take part in this year's tournament which will be played out across England, with nine venues playing host to 31 games including Brighton & Hove, London, Manchester, Milton Keynes, Rotherham, Sheffield, Southampton, Trafford and Wigan & Leigh.
To mark the occasion of 100 days to go until the tournament starts, organisers launched an eye-catching giant table-football installation featuring 9ft tall female footballers in Carnaby Street, London, today.
The installation features players representing the top-seeded team in each group (England, Germany, Netherlands and France) and will be in situ until 10 April.
Chris Bryant, Tournament Director for UEFA Women's EURO 2022, added: "This is it now. We are just 100 days out from what promises to be a huge, history making spectacle for women's football.
"We have made a great start already regarding ticket sales. It's a case now of putting all the final plans in place and generating the excitement around a major sporting event that England has done so well previously.
"This is an opportunity to open up women's football to new audiences. We wanted to make a bold statement and the installation in Carnaby Street is evident of that. I would encourage anyone who has not already got a ticket to snap them up soon, especially as we are expecting all the available tickets for several matches including all England games and the Final to be purchased soon after going on sale."
UEFA Women's EURO England 2022 brings the tournament back to England for the first time since 2005. Tickets are priced from £5 - £50, with a family of four [two adults and two children] able to watch some of the world's best players from just £30 or £45 for England games, a semi-final or the final.
This is your chance to be part of the action at UEFA Women's EURO 2022. For tickets, which are on a first come, first served basis, click here: www.uefa.com/womenseuro/ticketing
Other stories you might like