"You are strong enough" Sheffield smokers supported to quit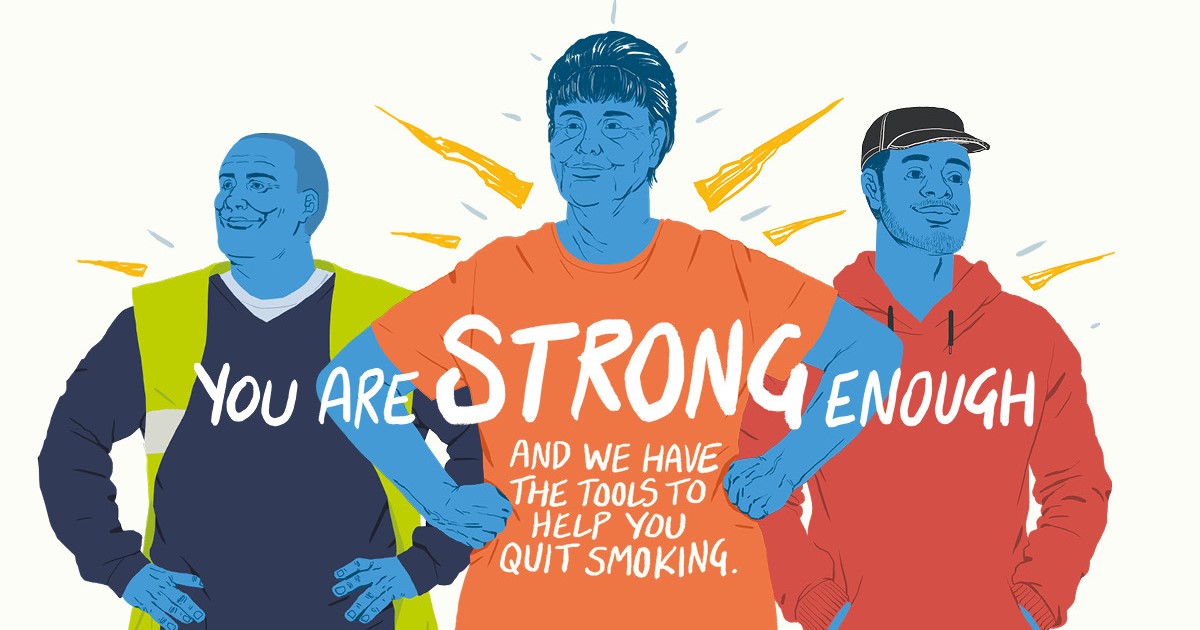 This January, Smokefree Sheffield is telling smokers ready to quit that "You are strong enough" and with free local support, they are three times more likely to succeed.
The new campaign, which aims to help people stop smoking, would mean better health for those who quit, as well as more money back into the pockets of those who need it most.
Smoking is not only a driver of health inequalities but it is also concentrated among the most disadvantaged groups. People from some of the most deprived areas of Sheffield are three times more likely to smoke than people from the least, so supporting those to quit will help them save money to spend where they really need it. For smokers, quitting this New Year could help put up to £5,000 back in their pocket each year.
Smoking has major impacts on health and wellbeing, and for many smokers, the cost of smoking puts an extra burden on their finances too. By quitting smoking, households who are spending money on tobacco will be able to spend more money on food, clothing, housing, education, energy, and medical care. With support to quit, nationally around 428,000 people could be lifted out of poverty if the cost of smoking was returned to the household, including around 235,000 children. Positively, many disadvantaged smokers do want to quit, but they often find it more difficult and are less aware of the support available to them.
Although around 60% of smokers want to quit, half try to quit by willpower alone despite this being the least effective method. The new campaign, featuring illustrations of people across Sheffield, will have adverts shown throughout the city on buses, poster sites and social media. This aims to encourage quitters to reach out to the local stop smoking service for the free help and support they're entitled to receive to help them stop smoking.
"We know many smokers want to quit, but although they might know the risks and costs of smoking they have such low expectations of succeeding that many don't try. When they have tried many times before and not managed to quit, this impacts their self-belief in their ability to quit for good and concerns about failing – which in turn impacts their willingness to try to quit.
 "We want to empower smokers and show them they are strong enough to quit, and with the support of the stop smoking service at every step, they'll be three times more likely to succeed for good.
"January can be a hard time financially for a lot of people, but it is also a great time to make positive changes in your life. Quitting smoking not only improves health but also means people have more money to spend on other things, and that's a great way to see instant rewards and benefits." says Greg Fell, Director of Public Health Sheffield.
In many cases, people in socially disadvantaged groups are caught in a cycle of addiction in smoking and face greater barriers to quitting. This is often linked to increased stress related to material hardship and higher rates of smoking amongst friends and family. As part of the new campaign, smokers are being urged to access the stop smoking service for free, where they have access to a community of ex-smokers and a dedicated stop smoking advisor who will continue to motivate them through their attempt. They will also advise of the right tools for them, such as Nicotine Replacement Therapy or switching to e-cigarettes. 
"Smoking is an addiction and we must support people to break the cycle of addiction. People from lower socio-economic backgrounds face greater barriers to quitting and experience higher levels of addiction too so it's important for people to know that help is available. Our message to smokers this new year is 'you are strong enough to quit, and if you're ready, we have an outstanding local stop smoking service, with advisors who will find the right way for you", says Greg Fell, Director of Public Health Sheffield.
Smokers in Sheffield can get free advice and support to quit via Yorkshire Smokefree Sheffield and the Smokefree Sheffield website www.smokefreesheffield.org.
Other stories you might like