Bin collections in Sheffield over Christmas and New Year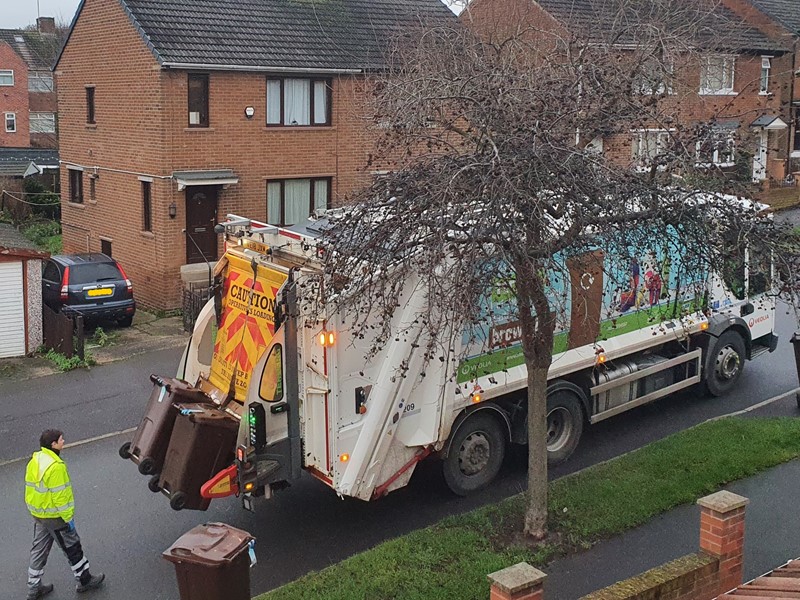 Bin collection days will change for some households over the festive period, check your collection dates how to recycle any excess festive waste.
Only Friday collection days will change. The changes are as follows:
Normal date Friday 25 December, new date Sunday 27 December
Normal date Friday 1 January, new date Saturday 2 January
All other recycling and waste collections will take place as normal, residents are asked to check their collection calendar online for further information.
To be collected, kerbside bins must be placed out by 7am on collection day with the bin lid closed.
Extra Festive Waste
As the festivities draw to a close, there may be extra festive waste and recycling produced. Wrapping paper, Christmas cards, boxes, catalogues, glass and plastic bottles, biscuit and chocolate tins can avoid the bin and be turned into something new by being recycled at the kerbside, or at one of the city's Household Waste Recycling Centres. 
Make the most of Blue Bin recyclables - Small amounts of additional paper and card can be tied in a bundle and put next to blue bins for collection (the additional bundle should be no bigger than the size of the bin)
Additional bags allowed for Brown Bin recyclables - Between 27 December and 22 January up to two bags of extra tins, cans and plastic bottles will be collected. Recyclables can be placed inside a carrier bag, tied and then put it out for collection next to the brown bin. Glass bottles or jars must be placed inside brown bins, otherwise the extra recycling will not be collected.
General waste - Between 27 December and 22 January up to two bags of extra general waste will be collected. Non-recyclable waste can be put into a black bag, tied, and then put out for collection next to the black bin.
Visit a Household Waste Recycling Centre (HWRC) - Excess festive waste and recycling can be taken to one of the five Household Waste Recycling Centres located across the city. All HWRCs will be open between Sunday 27 and Thursday 31 December 10am - 4pm.
Household Waste Recycling centres will be closed on Christmas Day, Boxing Day and New Year's Day, and will close at 3pm on Christmas Eve and New Year's Eve.
For up-to-date information and service alerts about your waste and recycling collections, visit www.sheffield.gov.uk/waste or call us on 0114 273 4567.
Other stories you might like