Committee agrees next steps for Fargate regeneration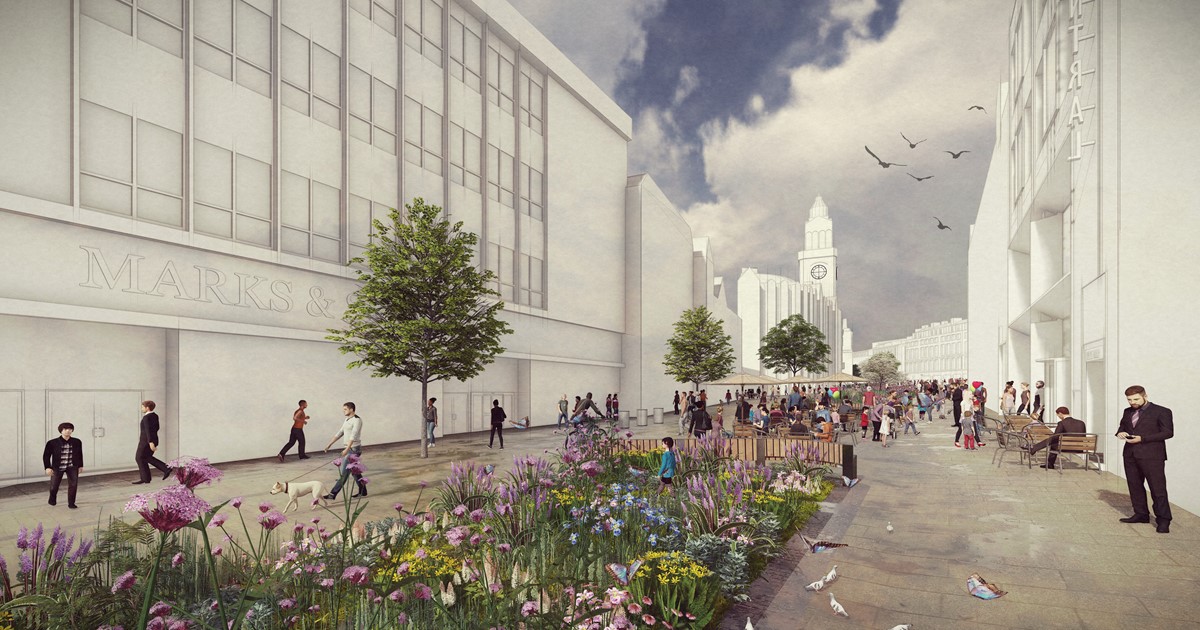 The next steps for the regeneration of Fargate and surrounding areas were discussed and approved at the Transport, Regeneration and Climate Policy Committee yesterday.
The Committee were informed that the final costs for the street renovation scheme have more than doubled since they were drafted in November 2021 – from £8.82m to nearly £18m.
As a result, the decision was made to support a phased approach to reinvigorating the public space, focussing on Fargate and plans for the Event Central community hub initially and expanding out to High Street, Castle Square, Hartshead Square, George Street and Mulberry Street at a later stage. 
Cllr Mazher Iqbal, Co-Chair of the Transport, Regeneration and Climate Policy Committee, said:
"Our Committee yesterday agreed to carry out a phased approach to our transformational plans for Fargate and surrounding streets. Due to a number of factors, many of which are outside of our control such as inflationary pressures, there are proposals to reduce the scope of the plans.
"As a prominent part of our city centre, we have identified a need to give Fargate a new lease of life and for that reason we are focussing our efforts on those plans to begin with. Residents and visitors will still benefit from new landscaping, Grey to Green inspired planting, new seating areas and an overall more pleasant and vibrant setting. They can also look forward to progression of the cultural community hub, Event Central, and new uses for vacant buildings and improvements to shop fronts in the surrounding streets."
In 2021 the Council, supported by the University of Sheffield, secured £15.8m from the Government's Future High Streets Fund for these works. As a result, the proposed changes and phased approach are still subject to approval from the Department of Levelling Up, Housing and Communities. The Transport, Regeneration and Climate Policy Committee agreed to a recommendation being made to Strategy & Resources Committee on 15th March seeking approval for the budget increases.
The increased costs of the Fargate regeneration works are the result of:
Increased costs in materials
Inflation
Significant contingency costs, including Ukraine price inflation risk contingency
The production of a more detailed project design which identified additional costs, including introduction of a sustainable drainage system (SuDS), an underground bin system, and a requirement to install Hostile Vehicle Mitigation (bollards and foundations).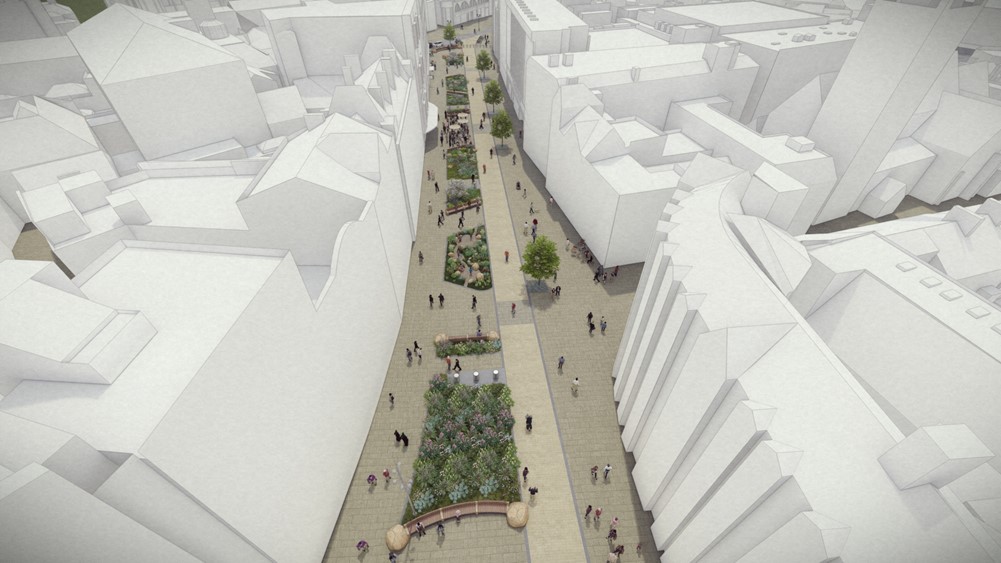 The revised plans require some additional funding which will be secured by:
Reallocation of £1.1m of the Future High Streets Fund from the Front Door Scheme
Additional £4.6m of South Yorkshire Mayoral Combined Authority (Gainshare) funding
The introduction of the phased approach does not alter the Council's ambitious plans for Fargate – creating a green, vibrant and sociable space for city centre visitors and the Event Central community hub showcasing Sheffield's diverse talent.
Following discussions and feedback from the Street Tree Partnership, the transformation plans will see 7 existing trees remaining on Fargate and, to allow the new layout, 8 existing trees will be removed. The wood from these trees will be donated to local schools to be used for play and learning.
In addition, 15 new trees will be planted, bringing the total number of large trees on Fargate and Barkers Pool to 22, with 9 different species of trees.
There will also be 11 smaller trees plants and over 80 species of shrubs, plants and flowers.
The street renovation works on Fargate are due to begin in April 2023.
For info
Event Central timescales:
Late February – Tenders for the refurbishment works are due to be returned
Spring 2023 – A long-term operator is to be selected
Summer 2023 – Refurbishment work is proposed to begin
Summer/Autumn 2024 – Event Central proposed to open
Part of the Future High Streets Fund project sees Front Door Scheme grants allocated to support landowners to open up upper floors and improve street frontages on Fargate and High Street. £2.735m in Front Door Scheme Grants have been awarded to:
Medical Research Council - 33-35 Fargate - For office/co-working space
Orchard Square - For open space improvements and residential conversion:
The Montgomery Theatre - For access works
Renew Sheffield - For grants to small businesses
Other stories you might like