Fifteen new apprentices join Streets Ahead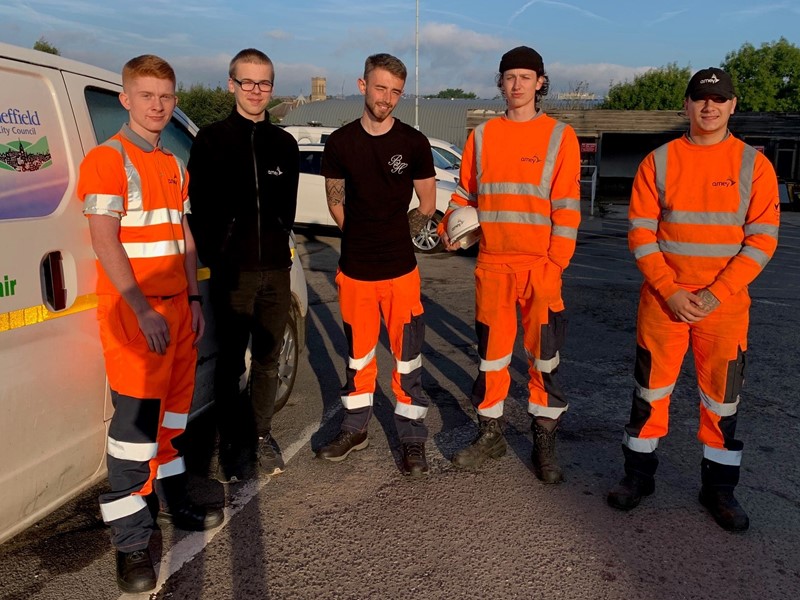 Fifteen people from Sheffield are gaining hands on experience working for the city's highways maintenance contract, developing invaluable skills to prepare them for their future careers.
The new apprentices, who started their vocational journey with Streets Ahead this year, will gain a recognised qualification as well as learning essential and practical new skills.
Apprentices can be anyone from new employees, such as school leavers or someone who's new to the industry, to existing employees who need retraining, up-skilling or want to progress their career.
Keiron King, Principal Operations Manager, who has overseen recruitment of apprentices this year, said:
"Apprentices bring new energy, ideas, support and skills into existing teams and the business and we are delighted to have them on board. They have all hit the ground running and are already having a positive impact in their areas.
"We are very proud of our apprentices and everything they achieve whilst working with us in Sheffield. Whether you work with our frontline teams or in the office, there are technical and life skills to learn whilst you're here and there is no doubt that many of those who start their careers in Sheffield go on to achieve more than they thought possible."
Two of the apprentices, Emma Catley (26) and Toby Fellows (22), are degree apprentices working alongside the Commercial and Non-Core teams and bring with them a wealth of knowledge and innovative approaches to business.
Toby, from Bradfield, Sheffield said:
"As well as the professional development opportunities available with Streets Ahead, I hope to develop my presentational and analytical skills during my time here."
Thomas Hydes (16) who grew up in Parsons Cross, Sheffield added:
"Amey offer the best of opportunities along with amazing benefits and many different pathways for a career, and I saw the best one for me to kickstart my journey in Amey. I hope to spend my time investing into a variety of skills, and learning as much as I can, taking it all in and using it to my advantage."
Since 2012, a total of 100 apprentices from Sheffield have been employed by Amey and many of them have gone on to secure a permanent job on the contract or progressed their careers elsewhere.
Leanne Gale (45) began her apprenticeship in the environmental services team seven years ago. She said:
"Well, what can I say, my experience to date has been a great one. I've gone from apprentice - and not knowing anything about street cleansing - to shift lead and managing the city centre Supervisors, to being a part of the business improvement team, heading up project work for street cleansing.
"I'm very enthused about what the possibilities are and where I may end up in the future!"
Executive member for Housing, Road and Waste Management at Sheffield City Council, Councillor Paul Wood said:
"It's fantastic to see so many new apprentices joining Streets Ahead this year. Not only is hiring apprentices a productive and effective way to grow local talent and develop a motivated, skilled and qualified workforce, but it also contributes towards increasing employee satisfaction as well as reducing staff turnover and recruitment costs. 
"It's been a challenging year for all services across the city and I'm proud to see a group of talented workers joining Amey and helping deliver such a crucial and diverse service for the people of Sheffield.  
"I would like to wish them the best of luck during their time with Streets Ahead and hope to see them excel in their future careers."
To find out more about Streets Ahead visit: www.sheffield.gov.uk/streetsahead
For more information on early careers, including Apprenticeships with Amey, visit: www.amey.co.uk/your-career/early-careers/
Other stories you might like