Sheffield shines during UEFA Women's EURO 2022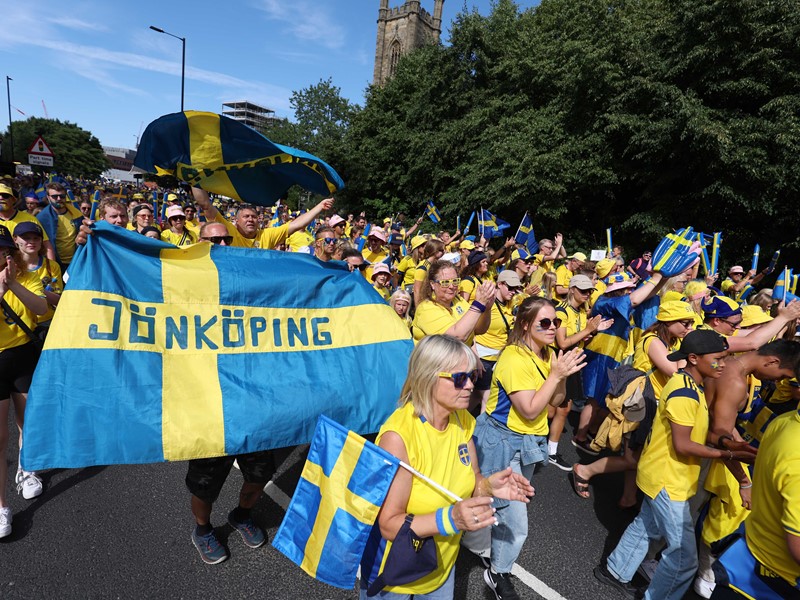 Sheffield is only halfway into its UEFA Women's EURO 2022 journey and already the city has set a new record, welcomed thousands of international visitors and witnessed unbelievable scenes from Fan Walks to the stadium.
With the first two Group C games under our belt, Netherlands v Sweden, and Sweden v Switzerland, Sheffield has shone in the glorious sunshine, with live coverage across the BBC and across the eyes of the World's media.
Both the Netherlands and Sweden have brought with them thousands of visiting fans to Sheffield and they have fully soaked up the atmosphere and made themselves at home in the city.
Devonshire Green was packed with the orange jerseys of Netherlands fans, bouncing up and down as they partied through the afternoon, and Division Street was full of yellow with the Frog & Parrot pub as the hub of Sweden's activity.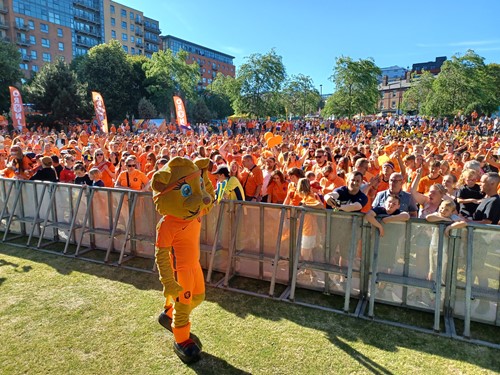 Fans from the Netherlands en-masse at Devonshire Green
Their fan walks from Devonshire Green to Bramall Lane saw Sheffield turned in to a sea of orange and yellow as they sang, drummed and cheered their way to kick off.
It was during that first fixture that Sheffield set a new record to add to our footballing credentials - with a massive 21,342 people watching the action unfold - the highest ever attendance for a Women's EURO match not involving the host nation.
Visiting fans were clearly loving their time in the city and this was reflected in the city centre footfall figures, which showed a huge increase - up around 10,000 on the previous Saturday, a whopping 22% rise. In addition to the bustling bars, cafes and restaurants, during the weekend of the opening fixture all the city's hotel rooms were full.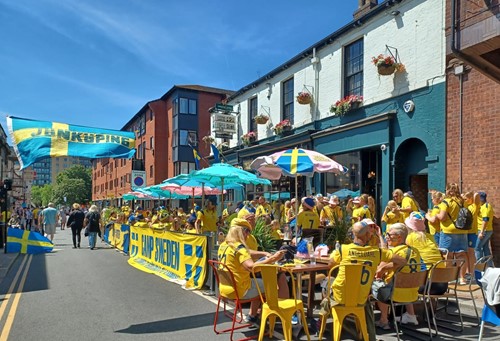 Fans from Sweden take over the Frog & Parrot on Division Street
This week's Sweden v Switzerland fixture saw a more relaxed vibe at the fan party, although outnumbered by the yellow crowds of Sweden, the fans from Switzerland, still in their hundreds, brought a splash of red in to the mix and mingled happily with opposing fans and local people.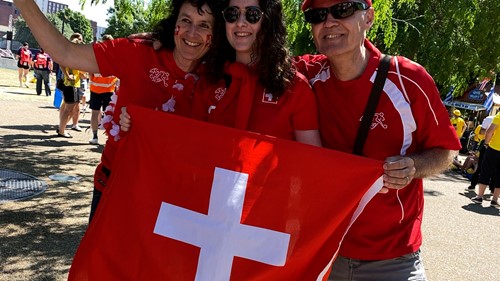 Fans from Switzerland at the Fan Party
Local Sheffield primary schools also attended, in celebration of UEFA Women's EURO School's Week. The kids enjoyed having a go at target practice, keepy-ups and even a kick about with some of the families visiting from Sweden.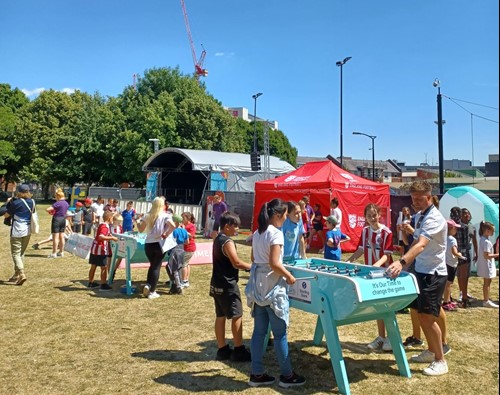 Children from Hartlebrook Primary School enjoying the football themed activities
Leader of Sheffield City Council, Councillor Terry Fox, and Deputy Leader, Councillor Julie Grocutt, shared their joy following the match at Bramall Lane on Wednesday. 
Here they talk about how much they're loving the excitement the tournament has brought to the city, the legacy it will leave behind and the unbelievable impact it is already having...
Sheffield has really shone during UEFA Women's EURO 2022 and the best may be yet to come.
With one more Group C fixture to play out - this Sunday at 5pm between Switzerland and Netherlands - there's still time to get your tickets and join Sheffield's WEURO2022 journey.
And the city has been closely following England's Lionesses - who after securing top spot in Group A look all set to appear in the first semi-final that will take place right here at Bramall Lane in front of a packed stadium!
For all your WEURO2022 info and action download the official UEFA Women's EURO app.
For all tickets go to UEFA Ticketing.
Other stories you might like