Streets Ahead prepares for winter in Sheffield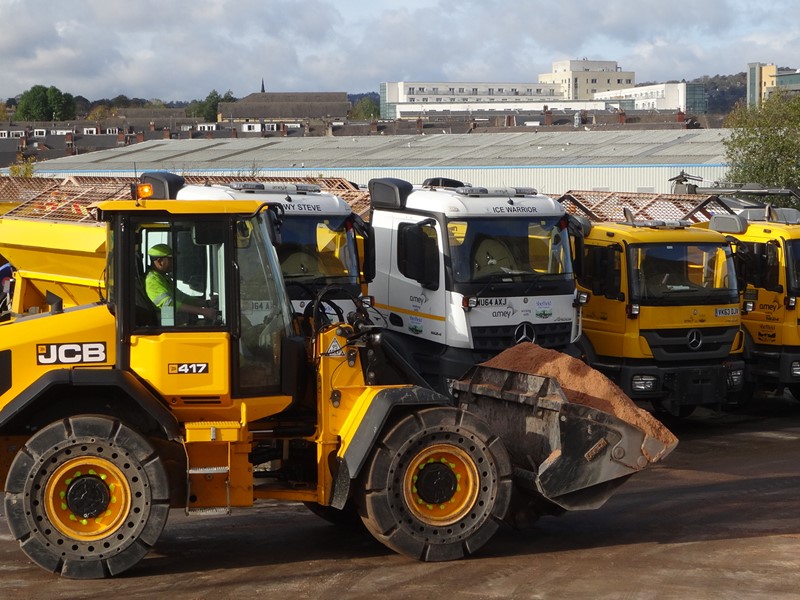 The council's highways contractor, Amey, is getting 'winter ready' in preparation for cold and icy weather over coming months.
As part of the Streets Ahead programme, Amey are responsible for keeping the city's hilly road network safe and moving over the winter period, as freezing conditions return.
With 19 gritting vehicles already on standby, 24-hours-a-day, seven days a week until next May, Streets Ahead is ready to keep the city moving if and when snowy weather arrives.
And with the colder temperatures starting to creep in, the gritters have already undergone their annual service to make sure they are in shape for the winter maintenance season.
Cabinet member for Environment, Street Scene and Climate Change, Councillor Mark Jones said:
"Winter is always a busy period for the Streets Ahead workers, with unpredictable weather and hilly terrain to contend with.
"But with planning happening all year round and a fleet of gritting lorries on standby, Amey make sure that they're ready to support Sheffield through the toughest of weather conditions.
"As well as preparing to treat the roads, Amey continuously track the weather forecast so that provisions can be made well in advance and they are as ready as they can be when temperatures drop.
"Streets Ahead operate a complex and robust service throughout the winter period but we all need to remember to do our bit by taking extra care in icy conditions and leaving extra time for journeys across the city."
The Streets Ahead gritting vehicles spread grit and plough before, during and after it snows and Sheffield's two salt barns, based at the Olive Grove depot, are already full in preparation for dealing with whatever the weather may have in store.
Last winter, despite the lack of any significant snowfall, Streets Ahead completed 129 grit runs, spreading almost 7,500 tonnes of grit on the city's roads. The salt dome holds 9,500 tonnes of grit, ensuring that supplies never run low when they are needed the most.
Earlier in the year, the Streets Ahead Area Highways Representatives carried out an audit of the grit bins in their area, collating real time information about their condition and if they needed re-filling. Over 2000 grit bins were checked over the summer to make sure they were full ahead of the winter months.
This year, Amey are asking junior school children to take part in a creative competition which could see their design emblazoned on the side of one of the gritting vehicles. With both Gertie the Gritter and Sammy Snow needing a new coat, Sheffield youngsters are being tasked with designing vehicle wraps, that will be attached to the gritting lorries this winter.
Mark Jones continued,
"Winter on the roads is likely to look a bit different this year. Amey are continuing to monitor government guidelines around working practices and Covid 19, but it's still important we all prepare for adverse weather and stay in the know when it comes to ice and snow."
For more information about gritting routes, grit bin locations and winter advice, visit www.sheffield.gov.uk/winter , call 0114 273 4567 or follow @sccstreetsahead on Twitter for real-time updates during bad weather and to report empty grit bins.
The deadline for the gritter design competition is Sunday 8th November. Find out more at: https://bit.ly/31LlbMS
Other stories you might like