Tis the season to twinkle and celebrate Christmas in Sheffield

As 2020 - the year that none of us could have predicted - draws to a close, we're all in need of some festive cheer, and although we can't celebrate Christmas in the usual style there's still plenty of ways to feel festive in Sheffield.
The Covid-19 pandemic has made us all appreciate the little things in life and this Christmas our focus will be on celebrating those moments and looking forward to the new year ahead.
We might be missing the warmth of the Fargate Christmas Market, plus the usual winter pop-up bars but with twinkling lights, a fun children's trail and even a Christmas Tree festival, Sheffield city centre is still fabulously festive.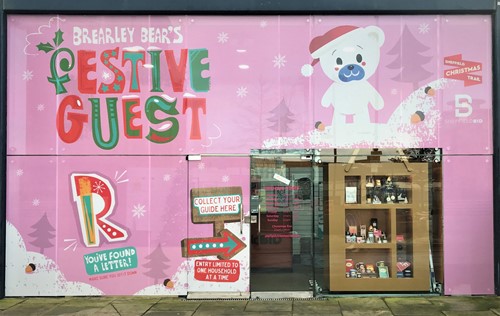 We think you'll agree that we could all benefit from some light in our lives right now, so we're lighting up Sheffield with some much needed magical illuminations in the city centre, across our communities and in our glorious parks and green spaces.
Our parks have given us all a lifeline during the necessary restrictions and throughout the Christmas period will feature trees, buildings and entrances lit in a festive theme making them even more beautiful and welcoming for everyone in our communities.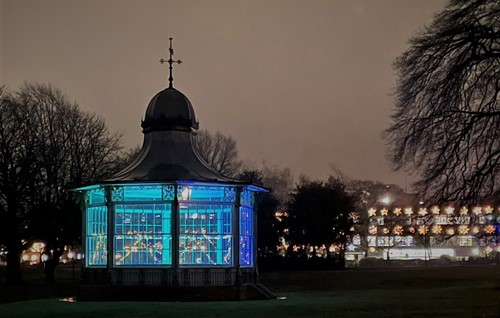 It has been a very tough year for retail businesses big and small, but under the Tier system all shops can open, and stores in Sheffield's centre, local districts and markets offer everything you to need to wrap up your Christmas.
In addition, the Moor Market has launched its 12 deals of Christmas with fantastic offers available from their friendly traders. Check Sheffield Markets website for the most up to date deals available in all our markets.
Free weekend parking across all Sheffield City Council pay and display parking bays has also been introduced (excluding parking at the city's parks). The offer usually applies to the city centre only, but to help support all local shopping areas and customers, parking charges will not apply across the city.
For those who want to shop from the comfort of their sofas but still support our brilliant independent sector, we have launched the Make Yourself at Home online shop, featuring the very best of what Sheffield creatives and innovators have to offer.
Councillor Julie Dore, Leader of Sheffield City Council, said:
"Christmas is a time when naturally we reflect on the year we've had and feel gratitude for the many things we all take for granted. This year those values are more important than ever and as I look back at the remarkable things Sheffielders have achieved and endured I am moved with pride and appreciation.
"We have seen valiant efforts from key workers across all sectors, true grit, resilience and innovation from our independent businesses, care and thoughtfulness at the heart of our communities and patience and understanding from our residents who have all played a very important part in tackling the challenges Covid has brought us.
"I know that this Christmas we won't be celebrating in the usual way, but we still have much to be grateful for and plenty to get excited about. I hope everyone in the city makes the most of the little things this year and shares in the festive steel spirit that shines so brightly in Sheffield.
"We still have some way to go and yet more challenges to overcome before we can resume normality, but after leading this great city for 10 years I know that in true Sheffield style we will come through this stronger than ever. I want to take this, my final opportunity, to wish each and every one of you a very happy and healthy Christmas and the very best for the new year ahead."
To make sure everyone remains as safe as possible and to prevent transmission of Covid-19 people are reminded to stay vigilant while celebrating this year.
If out and about shopping or meeting with others always adhere to the latest Government restrictions, relating to the current Tier.
At this stage Sheffield is in Tier 3 the full list of restrictions can be found on the Gov.uk website.
From 23 to 27 December three households can form a Christmas bubble to come together to celebrate the Christmas period. Careful thought should be given to who this time is spent with to minimise risks to the most vulnerable. Those who decide to meet with other households should still avoid physical contact, keep a safe distance and practice good hand hygiene at all times.
For all Sheffield's festive ideas and activities visit www.sheffield.gov.uk/christmas
Get involved, get festive
Our neighbourhoods have all come together throughout the pandemic and we know that during December your community sparkle will play a huge part in raising Christmas spirit and lighting up the city.
Twinkling Sheffield
To help families get into this special time of year we're making Sheffield twinkle and we want to see your efforts too.
In Sheffield city centre Fargate, Pinstone Street, Leopold Street, Surrey Street, Barkers Pool, Division Street and Devonshire Street are gorgeously glowing with illuminations, while the giant bauble and present, along with the brand new 'Sheffield' sign, light up the Peace Gardens, and the Winter Garden's beautiful blooms are enhanced with up-lights and an enchanting fairy village.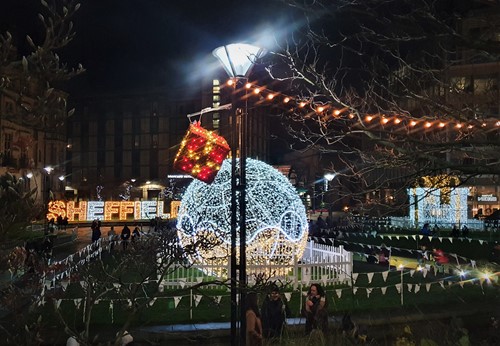 Trees, buildings or entrances will be lit at Endcliffe Park, Botanical Gardens, Weston Park, General Cemetery, Hillsborough Park, High Hazels Park and Norfolk Park. Community and Friends groups are also bringing some sparkle to Manor Fields, Mortomley Park, Stocksbridge, Chapeltown Park, Mosborough Junction, Wincobank Lane, Grenoside Green and Firth Park.
And in the heart of communities across Sheffield Christmas trees will be popping up this week in Woodseats, London Road, Ecclesall Road, Crookes, Chapeltown, Hillsborough, Burngreave and Darnall.
Let's light up Sheffield together, share photos of your own festive decorations with us, or any of our lit-up locations across the city using #twinklingsheffield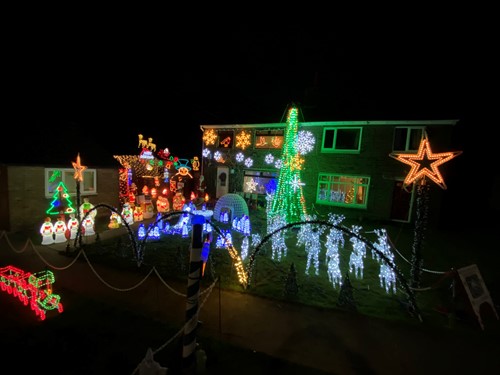 Christmas creativity and community support
After seeing the creative skills of our communities across Sheffield, adorned in rainbows, flowers, tributes to our NHS and much more, we want to get those creative juices flowing again with a festive themed colouring activity.
For the younger artists Two-Metre-Rita & Six-Feet-Pete are out in Sheffield building a snowman, and for a more mindful, challenging creation there's the Sheffield snow globe. Download now from our website and share your works of art using #steelspirit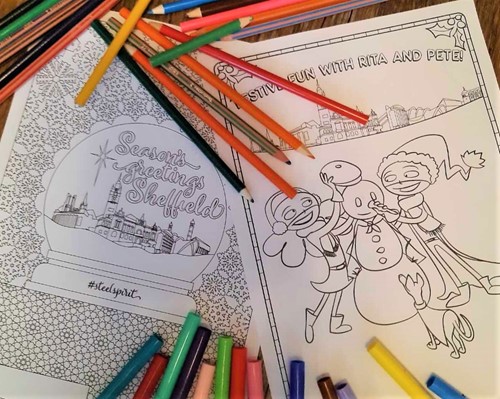 People can also show support for others who may need help over the festive period by downloading our gift tag, fill in your details and send it to someone so they know you're around if they need you.
Next week we'll also be uploading a Letter from Santa to all Sheffield children. Parents and carers can download the localised letter and add their child's name for a special surprise from Santa, look out for it on our Christmas page.
Other stories you might like